Three, two, one, pull!
"A lever is a tool you can use to make moving toward your goal easier." 
What does this have to do with belonging?
In her wonderfully creative book, Design for Belonging, Susie Wise lives up to her name by drawing on various scholars, theorists and activists to explore nine different levers that we can work with (or rather, pull on) to help build and bring about belonging:
Space
Roles
Events
Rituals
Grouping
Communications
Clothing
Food
Schedules and rhythms
When considered thoughtfully at work, school, home or out in the community, these tools can cultivate inclusive environments and positive experiences, create meaningful moments and encourage self-expression. 
How? 
Let's find out by taking a closer look at six of Susie's levers of belonging… 
Space
"Space is used to construct who is in and who is out." 
Space can be designed to be welcoming and inclusive, or it can be a barrier, stopping people from showing up and squashing their creativity. 
Susie cites the Magical Bridge Playground in California as a good example of an inclusive, multi-layered environment. Like the playground, we can go further than our legal obligations.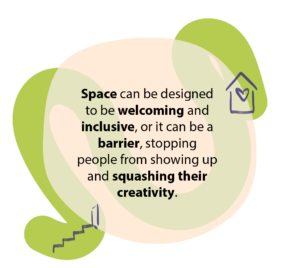 Spaces send signals; outfitting your workspaces to enable easy access for people with different kinds of bodies, mobility and assistive devices, and introducing different ways of learning and thinking, can have a huge impact. 
Questions to ponder: 
Who could benefit from a space designed to reduce stimulation? 
What virtual spaces work best for your team, and what tools could you introduce to assist hybrid working? 
Is the furniture in your office moveable and is it laid out in a way that invites conversation and collaboration? 
How can we make people's homes more comfortable for work?  
Roles
"Because every role is designed, new roles can be designed to foster belonging." 
Whether you're hiring an equity diversity and inclusion practitioner or seeking consultancy in this space, understanding the purpose of these roles in practice is key. Susie's advice is to start by evaluating the roles you currently have, to identify what you might need. These could be formal, named or claimed roles.
Questions to ponder:
What additional responsibilities are which people being burdened with, are there any patterns? 
In which areas and levels of the business do people lack a sense of belonging?
Collect stories, not just data. What do they tell you about people's experiences in their roles?
What role could you try out, to shift and improve team dynamics?
Events
"Event design is about crafting an experience … to design them for inclusion and belonging raises the bar."
Events have the potential to produce harmful experiences of othering and exclusion, that's why we must make belonging the central premise from which everything else builds. 
Whether it's to raise money, solve a problem, say hello or say goodbye, Susie says it's vital that you're clear about the purpose of your event – simply sending the invite is not enough because different people may require different communications to feel welcome and wanted. 
Questions to ponder: 
Think about the method of invitation. Is it via a channel everyone's engaged with?
Think about the when and where. Whether it's virtual or in person, have you considered work schedules, family commitments and religious practices? 
How can you make the event as accessible as possible? 
Do the speakers, panellists or hosts represent the people you're trying to reach? 
Communications 
"We are always sending explicit and implicit messages about who belongs and who doesn't."
Communications can be crafted to invite people in, and visual representation has a role to play in this. Building belonging is as much about eradicating exclusion as it is elevating inclusion. For example, Susie references the #ILookLikeAnEngineer campaign, which responds to a lack of representation in the field by spotlighting women of colour.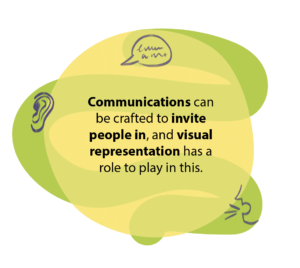 Questions to ponder: 
Have you represented the people you want to engage? 
What channels work best for which individuals, groups, teams or communities? 
What real life stories could you tell to offer a more powerful message of belonging? 
Gather feedback about your communications. What changes will you make as a result?
Food 
"Breaking bread together is a communal act that often equates with belonging." 
At Alive, we believe food has the power to bring people together; that's why we're creating a collaborative comms cookbook to share with the comms community. 
Susie also appreciates the significance of mealtimes and uses The Big Table in Columbus, Ohio, as an example of its power. This event gives over 10,000 people a seat at the table and encourages connection, creativity and conversation over a meal. 
Questions to ponder: 
Food helps create moments that matter. What food means a lot to you and why? 
Is there an opportunity to virtually bring together different colleagues at lunchtime? 
Preparing and sharing food for others is a way of expressing culture, heritage and nationality. Could your next work event be a potluck? 
What other creative outlets encourage people to share stories and express themselves? 
Schedules and rhythms 
"Schedules can be the beating heart of an organisation, but only if they are designed to support people and their needs."
Schedules help set up days and times for connecting, sharing, learning – all of which support belonging. Ensuring everyone has a regular opportunity to participate is key.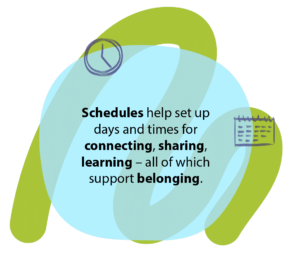 We can also use schedules and rhythms to disrupt routine and switch things up – this can spark excitement and creativity! 
Questions to ponder: 
Is there a different, more creative space you could hold your next project meeting?
What curveball or quirky question could you start your morning call with? 
Who does your current schedule prioritise and are there any timetabled events that consistently exclude certain people? 
 How could your schedule better reflect the needs of your employees and community? 
Experimenting with these different levers of belonging requires a foundation of trust and psychological safety. Understanding which of these areas is most important for your team is vital to building belonging in your organisation; so connect, have conversations, run workshops and be prepared to respond and react to feedback. 
Design for Belonging by Susie Wise is packed with plenty of thought-provoking examples, ideas and activities – grab yourself a copy to explore more levers of belonging! 
"Use the levers to truly change the way people experience the world."
By Lauren Castle