When you think of your favourite dish or desert, what moments, memories or people do you associate with it?
At Alive, we believe food nourishes the soul and brings people together. That's why we're collecting flavoursome recipes and sweet stories from our colleagues and the comms community and creating a cookbook.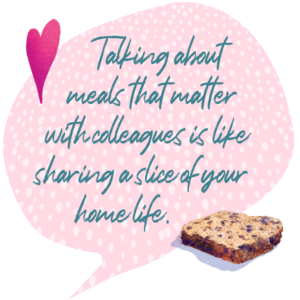 Talking about meals that matter with colleagues is like sharing a slice of your home life – it opens up new conversations, creates fresh opportunities for collaboration and deepens their understanding of who you are.
Time to dish up!
We asked our team what meals matter to them. With a freshly baked biscuit in one hand and a drink from our beer fridge in the other, here's what they said…
"Getting up to do pancakes on a Saturday morning with my two girls (aged 2 and 7) has become our way to start the weekend. It began during the pandemic as something that felt a bit different and special, and it has since become our 'thing'. They love the mixing (which they help with) and the flipping (which they don't) and they get to choose what to cover them in (usually obscene amounts of golden syrup)." – James
"When we have friends and family over, I'll cook pizzas in the pizza oven. I love it because everyone gets involved, chatting about the topping combos, sauces and sides they've chosen. Another meal that matters to me is steak and chips. I always get roped into making it when we go to Cornwall with Sarah's family, it has become a tradition of ours." – Alan
"A meal that matters to me is a dish called Fesenjoon (feh-sen-june) – a Persian dish made with walnut and pomegranate paste. It's one of my favourite dishes ever. The sauce is very dark brown, and when my dad lived in Sweden, he made it for some new friends and instead of being appreciative they mocked it for how it looked. It was a painful but all too familiar story – me and my sister stopped taking Persian food to school for the same reason…
We now have better friends who embrace our culture, thoroughly enjoy the Persian food I make and give me space to feel proud of my culture and identity. It shows how I've grown as a person, how I've stopped feeling like I must be a 'good' assimilated immigrant. I can just be me. Oh, and Fesenjoon is so damn delicious!" – Cam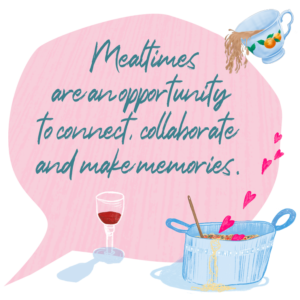 "My mum's an excellent baker and makes 'Consolation Cookies' – they're the most decadent, chocolatey, fudgy cookies ever but can only be made with a valid reason for consolation. They were baked pretty regularly during the pandemic – but luckily we haven't needed them in a while – although, I'm pretty good at coming up with vague reasons for a fresh batch!" – Izzy
"Homemade soup matters to me. All different flavours for all different reasons. When I was wee my lovely Grandma would make potato soup – she had a special way of preparing the carrots that I have since adopted myself. My mum still makes amazing soups too. I love making tomato soup. I used to make it using my Dad's homegrown tomatoes which he was known for locally. Pasta Fagioli soup was a midweek favourite for my Dad. Knowing he'd grown the tomatoes himself made them sweeter, I think. My family soups were made with love, which made them extra tasty and comforting, and now I share these moments with my family too." – Ally
Now that I am a parent, I understand that 'surprise tea' is code for 'whatever I can scrape together when I have time. But as a kid, when my mum announced 'surprise tea' was on the menu I got so excited. Consisting largely of beige stuff in packets, there wasn't a lot of nutrition to be found in this 80s-low-income-household dish, but bread and butter cut lovingly into stars and hula hoops stuffed with sultanas (don't knock it 'til you try it) will always have a special place in my heart."  – Kat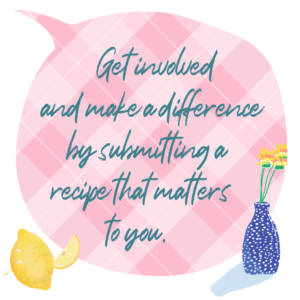 Get stuck in!

Whether it's makeshift meal you loved as a child, a feast with friends or a dish that celebrates your culture, mealtimes are an opportunity to connect, collaborate and make memories.
We'd like the great comms cookbook project to have a positive impact – when we reach 40 recipes we'll donate £1000 split between two brilliant charities – The Food Foundation, and our local Trussell Trust food bank.
Those who contribute a recipe will also receive a free printed edition of the cookbook!
Get involved and make a difference by submitting a recipe that matters to you.
Share your stories and recipes here.
Email us: Hello@alivewithideas.com.
Tweet @AliveWithIdeas.