Food unites us. It creates lasting memories. And it has the power to influence cultures and communities, moments and movements.
These campaigns, all focused on food, tap into human emotion, promote shared experiences and seek creative ways to use our collective love of food for good.
Cook for Ukraine
Cook for Ukraine increases awareness of the humanitarian crisis the world faces right now, as well as raising funds to aid families in Ukraine who have been displaced. The movement encourages people to cook and share Ukrainian and Eastern European dishes with their friends and families and across social media. The initiative also provides a platform for Ukrainian families and their supporters to share recipes with each other, along with the stories behind those dishes. All proceeds go to UNICEF UK or #ChooseLove's Ukraine appeal.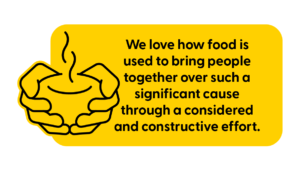 Why we love it – The campaign team state that, "through cooking, sharing recipes and the power of social media, we invite everyone to help make a difference and a positive contribution towards this important initiative."
"We love how food is used to bring people together over such a significant cause through a considered and constructive effort. The food industry has been inspired by the movement too, serving up special Ukrainian dishes where all proceeds go to the cause. This celebration of Ukrainian cuisine has sparked a collective display of solidarity."
Love Food Give Food
Love Food Give Food brings together the food and hospitality industry and their customers to take action against hunger. The campaign, run by global humanitarian organisation Action Against Hunger, sees restaurants come together to generate funds and help those most in need by enabling diners to add £1 to their bill, to support the cause.
Why we love it – Love Food Give Food states that, "through a shared love of food, we can fight the hunger crisis and help vulnerable communities to build a brighter future".
It's about turning our collective love of food into action. There's no complicated process or sign-up system, so many of the barriers to donating are removed. The marketing of the campaign promotes a real feel-good factor for customers, and restaurants have the opportunity to communicate their values and promote causes that matter to them.
Marks & Spencer Fresh Market Update
This ad campaign showcases how British Select farmers grow and deliver M&S food and celebrates the best of British farming. The campaign builds on the success of last year's Fresh Market initiative, which reached 35 million people across 18 weeks. The update will show 62 different ads throughout the summer.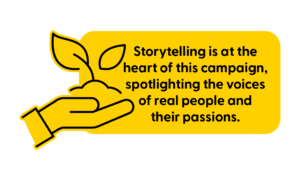 Why we love it – The Fresh Market campaign uses innovative documentary-style films to engage viewers and offer 'behind-the-scenes' footage of farmers at work.
We love how storytelling is at the heart of this campaign, spotlighting the voices of real people and their passions.
No Hungry NHS Staff
In the UK, 84% of NHS staff don't have access to hot food when working a 12-hour night shift. Founders Neely Mozawala and Dr Saliha Mahmood Ahmed are on a mission to make the 24/7 provision of hot, affordable and nutritious food a reality for NHS staff to eradicate hunger, benefit the physical and mental wellbeing of staff and improve the quality of patient care.
Why we love it – No Hungry Staff highlights the impact that hunger can have, specifying the importance of meeting basic needs such as hot and healthy food at night and how it is crucial, not only for staff, but ultimately for the patients they take care of.
In fact, we loved this particular campaign so much that we gave it our full support by creating the campaign's brand identity and website and helping to spread the word, raising awareness of the cause.
How do you Deliveroo?
Deliveroo unites the world behind a shared love of takeaways in a global brand campaign that celebrates the experience of fast food delivered to your door wherever you are. The campaign was designed to shine a light on the differing cuisine, behaviours and practices across all 11 markets in which they operate.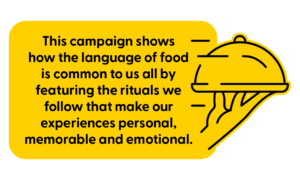 Why we love it – This campaign shows how the language of food is common to us all by featuring the rituals we follow that make our experiences personal, memorable and emotional.
The meals look mouth-wateringly good, and the thirty second ads that draw on these familiar moments are short, snappy and smile-inducing – what's not to like?
Look, Smell, Taste, Don't Waste
The 'Look, Smell, Taste, Don't Waste' campaign launched by anti-food waste company Too Good To Go aims to tackle date label confusion by educating consumers to use their senses instead of purely following Best Before labels. It also encourages food brands to move from Use By to Best Before labels where safe to do so, in a bid to reduce unnecessary food waste.
Why we love it – The campaign uses a label designed to be stamped on foods that carry a Best Before date.
By using three basic icons the pictogram prompts us to sense-check our food instead of blindly binning it because of a lapsed date. Simplicity at its very best!
These great campaigns and initiatives encourage people to get involved by making the ask easy. They use clear and simple messaging, share emotive stories and experiences and make us feel like we're part of something. To us, that's a real recipe for success!