Here's a blog about how AI tools can generate written content. It's written by a real human, typed on a real keyboard. 
Below it is the same blog – but written by AI tool ChatGPT. 
Are human content creators being rendered obsolete by these tools? I guess you can decide for yourself…
—
ChatGPT has been sending tremors through the comms community in recent weeks.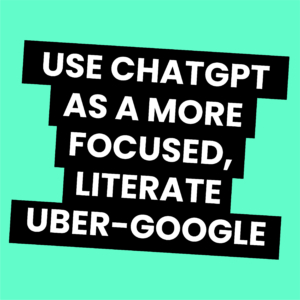 Its ability to turn out more-than-passable articles, blogs and reports, with just a simple instruction ('write me a blog on AI replacing content creators') in just a matter of seconds has left comms pros questioning their future. 
On the face of it, fair enough. But haven't we been here before – quaking as we watch potentially job-threatening technology advance on us. 
Self-service checkouts do a job – up to the moment you need a human to approve your wine or delete an item scanned twice.
As with most technological advances, it's about the willingness to adapt and embrace. 
In his recent LinkedIn post, entrepreneur and writer Dan Murray-Serter quotes futurist Alvin Toffler who, in the 1950s, said: 
"The illiterate of the 21st century won't be those who can't read and write, but those who can't learn, unlearn and relearn."
He challenges us to address our inner cynic and instead be inquisitive. AI is here, he argues, and we should harness it, rather than ignore it. 
Business strategist Brian O'Connor (@BrianFOConnor) is also fairly abrupt in his warning:
"ChatGPT will kill businesses that don't change."
So how can work with tools like ChatGPT to enhance, rather than replace, our work?
Brian suggests using ChatGPT to quickly brainstorm a topic or research ideas faster – like a more-focused, literate uber-Google.
But we can differentiate from the AI tool content by providing richer insights, using emotion with storytelling and applying the content in unique ways. 
There's also no substitute for fact-checking and proofreading.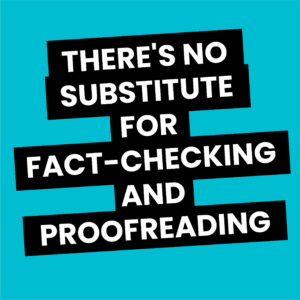 Likewise, he recommends AI design tools like Dall-E can be embraced to help with faster turnarounds to provide more time for bespoke, custom work.(We decided to try it out for ourselves and generate this blog banner, what do you think to the end result?)
So, that's my human effort – over to you ChatGPT…
'300 word blog in conversational style about AI replacing content creators'
As AI technology continues to advance, many people are wondering what the future holds for content creators. Will AI eventually replace writers, artists, and other creators?
It's a valid concern, and one that's been on the minds of many in the industry. After all, AI has already proven itself to be incredibly capable when it comes to tasks that once required human intelligence, such as language translation and image recognition. 
So it's not too far-fetched to imagine a future where AI is able to create content that's just as good, if not better, than what humans can produce.
But before we start panicking about losing our jobs to machines, it's important to remember that AI has its limitations. While it's great at handling certain tasks, it's not as good at others. 
For example, AI might be able to generate text that's grammatically correct and even reads well, but it might struggle to come up with creative ideas or add emotional depth to a story.
Moreover, there's something uniquely human about the creative process that AI simply can't replicate. Creativity involves imagination, intuition, and emotion, all of which are difficult for machines to understand and emulate.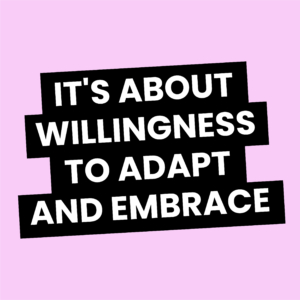 It's this unique blend of human qualities that make our creations so special, and it's unlikely that AI will be able to replicate it anytime soon.
So while AI might be able to assist content creators in certain ways, such as by suggesting ideas or helping with editing, it's unlikely that it will ever be able to fully replace us. Creativity is one of the things that makes us human, and it's something that we should always cherish and nurture.
In the end, the relationship between AI and content creators is likely to be a collaborative one. AI will be able to help us with some tasks, but it will never be able to fully replace the human touch. And that's something that we should all be thankful for.
—
Which blog did you prefer? Let us know at @AliveWithIdeas.