The game that's L O V E D by many…
The well-known brain teaser "Wordle" has been hitting the headlines as it was recently sold to the New York Times for a seven-figure sum!
Jonathan Knight, the general manager for games at the New York Times Company, said they're thrilled, and that the game was "lightning in a bottle".
For the uninitiated, Wordle is a guessing game that challenges players to figure out a mystery five-letter word in six attempts and can only be played once a day through a web browser – so retro right?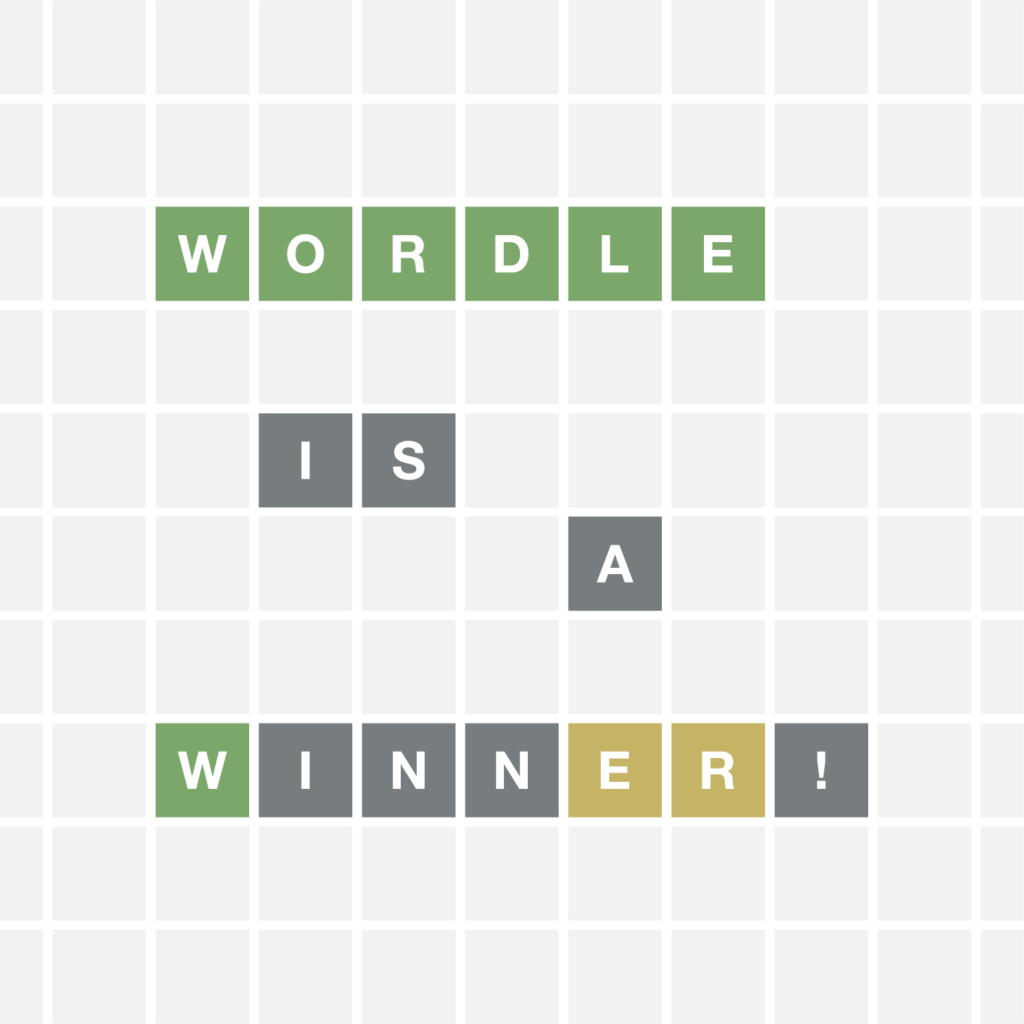 Players start by guessing a random five-letter word. The game will then highlight the correct letters – if it's green then it's correct and in the right place, if it's yellow then the letter is correct but in the wrong place, and if the letter is grey, then it's not in the word at all.
With over 3 million people playing around the world every day, it's safe to say that Wordle is a winner!
Where it all B E G A N
Wordle began as a love letter from a software engineer named Josh Wardle (I like what you did there, Josh), to his partner Palak Shah, who absolutely loves puzzles and guessing games.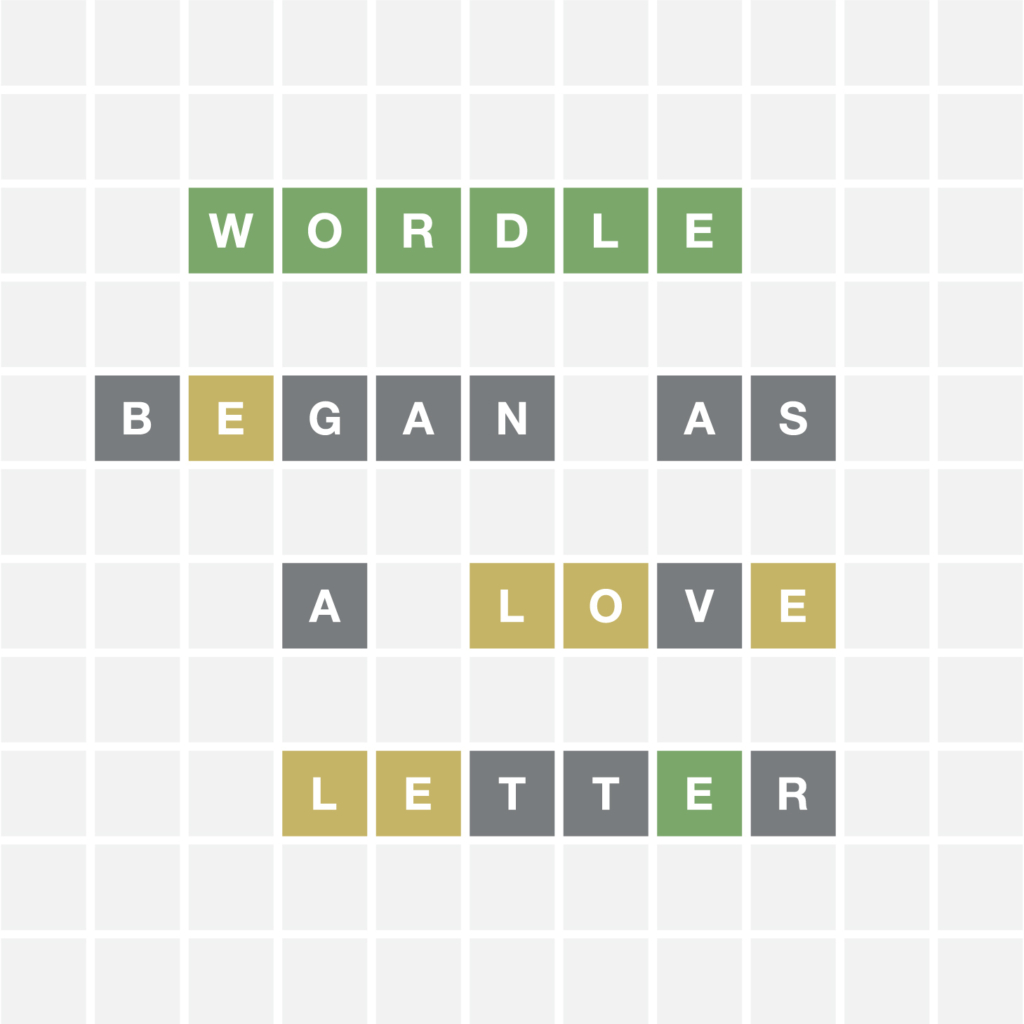 Josh told reporters, with his pockets now full of cash, that when he created the game his only intention was for him and his partner to enjoy it, and that it wasn't until they shared it with family and friends that he realised he could be onto something – and boy was he was right!
S H O R T but S W E E T
In a world where we're used to getting everything on demand, where we can watch an entire Netflix series all in one go and instantly consume information by asking Google or Alexa, Wordle is refreshingly different.
By making players wait an entire day for their next fix of wordsmithing fun, Wordle almost censors and caps its own addictive nature. It doesn't demand too much time or attention; it doesn't suck you in and then spit you out once you've wasted half a day. Each new challenge is short and simple, and the sense of accomplishment you get when you've cracked it is oh so sweet!
Good for the B R A I N
Before I workout, dance or go for a run, I always stretch and warmup first – it gets me feeling pumped and prepared and prevents injury (those Zumba dance classes can be rather dangerous!) And it got me thinking, why aren't I doing the same for my brain?
Pre-pandemic, we would often do this by listening to a podcast, reading a book or solving a crossword on the daily commute to work. But since working from home, it has become all too easy to forget the warmup and just crack on.
Perhaps that's why so many of us have welcomed Wordle into our daily routines with open arms – it gives us a quiet moment to focus, reset our minds and solve something trivial before attempting the big stuff.
It's all about U N I T Y
Thi Nguyen, a philosophy professor at the University of Utah and a scholar of games (which sounds like a pretty cool job if you ask me), describes each game of Wordle as an "arc of decisions, attempts and failures."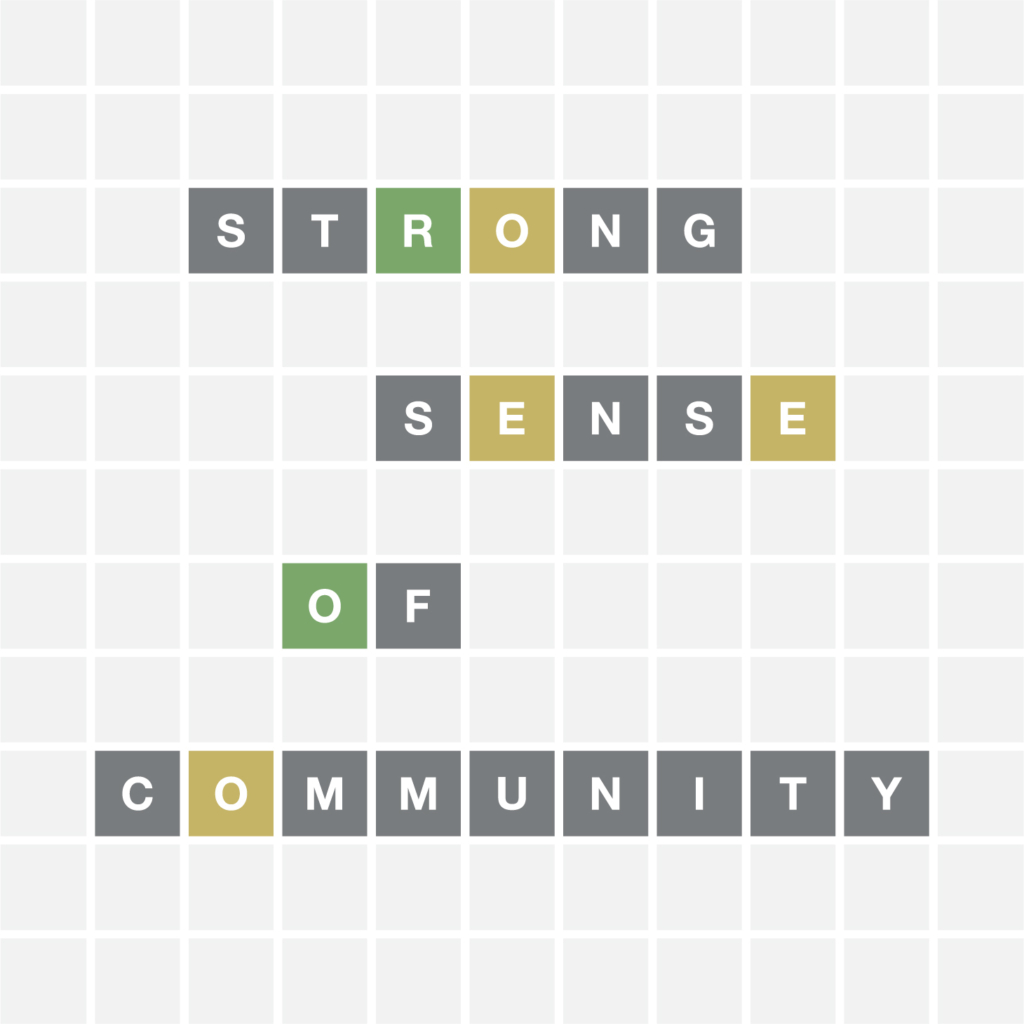 I think there's something quite special about how we're all experiencing this arc together as we each attempt to solve the exact same puzzle on the exact same day in our own creative way. Wordle also allows players to share their scores on socials without giving the answers away, further amplifying the strong sense of community that many have gained since the game took our web browsers by storm.
With Wordle, what you see is what you get – no gimmicks, tricks, apps or demands – just millions of people around the world trying to make sense of some letters and squares.
Whether it's simplicity, creativity, community or something else, what do you find wonderful about Wordle? Tweet us @alivewithideas.
By Lauren Castle for Alive!