Communicators are well-versed in answering the age-old question, "what is it you actually do?". But rather than reeling off a list of skills, knowledge and accomplishments, should we be explaining what it is we don't do?
Newsweaver recently ran an excellent webinar on how to create and run a corporate newsroom. Yet it started off by explaining what a newsroom isn't. It isn't a press room, media relations or the team that look after the intranet. Instead it's about having a journalistic mindset that identifies and tells stories about the corporate strategy using editorial standards and practices.
And this got us thinking about how internal communication can often be a catch all for anything in an organisation that doesn't quite fit anywhere else. This demonstrates people's lack of understanding around what we do, and severely damages our credibility and ability to become valued trusted advisers.
But by continually repeating what we do, and not spelling out what we don't do, are we missing a trick? We asked the communications community to tell us what they thought the biggest misconceptions were to make it easier for us as an industry to address them…
Messengers
People still seem to think that we are simply messengers, regurgitating messages and posting them on various channels. While we know how strategic we can be and the value we're adding to the business, we need to remember that a large proportion of employees aren't in those meetings and conversations. We need to find ways to tangibly demonstrate what else we can do to the people that only come across us when they have a story that needs publishing on the intranet.
Official photographer
Having access to a camera is not the same thing as being a professional photographer. Unfortunately, many people fail to make this distinction and assume it's one of the many strings we have to our bow. Chances are if an internal communicator can take a fairly decent photo on their iPad, so can everyone else.
Party planners
Thinking through the key messages that need to be conveyed at an event, coaching speakers on how to engage an audience, and ensuring everything is clearly linked back to the strategy, is very much the role of an internal communicator. Creating delegate lists, overseeing the catering and creating signage for the toilets is very much not.
Intranet owners
Yes, the intranet is a channel of communication that we use. No, we do not own it. Chances are internal communications will take responsibility for the homepage and news pages, but team sites should be the responsibility of, you guessed it, the respective teams. While internal comms can support and advise, it is not our job to post, manage or archive content within team sites.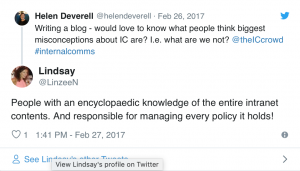 Marketing's internal PR
Many of us may sit within or alongside marketing, which can lead to the misconception that we exist to purely churn out the messages they've already communicated externally, internally. This may inadvertently happen from time to time, often due to being brought in at the last minute and being asked to do 'a bit of comms'. Avoid that by being visible, spend time away from your desk, speaking and listening to people to find out what's going on – and then invite yourself along to the relevant meetings!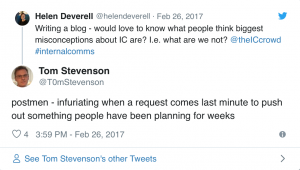 Masters of spin
It's bad enough if people think the company they work for spins bad news internally, it's even worse if they believe internal communications are the masterminds behind it. As an industry we need to be trusted and once that trust is lost, it's very hard to win back. Keep in mind that this perception is about more than just the comms team – if people think you spin, they'll think the problem is endemic to the wider organisation. Find proof of this sentiment and have honest conversations with senior leaders about addressing the issue.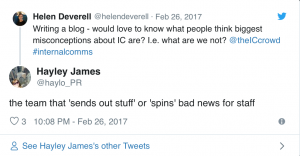 PowerPoint 'prettifiers'
In addition to party planner, we're often seen as the go to guru of the PowerPoint deck. Again, we can help ensure messaging is positioned correctly, but as far as changing the colour of the template background, or aligning bullet points, we'll pass thank you.
Word magicians
"Can you sprinkle your magic on this?" One of the most infuriating sentences in the history of communication. It's inevitable that we will write as part of our job, which is brilliant as many of us love doing it. But that doesn't mean we are the only people who should be writing in our organisations. As more and more companies adopt two-way collaboration channels, people are now able to create their own content, leaving us to coach, advise and focus on the more strategic aspects of our job.
As fellow communicator Paul Summerhill pointed out on Twitter, it's a little disappointing that the above list is a common perception of internal communications. Yet, if we're honest with ourselves, how many of us do tasks like this because we care and we know chances are if we don't do it, no one else will?
It can quickly become a self-fulfilling prophecy. We need to be better at pushing back, challenging and simply saying no to tasks that aren't in our job description. Create tools and guides to empower others in the organisation to do it themselves. Coach people in key communication skills such as writing to take away some of the 'doing' from you, leaving you free to do some thinking.
What else would you add to this list? And would you consider publishing a list of what your job description isn't in your organisations? Let us know in the comments or on social media.
By Helen Deverell for Alive!