At Alive we love pictures. We love words. And we love stories.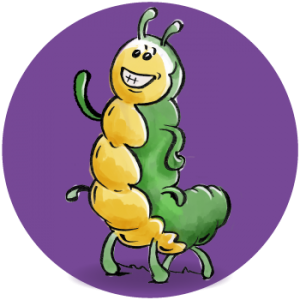 Chuck Gose loves all these things too. Which is why, when Chuck suggested we work together to bring the story of The Hungry Communicator to life, we did a little happy dance.
And it's been a joy!
Together, we've created this tale to tell the inspiring story of you, the hungry communicator and your journey towards confidence, credibility and contentment.
The original Hungry Caterpillar book, published nearly 50 years ago, not only provides fun and entertainment to children around the world, it also uses educational themes – counting, the days of the week, foods, and a butterfly's life stages.
From beautiful butterflies to confident communicators
In a similar way, we wanted our story to entertain and to inspire grown up (and young at heart) internal communicators everywhere.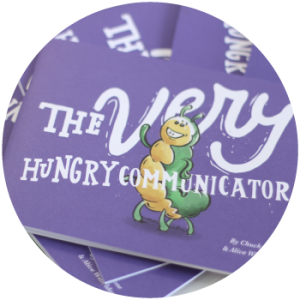 In our book, we tell the tale of our hungry communicator's amazing transformation.
We travel a fruitful trail of development, commitment and spirit, guided by a hunger for success and a desire to prove worth. From uncertainty and unease, our hungry communicator emerged as a respected professional by defining the way forward, accepting the challenge and sweating on the details.
Feeling the love for our chipper little friend
We've heard some super kind words from those already enjoying the story…
"I LOVE the Very Hungry Communicator. It's a fun and super easy read but also manages to be a highly useful aide memoire on what should go into a strategy too."
"A great tool to give to someone when they ask, 'What do you do?'"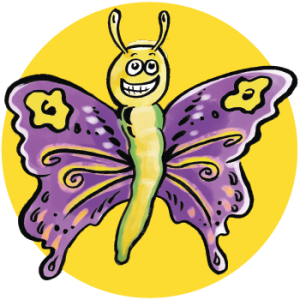 "The Hungry Communicator made me think, laugh, muse and remember and it totally excited me. It's full of emotion, creativity and genius."
"Loving your work. My children are impressed too. "A caterpillar book for a grown up? Wow."

"The Hungry Communicator looks AMAZING!"
If you'd like your own copy of The Very Hungry Communicator, get in touch or tweet us here, using #HungryCommunicator.
Travel your own trail to confident communication.
Be the hungry, happy hero of your own story.