Social Christmassing (AKA socially distanced Christmas parties) are THE thing this year. From virtual drinks on video conferencing platforms to a Christmas party in a box, some of the most resourceful events companies will take this opportunity to dazzle us with their creativity.
It won't be the end of the world not seeing your colleagues Christmas jumper dusted off again for the 8th year running but the tradition of the Christmas party can still be cherished and celebrated in another way. After all, for many it's their only thanks for the years' effort and a well earned chance to cut loose.
So, save yourself the hangover and cringing fuzzy memories of slut dropping Dwayne from Accounts this year.  Let's turn tradition on its head and plan a Christmas party with a difference …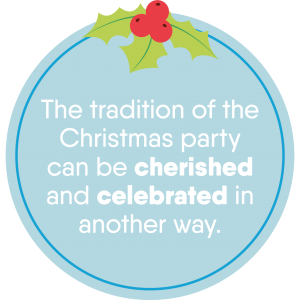 What could your team Christmas look like this year? 
There have been lots of great event ideas circulating this year already (resource links below). Online escape rooms seem a really popular choice. Virtual bake-offs and racing evenings by professionals or buy our own subscription offerings are all popping up on social feeds. Comedy nights and magic performances where once you would have sat in a club now you can watch from the comfort of your own sofa, thanks to this crazy year we have just experienced. Receiving hampers to your door, online Christmas parties with music in your living room, Christmas music playlists and fancy-dress virtual drinks and/or karaoke are also proving popular options.
To go along with the entertainment, there's subscription drinks boxes or virtual wine tasting and cocktail making masterclasses with ingredients posted to your home to inject some Christmas spirit into proceedings. Why not consider staff gift vouchers for a meal out at a later date if this approach doesn't fit with your companies' normal approach?
Virtual Christmas lunch

The team Christmas lunch is always a cracker. This year arrange your lunch online and use these great tips to add a little festive sparkle to the event.
Send a festive nibble pack
Get your colleagues to wear their usual Christmas jumpers / onesies and make sure the competitions for best and ugliest have a gift voucher prize
Arrange a food hamper 'Christmas lunch fun in a box' with Christmas crackers and festive goodies, delivered to their door on your Christmas party day
Create the right atmosphere with a few surprises; family Santa visitors or elves
Film an alternative Queens speech to send to your team / clients
Re-create that festive feeling
It's hard to get that same feeling online, but changing things up this year could really make the difference and cement bonds. After all, if you always do the same thing you will always get the same outcome.
Recording your own Christmas message for a colleague(s) will definitely help generate that much needed warm fuzzy feeling
Share a personal reflection about them
Impart a piece of advice that they gave you this year which may have helped you in some way
Christmas traditions at the click of a button
With the click of a mouse,  some of your Christmas favourites can still feature at your party or during the Christmas month.
Make an online advent calendar
Secret Santa generator – (Share your COVID friendly gift)
Create and play some Christmas drinking games
Do for others as you would do for yourself
If this year the Christmas party isn't the top priority for your team why not make a charity donation to buy a meal for someone else, there are many to choose from …
Shelter, The Salvation Army, Crisis, Streetlink.  Alternatively consider donating to foodbanks or local charities or simply spread a little festive cheer by visiting an older person on their own.
Online events and Christmas parties resource ideas
Here are just a few we stumbled across, there are lots more out there to discover. It's not too late  …
Have a magical Christmas whatever you get up to this year. 
Love, Team Alive