Art and creating can provide sanctuary, calm and focused moments.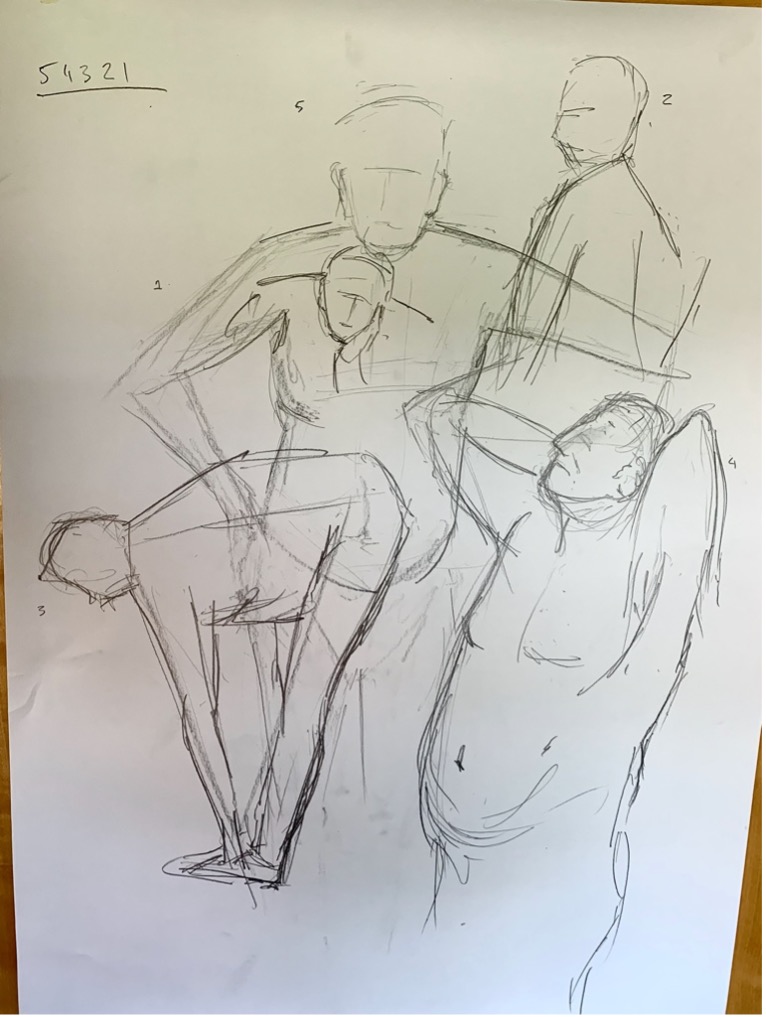 Meet Michael. He was the model from the drawing session I went to whilst on holiday* in St Ives (Cornwall) this September.
I was nervous about taking part as I haven't done much drawing recently and being in a space with others hasn't happened in recent times either.
Find your flow
As I started the session I couldn't get into the flow. Nothing seemed to work. I kept rubbing things out and starting again. The instructor came around and told me that those workings can add to the feel of the end drawing. This was probably just encouragement to get me going but it worked. I started to loosen up and the pressure of some poses being short (5 mins) was good to get me committed to the task. Activities like drawing left-handed (or with your weaker hand) and not looking at the paper whilst sketching helped. The activities took away the hesitation and stopped me from being so self-critical.
Set judgment aside
You can't hide when you're in a room with others drawing. At times everyone can see how things are going which can add to the pressure, but it also means you have to keep going and keep trying to create something, good or bad.
I went into the night trying to focus on the process and the act of drawing rather than judging or worrying about the 'quality' of the output. That's hard. We judge what we do all the time and we can be quick to decide if something is working or not. But the activities helped and needing to move through different poses made it easier to commit to a sketch.
In the first drawing we had decreasing time for each pose: 5 – 5 minutes, 4 – 4 minutes, 3 – 3 minutes and so on.
Some thoughts and takeaways for drawing and beyond…
Whatever you're doing, if it's not as good as you want it to be with your first few attempts, that's ok!
Sometimes things go wrong and embracing that makes it easier (but still frustrating).
Doing things to get the process moving can help put your fears and inhibitions to one side.
Why bother with this or any other artistic or craft activity?
Life and work can be busy. Time to focus on just one thing is rare. For me, drawing gives moments of focus, quiet and calm. Losing myself in something can be much needed. The noise of the day and general distractions in my mind becomes quieter.
Something for everyone
Life drawing may not be for everyone, there are alternative ways to do something creative that'll give you a calm moment and create some headspace. It can help even when you're not feeling 100%.
Whilst colouring books aren't my thing, I can see why people use them. Here are some other ways to get creative and arty…
Trace an image or photo but adapt and play with the style you use. Do it multiple times and explore approaches. Only draw the shadows or simplify the original image.
Copy an image, illustration or another drawing.
Print and make textures using objects found from nature.
Make a collage out of images from old books, magazines or old packaging.
Draw on a magazine cover or used packaging.
Doodle in your notes from a meeting – draw something that represents the themes.
Play and draw squiggle birds
I also have some visual games like OuiSi (We-See) I play to help clear my mind. They're simple and that's the point because if it was too taxing, I wouldn't be able to do it when I'm not on top of my game.
For many, 2020 was an incredibly challenging year and 2021 may not have been any better.
Find your thing
If you take one thing from this time, it's that we need to do more of the things we love and put our inhibitions to one side. In my experience this one thing can help guide you from the very darkest of places even if it's just for a moment.
I've now started 6 weeks of life drawing sessions to keep working on drawing and to give myself some space and time. Here are a couple of my latest efforts.
If you need a little more inspiration, below are some other things I've drawn. I set myself a little challenge – do one rubbish drawing a day. Why rubbish? To take away the pressure. If it's better than rubbish that's ok too.
If you feel inspired to create something, anything at all, it doesn't need to be a drawing, share it with me on Twitter @AliveWithIdeas.
By Alan Oram for Alive!
* It was a holiday in this country. It was not a staycation! #justsaying



RESOURCES:
Some books…
You Are An Artist by Bob and Roberta Smith
Drawing Therapy by School of life
It's Great to Create by Jon Burgeman
Daily Doodle by Jon Burgeman
Some things to watch…
More reading…
The conversation: brain research shows the arts promote mental health
Better Humans: A machine for helping you doodle
Edutopia: The science of drawing and memory
Hessam Moussavi LinkedIn: 10 great health benefits of painting and drawing