National Work Life Week took place earlier this month and it was all about getting employers and employees talking about wellbeing in the workplace to create a healthy work-life balance for families. So, where do we start when it comes to creating inclusive cultures that go beyond the basics and enable people to thrive…?
At Alive with Ideas, understanding what our people need has always been a top priority and we're always working on ways to help one another flourish. So we fully support organisations like Working Families, who created National Work Life Week to help cultivate more supportive, family-friendly workplaces across the UK. The resulting win-win situation sees organisations benefit from improved engagement, retention and productivity.
Working Families surveyed parents to find out what matters most to them. The top answer was having a culture that supports working families.
Joined by a panel of progressive employers* Working Families hosted a webinar to share practical advice we can apply in our own organisations about welcoming and supporting all kinds of families and creating cultures where everybody feels understood and valued. There were some top tips shared that communicators and those with a keen interest in employee engagement could be considering.
91% felt support from their employer makes a difference to their wellbeing**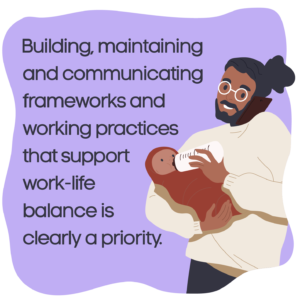 One of the most powerful learning points shared about supporting working families and the broader topics of wellbeing, diversity and inclusion was LISTENING. From gathering diverse opinions and making them count, to responding quicky with support and guidance when individuals share challenges they're facing, it's evident that communication is key! 
Seven out of ten parents agreed having a culture that enables people to successfully balance their work with family life is incredibly important** 
Building, maintaining and communicating frameworks and working practices that support work-life balance is clearly a priority. But how can we make sure that the policies and support available to families are accessible and inclusive? Along with remaining curious and maintaining a broad and open mindset it's crucial that we keep people informed – continually communicating what's being done and what changes are taking place.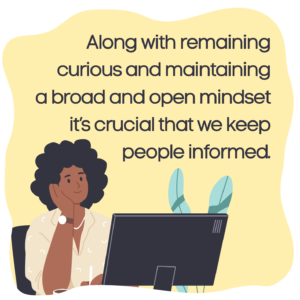 First and foremost, get involved in reviewing your existing policies and making sure they are fit for purpose
Ensure that a broad range of policies are considered and implemented beyond the obvious – fertility, menopause, bereavement, adoption, surrogacy, etc.
Understand personal priorities – from childcare requirements to mental health interventions, know what matters to people
Compare and contrast by learning from others within and beyond your industry and picking up on best practice
Appreciate this is a continually evolving process, it's never done so periodically gather insight from geographically dispersed groups and those in diverse roles
Encourage those people to be vocal through regular workplace surveys, focus groups or employee representative opportunities across the organisation
Cover all the bases – emotional, financial, physical and mental wellbeing must ALL be considered
As communicators, building relationships and creating strong links with different functions and employee network groups is business as usual. But how can we help amplify their agenda and support those groups when it comes to driving inclusivity and family friendly working?
Don't miss the important topics – help to plan a calendar of online and in-person events that address the needs of all groups, making sure they're held at different times of the day and week
Run collaborative events that cross over your different networks and think about introducing buddying systems that connect diverse people together
Listen carefully so you can cover every aspect and stage of familial responsibilities and help to build these into your policies and practices
Communicate, amplify, broadcast – tell your employees what's available to them and share clearly how and where they can access that support
Share case studies to demonstrate how your policies are being used and the positive experiences people are having
Help employees understand inclusive language and approach it from a place of curiosity and interest rather than being scared of saying the wrong thing
With the 'traditional family construct' continually evolving and the topics of wellbeing, work-life balance and inclusivity all remaining firmly at the top of the agenda, communicators need to remain ahead of the curve. Learning from those who are successfully tackling those challenges and nurturing the diversity of their people is a great place to start!
*The panel:
Denise Priest: Executive Director, Customer Experience at Bright Horizons, our official partner for National Work Life Week
Orianna Caruso: Co-chair of the Citi Families Matter Network London
Christiana Rose: Founding Co-Chair for Parents and Carers Network, Middlesex University London
**The Working Families and Bright Horizons survey 2023
By Caroline Roodhouse for Alive