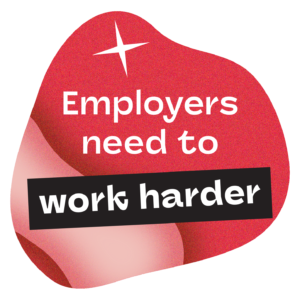 Imagine you're in the office, sat at your desk, and the person next to you is bleeding out of their right arm. They're in pain but seem to be cracking on with their work, nonetheless. 
Every couple of hours they have to slip out of the office to pop some painkillers and change their bandage, but no one else is allowed to see the bandage – it's a secret. 
They could put the bandage in their pocket but for some reason, their trousers don't have any. Silly really, trousers without pockets. The trousers look like they have pockets, but they're actually those sneaky little fake pockets that are stitched up really tight.
Anyway, due to the systemic shame and deeply entrenched stigma attached to bandages and why they're needed, they tuck it into the sleeve of their cardigan and tiptoe away. 
Except it's not a bandage, it's a tampon. And it's not an injury, they're on their period.
Surveys show that 89% of employees report experiencing anxiety or stress in the workplace due to their period, highlighting the wider impact and burden on mental health. *
Employers need to work harder to destigmatise menstruation and give people with periods the freedom and flexibility they need. 
How?
Don't force people to come into the office. (There are still some organisations who do – you know who you are). Sometimes working from home with a hot water bottle and trousers with an expandable waistband (but likely no pockets) makes all the difference.
Ensure there are a variety of free sanitary products and waste bins in your staff toilets – yes, all of them. No one wants to go door to door searching for the right cubicle, and not everyone who menstruates identifies as a woman. If you're not sure what people need, run an anonymous survey and find out.
To build a more inclusive workplace, employers should educate themselves on the impact of menstruation and menopause. The British Standard Guide** is a good place to start.
Create a culture of open communication around menstrual health and encourage open discussions. In a recent survey people were asked what their employers could do to support and 63% said to normalise conversations around menstrual health, and 59% said to provide more information. *
It's up to all of us to break the cycle of shame, stigma and stress. 
** www.bsigroup.com/en-GB/standards/understanding-menopause-and-menstrual-health/ 
By Lauren Castle