We're on the hunt for a dynamic, creative and talented internal communications consultant with energy, enthusiasm and an eagerness to grow at Alive!
Laying down your roots
You'll have an insatiable desire to make work a better place for people through a commitment to great communication and outstanding employee engagement.
A budding talent
You'll thrive as the first point of contact for some of our clients, talking through initial briefs, demonstrating an astute understanding of every element, interpreting these requirements and sharing them on with the rest of the team. You'll manage projects from start to finish (with the support and input of others, of course), from the seed of an idea and the creation of an enticing proposal to the delivery of top-notch projects, programmes and campaigns.
Helping you to grow

You'll have a good understanding of IC fundamentals and a strong desire to develop your skills in the following areas:
Creating and delivering comms (internal and external) strategies and plans
undertaking full service and channel audits
audience segmentation
messaging development
change and transformation programmes
employee engagement strategy development and implementation
vision & values development and deployment
research, measurement and evaluation
The perfect conditions
You'll also possess these vital personality traits:
an ability to develop and maintain relationships that inspire trust and respect
a growing confidence to interact across all levels of an organisation, including key stakeholders and senior leadership teams when need
a fundamental understanding of comms challenges
a friendly and approachable nature
a natural curiosity and a desire to always know more
excellent communication skills, both written and verbal with the ability to turn complex information into something digestible
the confidence and capability to contribute towards original and imaginative ideas
an ability to prioritise and manage different tasks at once
super organised, hard-working and calm under the pressure of busy agency life
a diligent eye for detail and an ability to see the bigger picture
passionate about all things creative, eager, ambitious and a great team player but independent with it.
We provide the sunshine
At Alive, we provide the perfect environment for an enthusiastic individual to flourish.
As a fast-growing, innovative agency, we've been delighting clients with bold and brave work for nearly ten years. We've developed impactful internal comms campaigns, exceptional employee engagement initiatives and creative brand and website development for a bumper crop of high-profile clients like Mercedes F1, TCS, FedEx, B&Q, NATS, PPL, GWR, KP Snacks, Gatwick Airport, Sainsbury's and the NHS.
What makes YOU feel safe to grow and thrive?
We can't answer for everyone, but when we asked our champion team at Alive what they love about their job, they were pretty clear…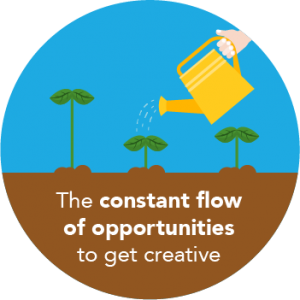 'Working in such a supportive and chilled atmosphere with great people' – Andy
'It feels like one big happy family' – Laura
'I can be myself and make a difference everyday' – Rob
'The constant flow of opportunities to get creative' – Caroline
'Alive genuinely cares about their team' – Ellie
'The weird ass conversations' – Cam
'All the wrestling…' – Stan
Fancy being part of this?
Apply today…
If you'd like to join the Alive team, then send your salary expectations and CV hello@alivewithideas.com.
**Please understand only successful candidates will be contacted.**
Find out more about us at www.alivewithideas.com
Follow us on twitter: @alivewithideas
Job Type: Full-time