American science fiction-horror-action web television series, Stranger Things, first burst onto our screens in July 2016, and it's proven to be totally addictive, rapidly growing a cult following
With viewing figures averaging a whopping 8.8million per episode, audiences haven't been the only ones to sit up and take notice. The series has also captured the imagination of marketing teams, who have been quick to spot an opportunity.
Whether it's the iconic 80s fashion and music, or the intriguing guise of 'The Upside Down' brands have been inspired to do, well, stranger things than they normally might! And by stranger, we mean some super creative, out of the box thinking.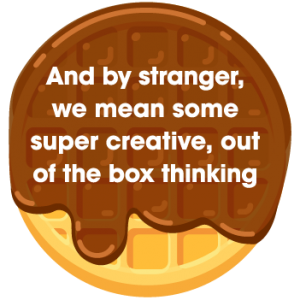 The result being that the Netflix hit has been a catalyst for some of the standout campaigns and promotions we've seen this year – and with the arrival of Season 3, this trend shows no signs of slowing down.
How Stranger Things has turned marketing on its head
Traditionally, brands would get involved with a new release by plugging it on their product and running some kind of 'money can't buy' giveaway.
For Stranger Things, while the activity has been driven to an extent by Netflix actively seeking out strategic brand partners, we are seeing teams get uber creative with their tie-ins and newshacking efforts.
At one end of the scale, we've seen products from the show making a comeback, like Kellogg's Eggo waffles (a favourite of the show's main character 11), complete with a packaging design the same as those sold in 1985.
The sweet treats continue with the ice cream boffins at Baskin-Robbins launching exclusive ice cream flavours and products tied to the show, along with recreating the 'Scoops Ahoy' ice cream shop.
And picking up on the 80's fashion trends that are so memorable in the show, Nike has dug deep in its archives to create a collection of retro clothing and sneakers.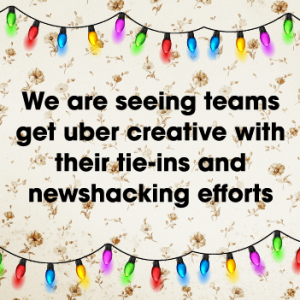 But that's nothing, compared to the creativity of these three brands, who have really turned marketing on its head.
Top 3 Stranger Things campaigns
3. Coca-Cola – Coca-Cola has created a Palace Arcade, just like the one seen in the TV show, complete with 1980s video games and a secret "upside-down" world that's only accessible to those with a good knowledge of the show, who are then given a limited edition upside down can.
2. Ikea – How would you like to get that 1980's horror style in your own home, by recreating Joyce Byers' living room from Stranger Things? Well now you can, thanks to Ikea. This awesome idea was just one of a range of famous living rooms the furniture giant has helped customers recreate in its catalogue.
1. Lego- But undoubtedly the champion of Stranger Things marketing is Lego! They've introduced a themed Lego set that can literally be flipped upside down to expose the evil version of the Byers' iconic house, where many of the show's key moments have played out. It comes complete with a retro TV advert to boot.
Pressing play on creativity
It remains to be seen whether other programmes and films will ever be able to top the creative ideas that Stranger Things has inspired. The production team had a plan and openly went out there to make it happen through a series of strategic tie-ins, and the end result has been spectacular.
On a smaller scale, we saw the same thing starting to happen with Games of Thrones, so let's hope the play button has officially been pressed on all-out, nostalgic, visual and experiential marketing creativity!