We've entered an interesting time of the pandemic where the risk of covid still feels very real for many people, whereas others are keen to return to 'normal' or at least learn to live with the virus.
So where does that leave us? From a work point of view, the immediate future looks set to involve a mix of people working from home and in the office – i.e. hybrid working.
"Oh no, not another blog about hybrid working!" we hear you cry.
Yes, we have jumped on the bandwagon, and no we haven't taken our crystal ball along for the ride. We've no idea what next month will look like, let alone the next year. Instead, we've taken a look back over the last 18 months to see what impact Covid has had on the way we communicate inside our organisations and what we need to be thinking about right now.
The perception of IC

The pandemic shone a spotlight on internal comms and businesses sat up and took notice. However, while what we did was brilliant, the nature of the pandemic meant that much of it was reactionary, because it had to be.
What remains to be seen is whether the perception of internal comms has truly shifted. Yes, businesses think we're important, but do they really understand the strategic impact we can have? If not, what do we need to do now that we have senior stakeholders' attention?
Solution: If you don't have a strategy, now is the time to create one and get it in front of leadership. We have their attention so let's showcase what we can do when we have the time and space to think strategically. If you have evidence of the impact previous communications have had, share that too – especially if you can link it to business outcomes.
Zoom fatigue
In the beginning, Zoom was a bit of a novelty, but after a day of back-to-back meetings, where the phrase "Janet, you're still on mute" was uttered at least 10 times, it soon became old.
However, hybrid working is likely to see people defining their own working patterns, meaning people won't be in the office at the same time and meetings, at least for now, will continue to be online.
So how do we as internal communicators, avoid adding to the fatigue of video calls?
Solution: It's back to basics for this one: encourage leaders and people managers to keep the use of video communication to a minimum. Town Halls will still need to take place so ensure there is a clear purpose, and everything communicated is useful. You could also consider giving leaders who run these sessions training around how to make them more engaging.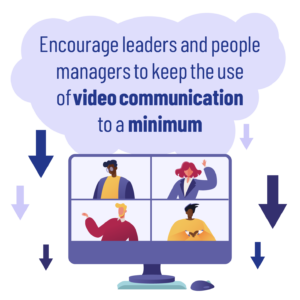 Tech is not fit for purpose
The announcement of the UK lockdown saw organisations scramble to provide the tech their employees needed to do their jobs from home. From an internal comms perspective, you may have found yourself launching an online channel in record time or persevering with an existing one to ensure you had a way to reach employees.
However, it's likely that many IC pros will now be assessing the tech they have and whether it is right for their organisation and its employees. It can be difficult to admit that something you invested time and money into just isn't working. One of my favourite quotes is:
"Don't cling to a mistake because you spent a long time making it." Aubrey De Graf.
That's not to say anything implemented during the covid crisis was a mistake. It was the no doubt the right decision at the time based on the information, budget, and tech you had available. But that doesn't mean it's right as we transition into hybrid ways of working.
The solution: Now is the perfect time to audit your IC channels to review how they supported your internal communications over the last year and if they will fulfil your needs as you move forward. Listen to your employees, collaborate with your IT team, and do you research to understand what's right for your organisation.
People managers need to manage in a different way
People managers are a key audience for internal comms so it's important we understand the communication challenges the last year presented for them and how hybrid working may impact that further.
For example, on top of their ordinary communication activities, they also need to think about how to create a sense of belonging in a team where some members may see each other face-to-face regularly and others not at all.
The solution: Consider running focus groups with people managers to understand their concerns and what they need from internal comms. Then work with them to set up a plan of action going forward.
Informal listening is harder
Internal communicators need to be plugged into the organisation, listening out for potential stories as well as getting a sense of the general feeling among employees, especially following major communications. In the absence of canteen queues and bumping into people at the printer it can be harder to do this.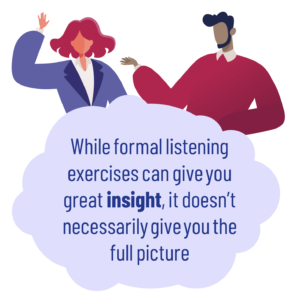 The solution: Try to spend the first five minutes of online meetings chatting and catching up with people. Listen to what's going on in their world and encourage people to share openly. It won't fully replicate the face-to-face experience, but many people will crave the social interaction and it's a good opportunity for you to listen and find out what's going on that IC might need to be aware of.
Hybrid working is likely to be a reality for many businesses, at least in the immediate future. So, let's take this opportunity to take stock and address the changes we need to make following the most challenging 18 months many of us will have ever worked through. And don't forget to give yourselves a pat on the back while you do it.
By Helen Deverell for Alive with Ideas
Read more on hybrid working
Challenging unhelpful thinking in a hybrid working world
Read more on making online meetings more personal
Avoiding virtual insanity: Make online meetings a highlight of a home working day