2020 has been a year of great campaigns already and we've only just stepped into March.
From Tesco launching their new range of racially exclusive plasters to Burger King promoting pictures of their rotting burgers (all the while throwing shade at McDonald's, of course).
There's also been an abundance of occasions and awareness days – every marketeers dream. These can be a great way to gain extra exposure for your brand. That is, however, only if the shoe fits. I'm a big believer in tailoring campaigns to certain events. For example Valentine's Day is a great occasion to tie your brand in with, but only if that brand is centred around romance or at least embodies elements of it.
Here's a few that have stood out to me this year.
HIT! Innocent chip in on Pancake Day
Lots of brands had a right to get in on Pancake Day, but by the same token, many who didn't.
I popped a tweet out on Shrove Tuesday to ask comms folk what they thought about brands pushing out Pancake Day-related content when their brand didn't fit and though opinions were mixed, the overarching result (65%) was don't do it.
One brand that did get it right (despite their business not strictly aligning with Pancake Day) was Innocent. Famed first for their smoothies, and lately for their social media efforts, this is one of my favourite brands on Twitter. They're creative, they're funny, and all the while they push out their products in the most inventive way possible…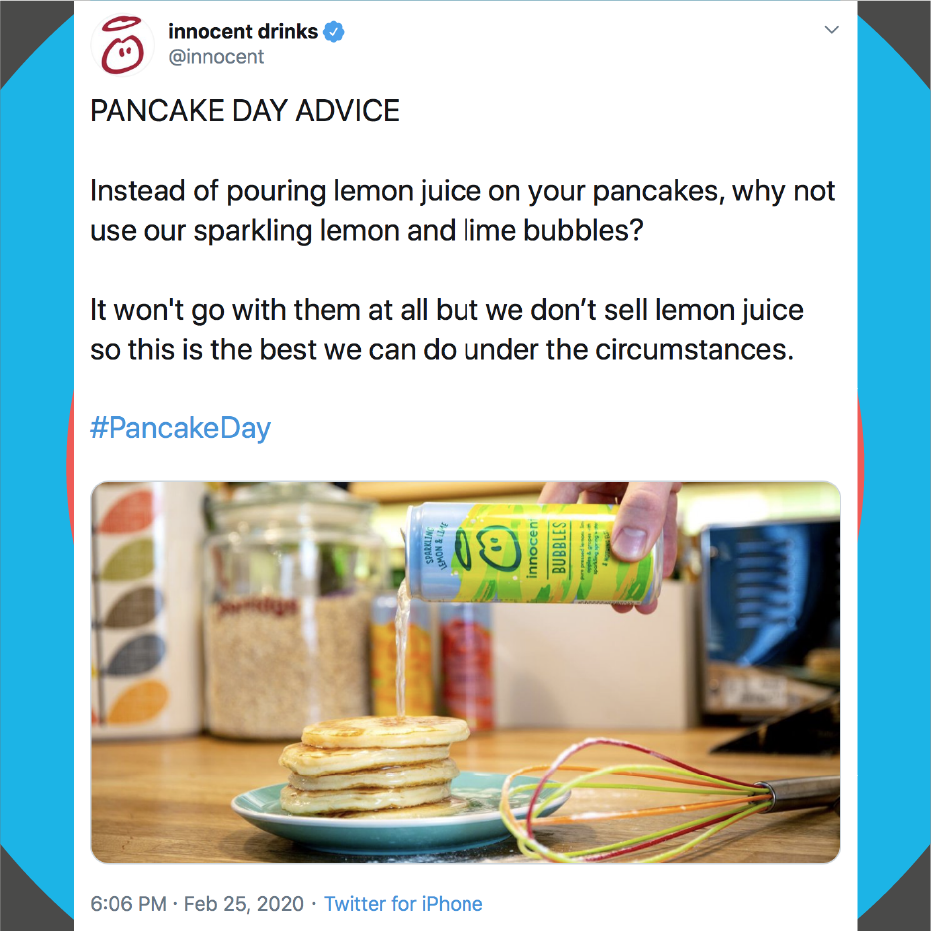 MISS! McDonald's attempts Veganuary
At the start of the year was Veganuary, a rapidly-growing trend which sees individuals – sometimes sponsored, sometimes not – attempt to go vegan for the duration of January.
So of course, it was no coincidence that there were no less than four vegan product launches of note from the biggest players in the fast food industry, including Subway, KFC, Burger King and McDonald's.
Three out of four of these brands got their veggie launches bang on, but one did not. I wasn't the only one to think this.
McDonalds' answer to a new vegan product was the Veggie Dippers, a take on the much-loved Chicken Selects. Unfortunately, the new item wasn't well received, with many realising that it was a simple rework of the Vegetarian Burger that McDonald's have served for a while now, while others said they simply wanted a meat-alternative product.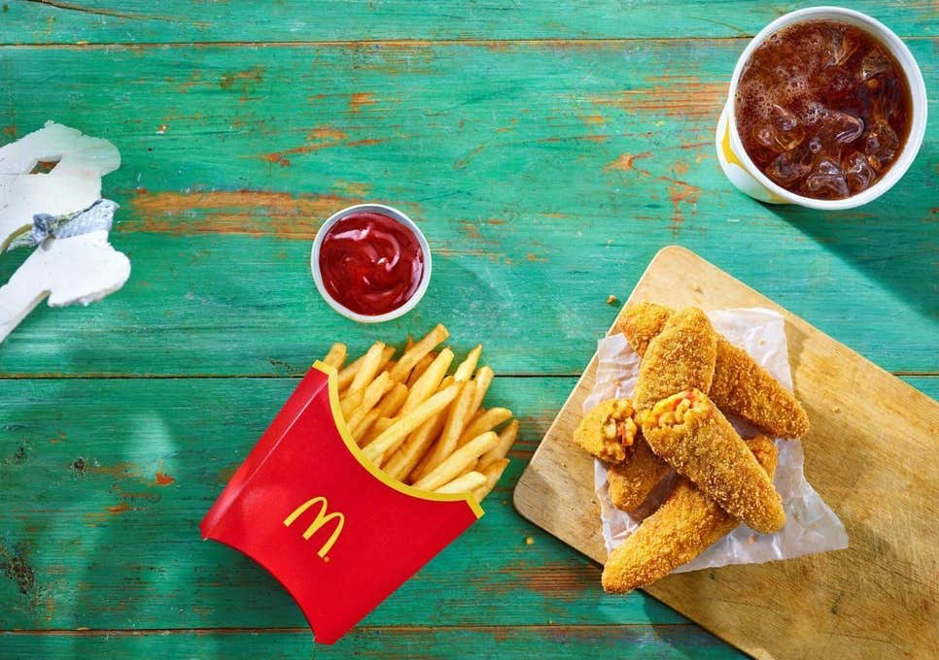 Image credit: Independent
McDonald's redeemed themselves recently with the selling of their famous Big Mac sauce in restaurants nationwide, thus proving that the best campaigns aren't always a product of trying to fix your brand to popular celebrations.
HIT! Bloom & Wild get sensitive around Mother's Day
Brands are already starting to gather traction around Mother's Day later this month for all the right reasons.
Last year, Bloom & Wild made headlines for giving subscribers the option to opt-out of Mother's Day emails, realising that it can be a sensitive time for some. This year, not only have they done the same, but other brands have followed suit too.
I'm all for copycat campaigns when there's genuine compassion behind the motives. Mother's Day can be a difficult time sometimes and I'm largely in favour of any brand who respects this and pushes their selling efforts aside for the wellbeing of their customers.
McDonald's redeemed themselves later this year with the selling of their famous Big Mac sauce in restaurants nationwide, thus proving that the best campaigns aren't always a product of trying to affix your brand to popular celebrations.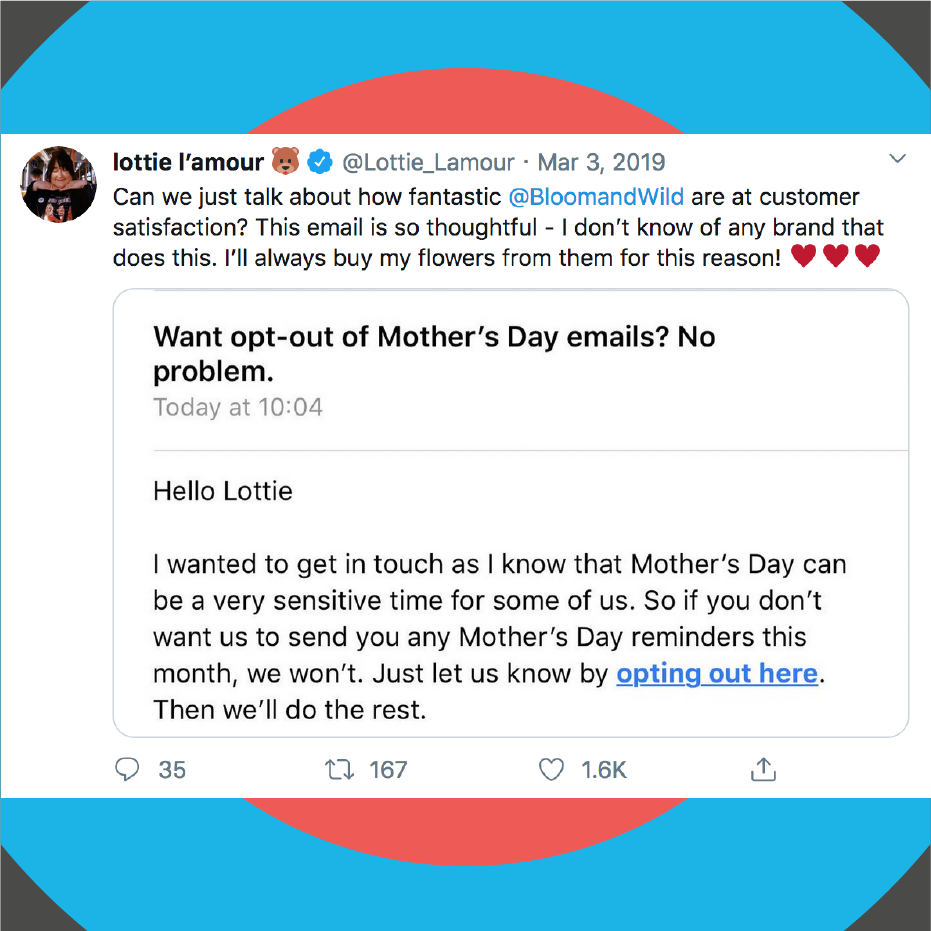 Sometimes, there are things more important than marketing.
More hits and misses Of 2020
I could easily talk about campaigns all day and there's been a plethora this year so far already.
A few more of my hits:
Burger King's Rebel Whopper for Veganuary – I love anything that Burger King does and the execution of this campaign was great.
Cineworld hosting 'Ghost' pottery classes on Valentine's Day – timely and creative!
Twitter posting Valentine's Day tweets all over the London Underground, promoting their product perfectly.
AirBnB giving you the chance to book Romeo and Juliet's house – sales-led and capitalising on the most famous love story of all time, just in time for Valentine's Day.
Hemsley Conservation Centre's Name A Cockroach After Your Ex was back again this year and I love it as much as I did in 2019!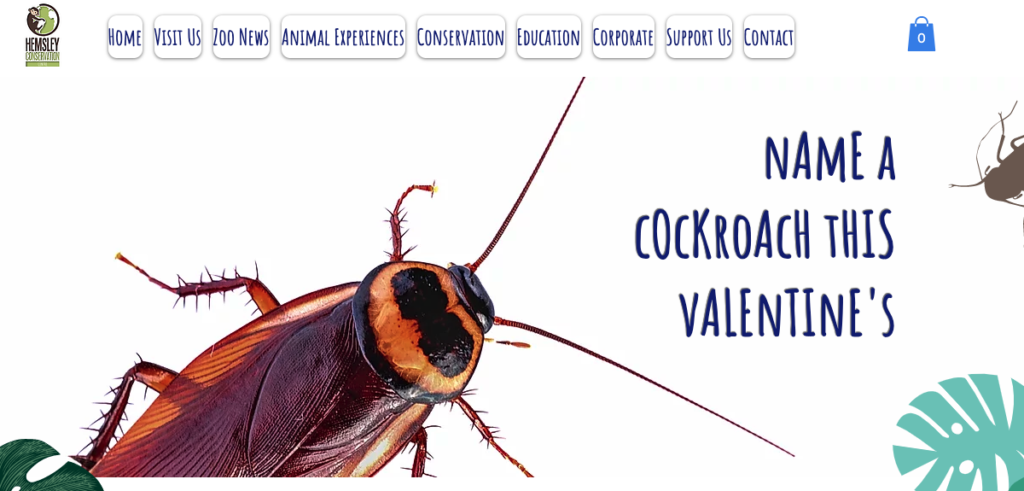 Poundland's £1 engagement rings for Valentine's Day – another repeat offender, I loved this campaign by last year, and it worked just as well this year too.
Mattell are launching a diverse Barbie range this year.
What have been your favourites of 2020 so far? Let us know on Twitter!
@jessicapardoePR/@alivewithideas
Jessica Pardoe was named as one of Vuelio's top 10 PR bloggers for 2020 and is a PR & Digital Executive at Cheshire agency The Source (@source_tweets).