Workplace zombies have always existed.
The disconnected or the disengaged, sucking life from your teams and your organisation.
At Alive, we've been on the case for years. Our first two reports into zombie behaviour in the workplace aimed to slay unwanted outbreaks.
In the time since our last report, the world of work has changed. Remote and hybrid teams and employees have become the norm, providing a new landscape for zombies to thrive in.
From the comfort of their own crypts, they can easily disengage and are often tricky to spot in a timely way or re-connect with.
However, their views and energy sucking actions are still deadly, so Alive is stepping in once again.
We're asking for your help in reporting zombie behaviour in your organisation (more info on our survey below) to pull together a new report aimed at improving employee engagement and help your business to survive.
We've always encouraged teams to work with one eye open to outbreaks, so here's some timely advice on zombie-spotting within your organisations.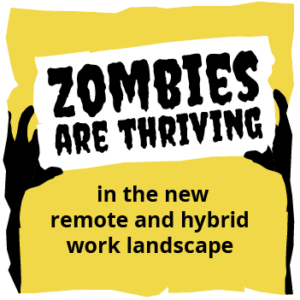 A zombie spotter's guide 
They could be anywhere, passing themselves off as productive team members. Watch out – they hide in plain sight! 
They are likely to be hiding at home or part of a large crowd, so their behaviour is not immediately obvious.
Here are a few ways to spot them (with acknowledgement to Brad Anthony's brilliant article on zombie-spotting.)
Here are a few ways to spot them …
1)    Moaning and groaning
Found complaining, zombies' problems are always considered more important than anyone else's. And they just love drawing attention to themselves.
2)    Dazed and disorientated
Zombies won't understand themselves, their place in the organisation, or consequences of their actions. They bring complaints and not solutions to the table.
3)    Babble incoherently
Often zombies are unable to provide a rational response or reflect on negative changes in their behaviour.
4)    Distracted by anything
Zombies love gossip and are over-enthusiastic about things more exciting than those going in their own worlds.
5)    The crash course
They engage in behaviour that is destructive to team members, to the environment, to the company and often to themselves. They're careless and indiscriminate in their comments, always negative, wasteful of resources and unapologetic.
6)    Blood on their hands
Whether conscious or unconscious, zombies will happily wound, offend or cull for their own greed or advancement.
Avoid becoming a zombie
Start close to home, with YOU. Ensure your own health and continued happiness.
Schedule regular breaks to step outside for a spot of fresh air and to stretch your legs.
Celebrate your wins, acknowledge what you've accomplished each day, even if that's just to yourself.
At the end of your work day, get up and do something else for a while to differentiate your brain from 'work time'.
Be kind to yourself. Make time for mental health and wellbeing. A stressed you can't support others to the best of your ability.
Ask for clarity on projects if you are starting to feel confusion seeping into your day. If you feel lost or lonely, reach out to colleagues.
Reach out to someone who may not seem themselves or who may show signs of being withdrawn. It could provide a mutual benefit.
Give yourself a sense of achievement and boost your mood by writing a to-do list in order of priority/importance and ticking off each item as you go.
Keep your work culture healthy
What can we do to re-engage our zombies?
Help us find answers. This dead-quick survey will tell us what the current zombie challenges and behaviours are.
We'll then report back with the results and some shared inspiration on how to tackle our workplace zombies.

Find out more about our zombie project…