When it comes to the look and feel of your workplace environment, would you boldly go where no-one's ever gone before? Charting a course past the boring and mundane and into a different reality, for the good of your crew members?
"I'm giving it all she's got Captain!"
The way your office space looks and importantly feels can have a big impact on employees who are seeing the same walls day in, day out. It can also help them feel welcomed, inspired and energised, and even boost their productivity.
But there's even greater potential hiding amongst those paint tins and wall decals….
Your workspace could be a tool in an even bigger picture, helping to change perspectives, building positive engagement and generating a powerful feeling of connection.
Here we take a closer look at how a creative workspace environment could become a force for good and some of the organisations whose designs are out of this world!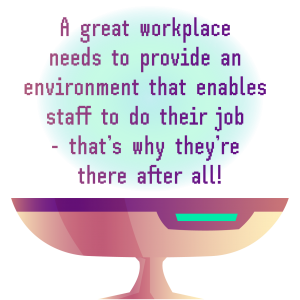 What makes a great workplace environment?
The days of neglected, scruffy noticeboards; stained and squeaky swivel chairs; and battleship grey walls are gladly numbered. Not to mention the token pots plants often found sitting miserably in the corner.
With a little thought and creativity, there's plenty that can be done to make a workspace an inspiring place, where all elements beautifully combine to create somewhere that's positive, inspiring and productive.
Firstly, a great workplace needs to provide an environment that enables staff to do their job – that's why they're there after all! It must work for the people using it.
It should reinforce the organisation's values and culture and encourage positive working practices. It should also reflect the brand look and feel.
Importantly, it needs to be somewhere people like to be!
Connection is the key here. Generating a connection to each other, a connection to the brand, and a connection to the essence of the organisation.
Workspaces that are out of this world
Google – captain of personality
Google is well known for having created some of the coolest office spaces in the world. Importantly, the design elements are an exact reflection of the company's personality and ethos – being young, vibrant and playful.
Ok, so we can't all have a space like Google – and most of us don't have the budget to do so either – but we can take a leaf out of their book and learn from the way they've been bold in using colour, furniture and wall graphics.
Sky – commander of connections
The team from Alive were lucky enough to visit the Sky Campus in London, where we were blown away with what we saw.
On entering the building, your eye is drawn to a 100m-long 'high street' and upwards to a glazed box on the first floor that overhangs the atrium. That's where Sky News is broadcast from 6am-9pm every weekday.
What this does is form a very visual connection between the 'end product' and why everyone is doing what they're doing – so cementing a sense of shared purpose.
Sky has achieved a clear connection for employees between their day job, whatever that may be, and the programmes that are being produced. And that's powerful.
The designers have made great use of the space, treating each area differently, but ensuring there's a natural connection and flow throughout the whole building.
Dammit, Jim!
And then, there's how not to do it… 
Just stick a logo up, it'll be fine!
One of the most common traps organisations can fall into is treating the design of their workplace environment in the same way as they might a corporate brochure.
For example, covering all the walls in the brand colours, sticking the company logo all over the place and adding the values and mission statement wherever there may be space.
But overloading on branding – even when combined with chucking in a token ping-pong table or X-box – is unlikely to achieve much. A successful workplace environment has genuine depth. Everything happens for a reason.
You need to start by considering the values and culture that underpins your organisation. How might the physical environment be designed to reflect these?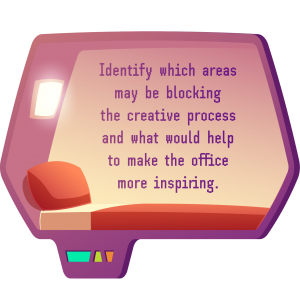 5 steps to putting your mark on a workspace
Do some reconnaissance missions
Think about other workplace environments you've been in – what worked and why? What stood out for you? Encourage employees to share things they have seen too.  
Ask your employees
Find out what they want and need. Spend time observing their behaviour and gathering feedback about what stands in the way. Identify which areas may be blocking the creative process and what would help to make the office more inspiring. That way, you'll also be getting buy-in from the start, as employees help to shape and develop their own working environment.
Get in the zone
Creating dedicated zones for different types of activities can be really effective. Think about spaces to work solo, collaborate, brainstorm or have more formal meetings. Include areas for colleagues to share thoughts on projects they're working on while interacting in a natural, relaxed environment. Remember, simply having an open-plan office is not the answer to getting team members to interact and collaborate.
Space identity
Differentiate your different zones using creative design to facilitate and reflect the various activities your employees will be using them for. For example, brainstorming areas could have comfy chairs and scatter cushions, inspiring wall graphics and clever lighting. For the zone you are in, think about how you might enhance the experience for its particular purpose.
Get colour smart
Colour can play a key part in creating a productive environment. This doesn't mean you have to paint the walls in your brand colours and plaster them in your mission statement. Get creative and don't forget your secondary palette Think about wall graphics and clever features that truly reflect your organisation's culture and personality.
Making a connection
If you're serious about turning your workplace into a great place, then we dare you to be brave! Get your workplace environment working as hard for you as your team members already do.
If you're asking your people to buy into and live and breathe your company values, then developing a workplace environment that physically and visually embodies those messages, is key. Anything else would simply be highly illogical. 
So…second star to the right — and straight on 'til morning!
By Amy Archer, Creative Leopard for Alive!