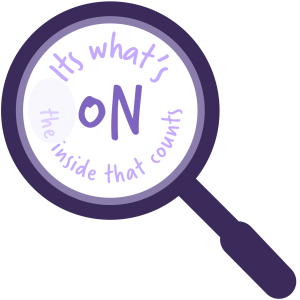 If you've ever interviewed anyone for a job, you'll know that feeling you get when you meet someone and immediately know that they're going to be a great 'fit' for your organisation.
Sometimes the exact reason is hard to pinpoint – and it often isn't about someone's qualifications or experience alone – you just get that sense that they're the one you've been looking for.
And that's exactly the place you want to be, with someone sitting in front of you that ticks all your boxes and who you know will be an asset to the team. Reaching that point, however, isn't always easy. The process of recruitment starts long before then and catching the eye of potential candidates and getting them to apply is an ongoing challenge across all sectors and industries.
So, what can comms teams do to help reach and encourage the right kind of people to apply?
The internal comms factor
We often talk about the importance of internal communications for engaging the workforce, making staff aware of changes, and raising awareness of important campaigns… but what about talent acquisition? What role does internal comms play in recruitment?
The interesting thing about recruitment is that it's one of those places where internal and external comms meet. And if you think about it, it makes perfect sense that you would talk to prospective employees in the same way that you do to existing ones.
In fact, internal comms can be a (not so secret) weapon in your hunt for new talent! One of the best ways to show people what a great place your organisation is to work, and the kind of people and culture you have, is to capture the voice of your existing workforce.
Who better to show what it's really like behind closed doors, than the people who get to experience it day-in and day-out?
Influencers can be a powerful asset for internal communications and capturing their thoughts and views can be just as powerful for recruitment purposes and attracting the best candidates.
For instance, having a series of videos featuring people from different job roles and across all levels of the organisation, can provide prospects with a personal endorsement of what it's really like to work there. This can be a super effective way to recruit other likeminded individuals.
Define your brand personality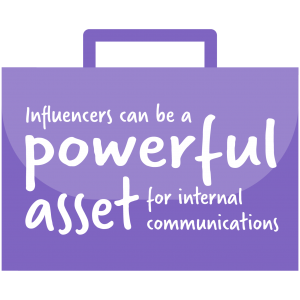 Another key element in recruitment is employer branding. If you want to attract the right people to come and work with you, you need to have a deep understanding of your brand personality and to communicate it.
You're effectively aiming to 'sell' a role to someone and just like you might sell a product or service to a customer, you need to impress. It needs be clear what the organisation is all about, and why this opportunity is one not to be missed.
Just be careful that what you are 'selling' is genuine – as no one likes a catfish! The reality must match up, otherwise people won't stick around for long and recruitment and retention will always be an issue.
Living the brand
Way back in 1997, the Journal of Marketing Research published a study by Jennifer Aaker called the 'dimensions of brand personality'. Despite being over 20 years old, it is still just as relevant as ever.
In a nutshell, it's a framework that helps you breaks down a brand into relatable human characteristics. These five core dimensions are then divided into a set of facets.
Sincerity (down-to-earth, honest, wholesome, cheerful)
Excitement (daring, spirited, imaginative, up to date)
Competence (reliable, intelligent, successful)
Sophistication (upper class, charming)
Ruggedness (outdoorsy, tough)
The idea is that you rate these personality traits on a scale from one to five – five being the best fit for your brand and one being the least. This can help you to eliminate the traits that aren't relevant and identify the ones which are the most meaningful.
If we take Google as an example, they're likely to position themselves in the excitement category and they absolutely have the same approach towards their staff, internal culture and comms. (We've all heard the stories about games rooms, slides and ball pits).
While as organisations we don't all have the budgets of Google, that doesn't mean we can't be bold and defined in our own branding and culture. Indeed, some of the best ranked companies to work for are ones you wouldn't necessarily expect.
Anglian Water was voted the best company in the UK to work for by jobs and recruitment site Glassdoor. The CEO puts this down to their health and wellbeing offering for staff – something they value highly, and which is a major contributing factor in defining their brand personality.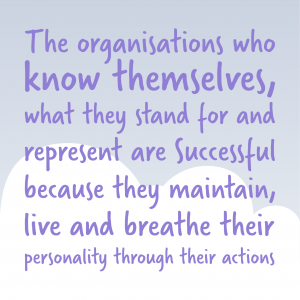 The organisations who know themselves, what they stand for and represent are successful because they maintain, live and breathe their personality through their actions. The way they communicate is genuine and they become trusted by existing staff, as well as becoming a more attractive place to work for prospective team members.
While internal and external comms teams may speak to different audiences and in a slightly different way, it all comes back to being a voice for the organisation's core personality. Get that right and you'll develop a workforce that is really invested in the brand – and this will help you attract more likeminded people. Then you may find yourself meeting more and more people in interviews, who are the perfect fit.
We'd love to hear what's worked well for your organisation. What have been your most successful campaigns? Have you tried capturing and using your employee voices? Are there any campaigns you've seen others running that have really caught your eye? hello@alivewithideas.com. 
By Amy Archer at Creative Leopard for Alive!