Helen Deverell shares how IC professionals can help line managers become ethical communicators.
It's a dreary Tuesday morning in February when an email pings into every employees' inbox. The sender is the CEO and a jolt of anticipation runs through the otherwise subdued office. There's silence while everyone reads about the uncertain economical climate, plummeting profits and the need for structural changes. As she signs off, the CEO mentions that more information will become available over the next few weeks via line managers.
One by one, heads turn towards said line managers, eyebrows raised, expressions quizzical. In return line managers feel a hard knot of dread forming in their stomachs.
Then come the questions: Is my job at risk? What will my redundancy package be? Why didn't you tell us? How long have you known? Why won't you tell us anything?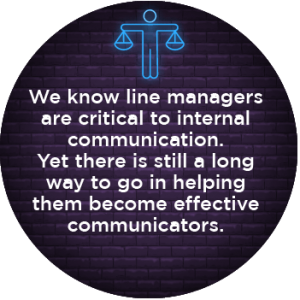 I'm painting quite the picture. But for line managers it can be a very real scenario, one that raises ethical questions about the best way to communicate with their teams, and often they have very little in the way of the answers.
We know line managers are critical to internal communication. Yet the recent Gatehouse State of the Sector report found there is still a long way to go in helping this group of people become effective communicators.
But when we talk about equipping line managers with the skills and resources they need to communicate effectively, we rarely go as far as discussing ethics. However, line managers have as much of a responsibility to communicate in an ethical way as we do.
Here, we look at some common ethical communication scenarios that line managers might find themselves in and how we can help them:
Translating messages
Line managers often have the responsibility of taking broad strategic messages and making them relevant to their teams and departments. However, we all know that it doesn't always happen, and the quality of that communication can vary wildly from team to team. Ethically communication needs to be clear, honest, transparent and timely otherwise you end up with mixed levels of understanding, rumours and eventually a lack of trust.
How we can help: Line managers need to be considered as a key stakeholder group within your communication plan. If you don't already have channels dedicated to them, consider bringing them together either face to face or over a conference call to share key messages and to give them an opportunity to ask questions.
If you have a business partner model, ensure your IC business partners spend time with their line managers to help them understand what this project/campaign/change will mean for them and their teams.
Also provide them with a briefing guide to help them deliver a consistent and accurate message to their employees. This should include the background to the project, why it's happening, timelines, FAQS, where to find more information and top communication tips.
Confidentiality
Line managers will often be party to information they can't share with their teams, at least not straight away. But that doesn't mean that the rumour mill won't be going into overdrive with employees asking difficult questions. It's a challenging position to be in especially when it comes to potential redundancies or team restructures.
It's important that line managers maintain their integrity and keep information confidential until the right moment, but that could be at the risk of damaging trust between them and their direct reports.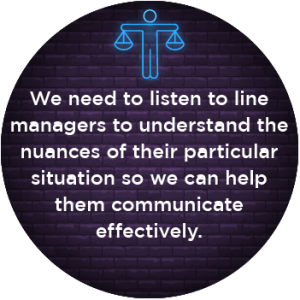 How we can help: Every situation will be different so we need to listen to line managers to understand the nuances of their particular situation so we can help them communicate it effectively.
One option is to help them articulate to employees why they can't share information yet. It could be because all the information isn't available and that's ok to say. It would be unfair (and unethical) to only share some of it with employees and leave them with more questions than you answered.
Encourage them to listen to their teams and provide them with a way of feeding back those concerns to leadership or HR so they can be supported in providing appropriate answers.
And remind them to communicate regularly with their teams, even if it's to say there isn't an update. Where there's silence, employees may make up their own truths.
Sharing negative information
It's one thing being told your department or team provided low scores in certain areas of the engagement survey but a whole other thing having to then feed that criticism back to the people that provided it.
It can be tempting to focus on addressing the issues without ever explicitly mentioning the engagement survey results or finding the positives among the negatives and sharing those instead. But that would be an unethical way of approaching the situation.
How we can help: If we have strong employee voice channels, the engagement survey results shouldn't really come as a surprise, it should be more of a confirmation of known issues that are already being addressed. So, we have work to do to ensure we're creating constant opportunities for employee voice, not just once a year.
It's also important to help support a culture that embraces learning from 'failure'. Help line managers see that negative results are an opportunity to make things better and that a positive message can still go alongside honesty and transparency about the results.
Also point out the consequences of not communicating the results – in the short term it might not seem a big deal, but in the long term it damages trust as employees won't be so willing to share their opinions again in future if they don't believe they'll be listened to or acted upon.
Another ethical consideration involves communicating in a timely manner. Whether it's ensuring everyone across the organisation receives messages at the same time or sharing information at the appropriate time due to external factors.
However, that's not always a simple thing to do. For example, people working in a factory may not be able to step away from the production line at short notice. And in some areas people may be working a shift pattern so won't be in work when information is being shared.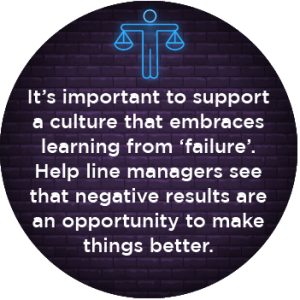 How we can help: As internal communicators we need to understand the various parts of our business to appreciate the challenges of communicating a message at the same time across different departments.
Line managers will be far more open to working with you if you have taken the time to understand the complexities of what you're asking them to do. Sending a blanket email to all line managers outlining that employees need to be informed between 1-2pm on Thursday will be unhelpful to many of them.
It's also important to share with them why you need them to communicate at specific times – it's an often-forgotten element, yet one that can change the response you receive from line managers.
When you're preparing the briefing materials, consider all the various scenarios including employees that might be off sick, on parental leave or on holiday and how you could overcome those issues. And involve line managers in those discussions to ensure you come up with the best possible solution.
Ethics is intrinsically linked to trust, reputation and credibility so it needs to be front and centre of the way we communicate. Line managers have a critical role in the effectiveness of communication inside our organisations, so we have a responsibility to ensure they are not only equipped to communicate clearly and confidently, but also ethically. If ethics is an area you need to focus on more, there are resources available from CIPR Inside, IoIC and the Institute of Business Ethics.
By Helen Deverell for Alive!