I was blown away to be asked to run a workshop on creativity at #PRSAconnect in Phoenix, USA.
When I got 'the call' earlier in the year, I felt like Scott Lang (AKA Ant Man) being asked to team up with Captain America* and other comms Avengers. (And anyone who was at my presentation will now know about my love of all things Marvel!)
It was an experience I will never forget, and I echo fellow speaker Rachel Miller's feeling that it's been a career highlight.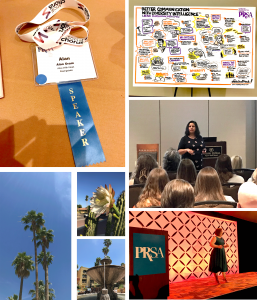 The 3-day conference saw comms pros from across the world, coming together and sharing conversations, stories, experiences and ideas. New friendships were started, and existing relationships strengthened, and the whole experience was unlike anything I've ever attended before.
There were loads of sessions going on, but the beauty of #PRSAconnect was that the conversations in the corridors were as rich as the presentations and workshops themselves.
All the attendees spent a lot of time together over breakfast, lunch and dinner too, which I've never really experienced before – except at commsunplugged where you commit to being away for a few days.
It's something I'll think about when I'm heading to my next conference, as previously I've tended to shy away from those types of moments. But in the case of PRSA, it was just another part of the rich experience that overall contributed to a great time away.
With so many interesting workshops, presentations and discussions going on across the 3-days, it would be impossible for me to cover them all off here, but I thought I'd do a quick snapshot of some of the top issues that really got me thinking.
My top takeaways from #PRSAconnect
Growing as a communications professional will support the progression of the profession.
There was a strong theme running throughout the conference – within presentations by Rachel Miller, Priya Bates, Chuck Gose, Kristin Hancock and Angee Linsey, among others – that personal development is essential to the progression of the profession as a whole.
In essence, for the profession to grow in credibility and influence, we as individuals need to lead the way by connecting comms to organisational strategy and talking the language of the business. Ultimately, it's about supporting the business and where its heading.
For me, there's an interesting dynamic between the desire to be strategic and the tactical demands placed upon comms professionals. There could and should be room for both, but a big challenge can often be the size of teams and capacity.
I had a brief but incredibly insightful chat with a comms manager who had developed and implemented a strategy and was now facing this particular challenge herself.
Following a significant reshaping of the comms setup, including the implementation of new channels, what followed was a need for tactical support to keep these channels vibrant and active. This was taking up a vast amount of time and was having an impact on the capacity to work strategically. The challenge remained how best to resource the tactical work, so that the strategic support to the business could continue.
Wherever you go in the world, people love to talk about seats and tables (but mostly tables) 
Ironically, there were plenty of both these things at the conference, but they were all taken.
I hear a lot about 'seats at tables' when I have chats with people about comms. And we could spend a great deal of time being distracted by the things we haven't got, rather than focusing on making a difference with what we have.
If we build our network and connections with senior people, then seats at tables may not matter so much. Eyes, ears and brains at the table with communication in mind could be more important.
We know that communication is everyone's responsibility, so if we've built the right connections and have influenced the right people (and they 'get it') then communication will be important to the board and senior leaders – regardless of who is sat around that illusive table.
Senior people make decisions all the time, so having them on board with communication in a broader sense is potentially more important and could have just as much impact.
In a conversation on this topic, someone said that they simply won't take a job at an organisation where comms isn't important. I didn't get the feeling that this person was overly concerned about a seat at the table because they were working in a culture and environment that is ripe for communication to thrive.
Those that dare to be brave often win
Kyla Turner from Loves Travel Stops shared how her organisation had shied away from introducing any policies around an enterprise social app. The thinking being that they wanted to drive a positive experience for remote and disconnected employees, with nothing potentially getting in the way.
The big message here was about trusting employees to do the right thing and to avoid making people feel overwhelmed (or putting them off from participating) with endless rules.
So, what happened?
True engagement.
The result has been a mass of beautiful shots of shiny trucks and even shinier toilets and many more shiny trucks. Real people from the frontline showing how proud they are of their work.
When something was shown that wasn't quite right – such as a safety issue for example – it wasn't an issue, but an opportunity to get feedback from peers, or to receive some appropriate training.
Truckers and retail staff are now connected to each other and spreading the Love.
The stage was set for greatness…. and it was delivered
Everyone that took to the stage for keynotes absolutely smashed it and I attended some great breakout sessions too. Added to this were the conversations, passion and insights of all the attendees, which made for an outstanding event and continue to make the comms community a special thing to be a part of.
One final thought
If you're like me, when you attend something like #PRSAconnect you leave buzzing with ideas and determined to make things happen. On your return, you check your emails, you have project updates and quickly find you're uncertain how you're going to find the time to put all that incredible insight and shared knowledge into action!
Here's a little inspiration on how to manage your time…
Google for Work // Managers to Makers from David Stanfield on Vimeo.
(*So, who is Captain America in this story?)