We are all storytellers.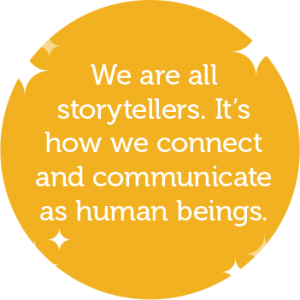 We tell stories every day at home and at work, and we're crying out to hear stories too. How did he propose? How did you manage that? What was she thinking? It's how we connect and communicate as human beings.
You might not be sure how to start telling your stories, but your natural ability is already there, and it can be magnified through the use of video.
As a medium, video is a really easy way to engage your audiences with something new and to generate 'buy in' for a campaign or idea – whether you are talking to staff, stakeholders or customers.
But where should you start?
The best videos aren't just someone telling the story, they manage to connect with people on a personal level and to make them feel something. It's a simple formula but one that can deliver a clear, concise, memorable message, especially if there is an emotive edge.
And that last part is where the magic really happens – emotion. Real people, real experiences, real lives. If you can capture that, you're on to a winner.
So that's the theory, want to see it in action?
Some emotive videos we love
We are the NHS
We all know that NHS workers are everyday heroes and this video shares that message really well. The caring and friendly side of nursing is evident alongside the professional aspects of the job.
Roadliners
This is a video about painting lines on roads. Doesn't sound too exciting, right? But it's actually very clever and manages to hook you in straight away with a personal story. Real stories, real people and a bucket load of passion right at the frontline.
TCS Super Stars
It was our pleasure to be involved with this powerful campaign, which is full of challenges, triumphs and people pushing themselves to the limit for the greater good. A great way to celebrate the people who make TCS what it is.
South Yorkshire Fire – Our Story
This video introduces you to all about the people behind the scenes, who make the fire service what it is. Importantly, it expresses why they love what they do, and the sense of pride is palpable.
SAS – The Arrivals
Scenes from airport arrivals halls have been used in films and adverts, and for good reason! The joy and love you see in this video are very touching and something we can all relate to, which captures the audience in the first few seconds.
Derbyshire constabulary
This Christmas video has a very hard-hitting message. All you see is toys, arranged like the scene of a crash, but the voice over is from a real incident. What you hear creates the image in your mind, so you're imagining the real scene and the implications.
What all these videos show is that tapping into emotion and accurately expressing a message is the secret to great storytelling and can create a strong, lasting impression.
If you've not been brave enough to pick up the camera before, then why not have a go? Jot down a few ideas, whip out your smartphone and hit record. The best way is to just start and test what works for you. Happy filming!