Developing and creating a game-changing campaign. It's no easy task.
But with every campaign, there's an opportunity to be creative, take a fresh approach and innovate.

But how do you look at each phase of the campaign creation process with fresh eyes? 
The SCAMPER model is a great place to start…
What is SCAMPER?

Alex Osborn – the creative thinker and advertising executive best known for developing brainstorming – developed the SCAMPER model. 
SCAMPER helps you come up with new ideas by asking a series of questions. It stands for:
Substitute: What can I substitute for this?
Combine: How can I combine this with something else?
Adapt: How can I adapt this to a new use?
Modify: How can I change or modify this?
Put to another use: What other purpose can I use this for?
Eliminate: What can I eliminate or remove from this?
Reverse: How can I reverse or turn this upside down?
How to use SCAMPER
SCAMPER can help us infuse our campaigns with inspired and original creative ideas. 
It provides a go-to framework prompting you to consider different ways to approach your campaign question.
How can you use SCAMPER for the various stages of your campaign? Let's dig deeper…
Strategy and planning

Eliminate – identify any unnecessary elements in your strategy to streamline the campaign, such as simplifying messaging. The simpler, the better. 
Reverse – what would happens when you reversed the order of certain campaign activities or what would happen if you reversed the campaign objective? This can lead to fresh insights and unexpected strategies.
Messaging
Adapt – take inspiration from popular culture, trends, or current events to make your campaign messaging more relevant and relatable.
Modify – change the tone, voice, or storyteller of your messaging to evoke different emotions or responses from your audience.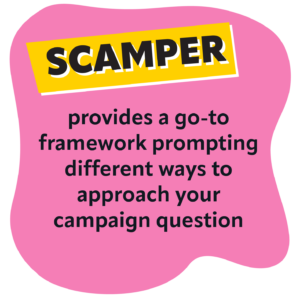 Audiences

Substitute – consider how the approach might land with different demographic groups or segments you have yet to explore.
Eliminate – if specific audience segments are aligned with your campaign goals, focus your efforts on the most key ones.
Channels
Combine – experiment with different media formats to create a multi-dimensional and engaging experience for your audience.
Put to Other Uses – repurpose campaign content for different media channels, optimising it for each platform's strengths.
Design

Substitute – explore a variety of colour schemes, typography, and visual elements to refresh the design of your campaign materials.
Adapt – incorporate design trends or popular campaign styles that resonate with your target audience, giving your campaign a contemporary and relatable look.
The SCAMPER model encourages you to approach every stage of your campaign with fresh eyes, fostering creativity and helping you uncover fresh and innovative approaches. It can lead to breakthrough ideas and more compelling campaigns.
So time to SCAMPER off and get creating!