June 2019. Thousands of people huddle in fields from Glastonbury to the Isle of Wight for festivals. Scores more pack into stadiums around the country for the Cricket World Cup.
Twelve months on and who could have imagined holding such events would feel almost inconceivable?
And who would have believed that recreating mass gatherings online would be possible, let alone commonplace?
But the way events work has changed forever. Festivals and artists are finding ways to host performances online. Conference organisers are rapidly adapting to live stream their line-ups. And in businesses and organisations across the planet, video seminars and staff briefings have become standard.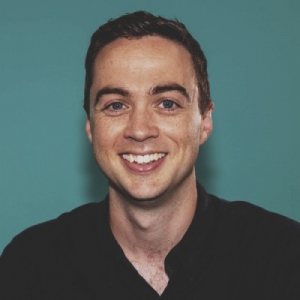 Remote working advocates evangelise that work is not a place you go, it's something you do. The same mantra now applies to events.
Gone is the costly and time-consuming travel and overnight stays, replaced by event content that is accessible from anywhere, at any time.
Jack Ford, Head of Marketing at online event specialists StreamGO, believes the explosion of virtual events has opened the eyes of many across the world.
"Content production, consumption and engagement has swung, maybe irreversibly, towards catering for individuals," he said."Content is being made available wherever and whenever the consumer wants."
"There's no clearer example than the move from physical to virtual events. Where attendees would once need to stay overnight or book expensive travel, they can now watch the same content while eating breakfast in their PJs. Instead of furiously scribbling notes, they can re-watch, pause and rewind keynotes to better understand the main points. 
"Communication teams that embrace this shift will undoubtedly see higher engagement levels."
So, here are five key things for your checklist when hosting virtual events:
Set your goal(s)
Is there anything that will truly be successful without knowing what you want to achieve from the outset? Your virtual event is no different.
What is the aim of the event? Onboarding new staff, boosting your brand or launching a product?
Not only will defining your aim make finding speakers and subjects a whole lot easier, but it will allow you measure and evaluate the success of the event.
Select your style
Just because the event is being hosted online doesn't mean it is limited when it comes to options.
You can look to replicate a large conference venue with some nifty 3D graphics or allow video content to take centre stage.
There's no one-size-fits-all approach but it will need to suit your brand and audience.
Most importantly, usability is king – make navigation super-simple and ensure it works across all devices. And consider accessibility requirements such as captions and colours to make your event as inclusive as possible.
Create the content and sort the speakers
Now for the fun bit!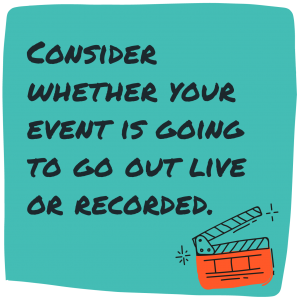 The first question to consider is whether your event is going to go out live or recorded. If you're looking for attendee interaction, going live is ideal. If speakers need more flexibility or the ability to edit, recorded is the way to go.
Whichever way you go, consider how speakers will be filmed and what technical support will be on hand for them.
Then what else? Breakout sessions are often valued as a way of networking and sharing thoughts at physical events and these can form a part of your virtual gathering too.
Bonus offerings like exclusive downloadable event content and making sessions available on-demand later are also likely to increase bookings.
When it comes to finding and choosing your speakers, virtual gigs should make snaring people easier as they don't have to travel. Consider whether they are a good fit for your event, but also think about what they might get from the event.
Get interactive
One of the huge benefits of virtual gatherings is the number of different ways in which people can interact with the speakers and event.
Asking questions to speakers is an infinitely easier and less nerve-wracking experience online, while live chat always goes down well as a networking and sharing opportunity.
Polls and surveys can not only empower the audience to shape your event or future plans but can glean valuable insight for you and your organisation.
Stand out from the crowd

With the virtual event market now growing ever-more crowded and competitive, it's important to keep things fresh and add some extra sparkle.
How about sending out even swag to attendees beforehand – teabags, snacks, pens and so on – or offering digital alternatives, such as event graphics, an out-of-office template or even a curated Spotify playlist?
Also consider the expectations at physical events – regular breaks for wellbeing and refreshment, and if you can't provide the actual food, why not offer a promo code for a delivery service like Deliveroo?
In-event games – classics such as Tetris or Pac-Man – can also help feed the competitive edge of attendees.
Get your hands on your copy
GoStream have created an e-book guide to virtual events, available to download on their website.