Meet our fabulous, super-efficient project manager Loralie.
With an eye for detail and creator of super spreadsheets she keeps everyone on track with her 'jobettes' as she likes to call them. Don't let her quiet efficiency fool you. In this blog we find out that she's known to take a few risks in her spare time.
When did you join Alive?

I joined Alive in July 2018, so nearly 2 years ago. I googled them! I was looking for a more local role, having previously worked in London for some years. There wasn't a job advertised, but I was intrigued by their website, so I emailed them anyway. I got chatting to Alan on the phone, who invited me to meet him and Alex in person. The rest is history.
What are your key responsibilities?
A Project Manager's role varies from place to place but, at Alive, it's basically my job to 'keep on top of stuff', which involves liaising daily with clients, with the Alive team and with suppliers. I'm not responsible for producing the actual creative work myself, instead I cost it, schedule it, brief it, contribute ideas to it, monitor it, report on it, proofread it, check it, send it – you get the picture. It means I have to be super-organised and keep my eye on the detail.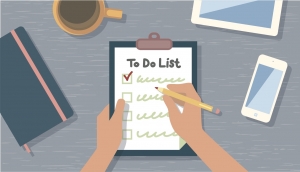 As a bit of background, after 'A' levels in Art & Languages and a BA Hons in Graphic Design at Norwich, I went on to an initial career as a Designer – this has been invaluable, it's given me an appreciation of creativity and design-effectiveness, as well as a solid understanding of the design process. Moving into design management happened naturally, due to a slight obsession with organisation… I do love a 'to do' list! 
What projects do you most enjoy working on?
Animation was new to me on arriving at Alive, but I've got to grips with it and am really loving working within this design discipline, enjoying the flexibility and scope it gives for getting the messaging across. I've enjoyed the complexity of the Braskem Digital transformation project. In multiple languages this has been both challenging and rewarding, a great one to mentally tick off on my 'to-do' list.
The demand for motion graphics as a communication tool is pretty high – it's a regular feature on the Alive schedule. On a personal note, my eldest son is thinking of pursuing a career in it – of course, I'm supporting this! My own background is in identity & literature design, so I'm 'at home' with these types of projects too.
I also like the varied sizes of projects we work on at Alive and building relationships with the clients. From a small logo to a full campaign across multiple channels – every project has relevance and importance in its own space.
What's it like working at Alive?
I have to say that I count myself really lucky to work with such a wonderful bunch of individuals.
Even when it's hectic, we all readily help each other out to ensure that deadlines are met, creativity is of the highest standard and our mental health is kept intact. Although we do have 'titles', there is a distinct lack of hierarchy within the team, which makes it feel more like a gang of mates.
Where are we most likely to find you outside of work?
Probably in the garden – either working or relaxing in it – but only if it's warm! Otherwise, indoors somewhere, enjoying time with family or friends, with a cuppa or glass of wine.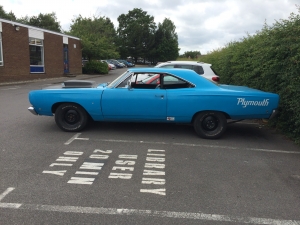 My youngest son's interest in football means that my Saturday mornings are usually spent pitch-side during the season, which I've found to be surprisingly fun, despite the wet weather. Thankfully, I'm not up to 'running the line' though – that would be an absolute disaster!
Finally, something we'd never guess about you?

Up until a few years ago, I owned a drag-racing muscle car – a bright blue 1968 Plymouth Satellite, with a 318 V8 engine. It was a tatty old thing, but fast, fun and very, very long! It was part of my life for 14 years – I do miss the old fella.