Google has its slides. Facebook has its sweet shop. Innocent has its fake turf and picnic tables. But it's not just tech companies and trendy start-ups that are revamping their office space to create better environments for innovation, collaboration and productivity.
Organisations from AstraZeneca to Sainsbury's are replacing tired offices and desks with brightly-coloured lounges, collaboration zones, hubs, libraries and coffee lounges.
The light side of great office design
Great office design can undoubtedly enhance the working experience.
Steve Jobs certainly thought so. At Pixar, he redesigned their headquarters around a huge atrium housing all essential services, including the toilets. Jobs wanted his people out of their offices and mingling with colleagues they might not otherwise see. It worked, too, according to John Lasseter, Pixar's chief creative officer, who said he'd "never seen a building that promoted collaboration and creativity as well as this one."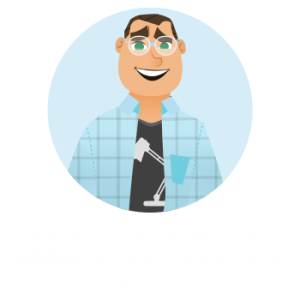 Simple changes can also work well. Sociometric Solutions found that employees at an online travel company who ate at larger lunch tables were 36% more productive.
Many new office refurbishments recognise the different types of work we do each day. There are open plan desks, collaborative spaces for meetings, quiet spaces for when you don't want to be disturbed, social spaces for when you need a break.
These options give people more control to choose the right environment not only for the work they're doing, but for their mood too. Feeling creative? Get some colleagues together in a lounge for a brainstorm. Need to nail that report? Head to a quiet space so you're not interrupted.
From a communications viewpoint, these environments can be great at breaking down silos and encouraging the kind of 'unplanned collaborations' Jobs felt were so important. More and more, offices use shared workspaces. And in shared spaces, you sit in different areas, with different people and, hopefully, grow your network as a result.
And the dark side…
But despite the advantages, shared spaces can have a negative effect on closer work ties. Teams that once sat and worked closely together can find they see each other less often. After the recent head office refurb of a major retailer, one employee lamented that work had become 'a lonely existence'. Others noted that new starters no longer sat with their teams from day one, making it harder for them to develop friendships at work.
This effect can be exacerbated by the growing trend towards agile, flexible and remote working. With technology liberating us from the need to be physically at the office, employees are likely to see less of their close colleagues than ever.
This matters because social interaction is a key factor in engagement – perhaps more than we realise. In Neuroscience for Organisational Change, Hilary Scarlett suggests that we've "vastly underestimated our need for social engagement at work." Gallup found that close work friendships boost employee satisfaction by 50%, and people with a best friend at work are seven times more likely to engage fully in their work. Those 'best friends' are often found in our teams, yet changes to the work environment may inadvertently weaken those ties.
A more flexible working environment can also challenge team leaders used to having their team around them. In a recent survey, internal comms professionals cited a lack of line manager communication skills as the biggest single barrier to their success. Yet managing a more remote team is an even bigger challenge. Flexible and agile working loosens the control of line managers, making effective communication even more important.
Five tips for making it work
New office workspaces and agile working demand we change how we work, and comms teams can be pivotal in making this happen. Here are five tips you can use with managers to help them get the best from their teams in this new environment.
Supercharge your communication. Flexible working means less opportunity for the informal conversations that took place when teams sat together each day. To address the gap, you can help managers be more creative in their comms approaches. Get them to try regular calls, more frequent meetings, messaging chats, video conferencing. Or suggest they set up a team room on social media.
Involve the team. Changes to ways of working can be great opportunities for teams to look creatively at how they work best together, and to try out new approaches. Encourage managers to discuss the changes with their teams, and agree how they'll communicate with each other.
Maximise the technology. Instant messaging can help fill the void of those casual across-the-desk interactions of old. Video calls are more intimate than conference calls. Networking tools like Yammer and Jive can increase social interaction and collaboration. But like any technology, they work best when you're familiar with them. Help managers and their teams try them out and practise using them, and provide further support if they need it.
Plan social. As people see their fellow team members less often, they can miss those unplanned social chats so essential to building relationships. Encourage teams to engineer   opportunities to get together by 'planning social'. Work breakfasts, tea breaks, coffee and cake, after-work drinks: they all help in maintaining social ties.
Take an individual approach. Some team members will need more support and communication, some will need less. What's good support for one may be micro-managing to another. Remind managers to get to know the needs of each member of their team, and to  tailor their approach accordingly.
Supporting managers in taking a proactive approach can make all the difference. And comms teams can help by finding teams already thriving in their new environment, and using their example to help other teams thrive too. Make a video, ask them to talk at team meetings, or feature them in your employee magazine.
Despite their many benefits, office design and agile working can have unintended negative consequences on employee morale. But address these risks and you'll create a stimulating, flexible working environment which fosters collaboration, engagement and productivity.