Meet Ally – fixer, planner and problem-solver! If you ask anyone at Alive what Ally's greatest strength is, they will tell you 'she gets stuff done'!
Here we find out more, including her passion for people.
How did you first get into marketing?
I've always been interested in marketing, so after gaining a degree in business and management, I went on to do a post graduate marketing diploma. As well as having a background in events, I've held various marketing roles over the years, including working inhouse for local authorities, as well as on the agency side.
After having my first child, I decided to go freelance so I would have greater flexibility to be able to work around their needs. I've now been freelancing for around 12 years.
How long have you worked with Alive?
Back in 2015, I ended up working with Alan & Alex (the founders of Alive) on an event and the relationship has grown from there. It's an amazing place to work, with a hugely positive culture.
Over the years I've worked with Alive on everything from websites to content creation, providing both project management and marketing as needed – and generally helping to keep clients happy!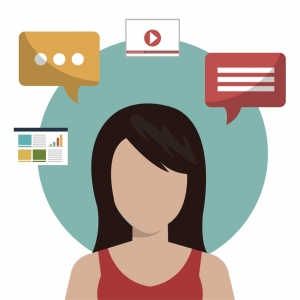 What are your key responsibilities?
A lot of my time is focused on the technical projects Alive is working on. I will work closely with Ian, Alive's web developer, to work out the details and solve any problems. Basically, while Ian is working on the development, I get stuck into the donkey work! One thing about me is that I'm definitely not a last-minute person. I'm like have a plan! (Yes, I do like a spreadsheet!).
Another key responsibility is Alive's own marketing. I'm really proud of the shiny new website we've created and am also involved in the company blog and social media content, liaising between our copywriters and the designers to provide a consistent stream of quality content.
Favourite projects you've worked on?
Health and wellbeing are issues I am passionate about, so the projects that really resonate with me are the ones which are striving to make a difference.
Our work with iTalk is a great example. iTalk provides free support for individuals who are struggling with mental health issues and we've been working with them to create a website and self-referral system. It's so important we get this right on every level, from usability and helping people find the help and information they need quickly, through to the backend and how any sensitive data is collected and stored.
I also enjoyed working on #TCS Superstars which challenged me in terms of creating a website that had great stories of employees that achieve the outstanding in their lives. The scripting, filming and storytelling aspects of the video creation for some of the website stories was very rewarding and was fun to find the why? behind their achievements and drive.  Their journey to identify new superstars continues.
Where are we most likely to find you outside of work?
At home with my babies (who will always be my babies even though they are both heading towards their teenage years!) and also my fur baby. We have a black Labrador called Storm and my husband and I will go out for long walks across the fields next to our house most weekends.
Finally, something we'd never guess about you?
I'm interested in complimentary therapies and therapies that help others. Around 6 years ago I trained in Reiki, which is based on energy healing. I started training as a counsellor, but as a career it just wasn't for me. However I now focus on coaching, which is very rewarding. Mainly helping Mums, building up their confidence and self-esteem to get back into work. I am also a trained mental health first aider.
From a young age I have always loved dancing and even trained as a tap-dancing teacher. But while I would happily have danced on stage in front of an audience, don't ask me to give a presentation to a room of people 🙂