New Zealand's Prime Minister has set the bar high when it comes to communicating during a crisis.
It shouldn't really be a surprise that New Zealand's Prime Minister is giving the world a masterclass in communication. She completed a degree in Communication Studies in Public Relations and Political Science, and she's had to deal with a fair amount of crisis comms in her short tenure.
That's not to say she and her government have got everything right in the last few weeks but there have been some stand out moments that leaders in every walk of life can learn from.
Whether it's speaking to New Zealanders via Facebook Live or using relatable examples to get important messages across, Jacinda Ardern has put clarity, relatability and empathy at the heart of her Covid-19 communications. And at no point has it seemed contrived; she's simply being her authentic self.
So, let's take a closer look at some of the key approaches she's taken…
Clear messaging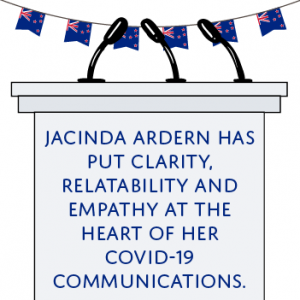 There were a few ways that Ardern kept her Covid-19 messaging clear. Firstly, she introduced an alert level framework to help people understand what would happen as the impact of the virus progressed. It was simple to understand and meant that people were eased into a lockdown scenario and understood why it was happening at the time it did.
Secondly, she used relatable examples to help people understand why it was so important that they followed the rules. For example, when talking about why playgrounds were off limits she first acknowledged how hard that was for parents and that she herself enjoyed going to playgrounds across the country with her daughter, but then explained that the virus can live on surfaces for up to 72 hours so presents a very real threat.
Thirdly, she used the words 'Going hard and going early' repeatedly to remind people of the approach New Zealand is taking. It's simple, repeatable and instils confidence that action is being taken in a considered but bold way. She set out that lessons had been learnt from other countries without being critical but making it clear that if New Zealand didn't want to suffer the same fate, the time to act was now.
Utilising different channels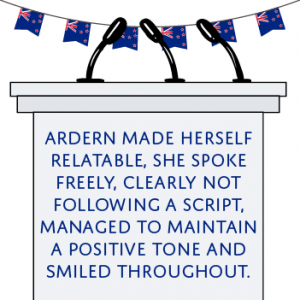 One of the great ways that Ardern has communicated with the general public of New Zealand is through Facebook Live. It's not often you see a world leader addressing the nation while sat on her bed, dressed in casual clothes having just said goodnight to her young daughter. But that's exactly what Ardern did. She made herself relatable to other New Zealanders, plus she spoke freely, clearly not following a script and managed to maintain a positive tone and smiled throughout.
She then answered questions that were being posted throughout the live stream, referring to people by their names and giving New Zealanders direct access to her which is incredibly important in a time of crisis.
Watching the recording makes you feel as though you're on a catch-up call with a friend. You find yourself listening intently and understanding all the points she makes. It's a stroke of genius and certainly reflective of her audience – a country whose culture is famously laid back.
Showing empathy and understanding
Another great move was when she held a press conference to confirm that the government did consider both the Tooth Fairy and the Easter Bunny as essential workers. It demonstrated that she wasn't just seeing numbers on a spreadsheet but real people, including children who are just as affected by the pandemic and will have concerns of their own that need addressing just as much as the adult ones.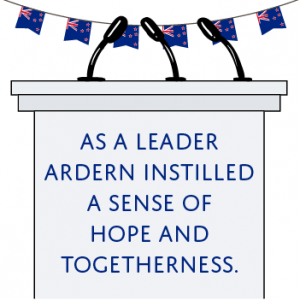 This also didn't come across as forced or as something she'd been told to do to endear her to voters. We've seen Ardern show empathy many times before, particularly in the wake of the Christchurch mosque shooting where she embraced victims and their families and mourned alongside them, so it's been a signature part of her leadership.
Ideally, we'd live in a world where empathy in world leaders was a given, and Ardern could easily have chosen to mute this part of herself in an attempt to be seen as a more traditional leader. Instead, she's embraced it from the very beginning, and it's put her in good stead in the current crisis.
A smile goes a long way
Getting the balance between delivering a serious message and not creating a panic is a difficult one to achieve. And you could argue that smiling while discussing Covid-19 communications a risky move.
However, Ardern has managed to smile at all the right moments, providing reassurance that while this was a serious situation, New Zealanders would get through it together. And this was really important, because the message is undoubtedly serious and at times upsetting and scary, but as a leader Ardern still needed to instil a sense of hope and togetherness. Without that morale would dip and the crisis would be harder to control. People need to believe there is an end in sight and better days ahead, and for now Ardern has managed to reassure people that that is indeed the case.
Jacinda Ardern has provided some great lessons in leadership communication over the past few months. We hope she'll inspire others to follow her lead and we'll see a move towards more compassionate and authentic leadership.
How have your leaders communicated during this crisis? We'd love to hear examples of leaders doing a great job and nailing internal communication – let us know in the comments or on social media!
By Helen Deverell for Alive with Ideas