The World Day for Safety and Health at Work takes place on 28th April.
The day promotes safe, healthy and decent work and has been observed by the International Labour Organization (ILO) since 2003.
It focuses "international attention on emerging trends in the field of occupational safety and health and on the magnitude of work-related injuries, diseases and fatalities."
Key figures for Great Britain in 2015 indicate that there were 142 people killed at work, 611,000 injuries and 27.3 million working days lost due to work-related illness and injury. Looking at these figures, you could say that continually communicating effective health and safety is paramount.
As corporate communicators, we have the opportunity to explore new strategies, trends, innovative techniques and actionable tactics to engage employees in safety matters. Although communicating such procedures can be a difficult process, we can bring it to life with some creative thinking, planning, conversational approaches and high-level interaction.
Communication needs to change perceptions and behaviours by convincing employees that it's worth the extra effort and attention. With that in mind, we've put together some thoughts and tips on how to embed safety communications for maximum impact and effectiveness.
NINE CONSIDERATIONS FOR A POSITIVE SAFETY CULTURE
Develop short, simple messages
With increasing information overload in organisations, it's vital to keep messages clear and concise in order to get attention. Develop top line safety messages and principles that people can easily digest, remember and apply.
Be clear and specific about what behaviours are expected
Link your messages to related behaviours so that they can become real and actionable. Make sure everybody knows what is expected of them and how it impacts their day-to-day actions and roles.
Encompass and address all elements of health and safety
Include all areas of health and safety in your comms, including security, wellbeing, cyber and information safety.
Create a culture of involvement
Ask employees to submit suggestions and ideas for safety initiatives – they will have very clear ideas of what should be addressed and what can be contributed and will be inclined to share them openly in an inclusive culture.
Reward positive behaviour
Promote improvements in safety procedures and significant reductions in safety incidents. Publicly champion teams where impact and improvement has been greatest.
Visibly involve leaders
Involve executive sponsors to endorse key messages and demonstrate high-level buy in. Encourage them to take part in safety activities and record it with visuals that you can promote through your various channels. Visible and active leadership should demonstrate the behaviours expected of everyone.
Maintain regularity
Make sure communication is regular and periodic. Safety communication should be ongoing and integrated into working life rather than seen as sporadic campaigns.
Build safety messages into existing communications
Avoid information overload and a flood of new things to absorb by incorporating key messages into existing comms and activities wherever possible.
Develop a safety committee
Ask employees to form a committee that focuses on a specific subject affecting how they work in your organisation. Integrate their expertise, utilise their knowledge – after all they are the ones who will be carrying out your procedures and processes. The people will hopefully also be ambassadors for safety in the organisation.
TRY SOMETHING NEW TO MAKE POSITIVE CHANGES
As procedures change and evolve it will be necessary to draw attention to new processes and embed related behaviours. We've put together some ideas and activities that will help to make your comms memorable, impactful and actionable. As always, what works well for one organisation may not be suitable for another, but they can all be amended or adapted to accommodate specific requirements.
Grab attention with live theatrics 
Help employees to see themselves as part of a bigger story. Companies like Acting Up or Dramanon use comedy, tragedy and everything in between to offer powerful live theatre acts and workshops that encourage ideas and demand memorable audience participation. They suggest changes and practice new behaviours to ultimately shift the culture of the organisation. They turn employees' ideas into films to use as future learning resources that everyone has contributed to.
Learn through drama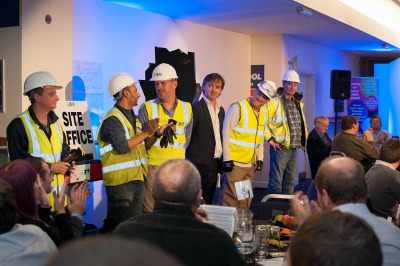 Similar to the above, companies like 2macs use interpersonal drama training techniques to positively impact on the attitudes, skills and behaviours that help people to be more effective colleagues. They put across complex human interactions in an accessible way allowing employees to get absorbed in the topics and experience the reactions and emotions that will make them think and feel differently and permanently.
Attend health and safety industry events
Support a new initiative by sending a group of employees, managers, or individual teams to a conference or government health and safety event conducted by a third party. That way, you can raise awareness but not have to take on the cost or burden of planning events yourself. Ask those individual to report back on their findings.
Bring it home
Run an 'At Home' safety themed event to engage with staff on a personal level, not just as employees. Offer training and demonstrations on child CPR, treating burns or caring for victims of other serious incidents. Consider inviting family members along to benefit from the training and support those involved. Raise key messages around fire safety, driving, electricity and gas safety for the home and translate them into workplace related practices. Promote such events well in advance to encourage interest and attendance.
Piggyback national events and activities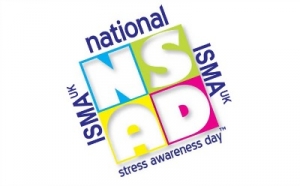 Organisations like the International Stress Management Association (ISMA) run awareness days (National Stress Awareness Day is on Wednesday 2nd November this year) to promote better practices and support individuals and businesses across the country and worldwide. They often offer resources like packs and toolkits to help you run your own events internally and you can promote your activities by joining the PR opportunities and social media conversations. Coincide your campaigns with events such as these to gain momentum through the national support, coverage and resources available.
Use ambient media in the office environment
Create mock safety hazards in the office environment and make them a talking point. Demonstrate the issues that these hazards can cause.
Fact or fiction activities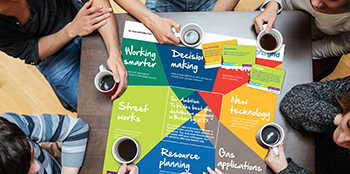 Run group sessions with a selection of employees from different functions across the business. Create simple fact or fiction cards about health and safety topics to facilitate conversations and raise issues that may not otherwise be discussed.
Create quirky videos
User generated content is remarkably powerful when it comes to sharing messages across an organisation. Ask small teams to create short videos identifying their top health and safety issue with practical proposals on how the hazards can be managed. Encourage creativity and humour. Share these on your usual channels to spread the messages that are coming straight from colleagues and peers.
Here are a couple of creative examples we've come across:
If money was no object…
Remove barriers by asking teams or departments if they had all the money in the world how would they make your organisation a safer and healthier place to be? Then present their findings and pick out actionable elements, developing the ideas and suggestions.
Seek external inspiration 
Take a look outside of the world of internal comms. The 'Dumb Ways To Die' campaign brought fun, humour and a viral approach to the world of safety communications. Whilst this was produced for Metro in Australia the campaign and particularly the app/game stretched across the world. Here's a case study on the campaign…
This year's focus for The World Day for Safety and Health at Work
As we've mentioned, it's important to encompass all elements of health and safety into your communications and one such area receiving increasing attention is work-related stress.
This year, "Workplace Stress: a collective challenge" is the theme of the campaign of the World Day for Safety and Health at Work. The theme will draw attention to current global trends on work-related stress and its impact.
'With the pace of work dictated by instant communications and high levels of global competition, the lines separating work from life are becoming more and more difficult to identify.'
How do you address such challenges in your organisation? We'd love to hear what's working for you. Tweet us @Alivewithideas to let us know.