We love getting people inspired about inclusion. Why? Because it matters. Because when we build safe, open and creative spaces for learning, people surprise themselves and each other.
Our workshop isn't a let me talk at you for an hour kind of situation – that's just not our vibe. Instead, we focus on active participation and collaboration, sparking meaningful conversations and sharing well-researched food for thought. 
"I thought it was going to be really boring and have nothing to do with me. But it was one of my favourite sessions and I learned a lot!" – A pleasantly surprised Comms Professional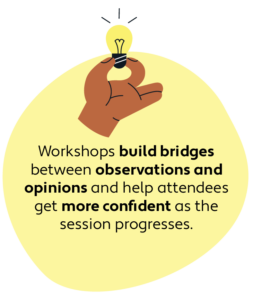 Tried and tested 
Having delivered this workshop a few times already (once in the middle of a field thanks to Comms Unplugged!), it's fascinating to see and hear the diverse perspectives of the participants. Consistencies and differences emerge, people agree and disagree, they build bridges between their observations and opinions and get more confident as the session progresses. 
"It was a super interesting session! We talk a lot about inclusion but this was a particularly memorable way of doing that and got people to dig a little bit deeper." 
– A splendidly satisfied Head of Communications 
Passionate about knowledge 
As someone who is currently pursuing a Masters in the EDI space alongside work (yikes), I get great joy from bringing new and important learnings to life for others. From tackling the topic of intersectionality in a fun and accessible way, to combining critical theory with comms, I feel fortunate to be channelling my knowledge into something that has a positive impact.

"Your session was fab, you really clearly articulated the subject and I'm looking forward to continuing our chats."
– A new friend, Head of Marketing and Communication 
Active and accountable

Ever wondered if organisations truly live up to their EDI mission statements? Our workshop is packed with different exercises and activities; in one of which we explore real-life policies and score them against a carefully crafted criteria inspired by the amazing Sara Ahmed. The group discussions that follow are always lively! 
"Your workshop though… woweeeee, that was SO insightful, energising, enlightening and also slightly scary! The whole intersectionality stuff has really got me thinking, especially when it comes to internal engagement with colleagues." 
– A fabulously kind Strategic Communication & Engagement Leader
Keeping the learning alive 
Everyone who attends one of our workshops receives a handout featuring our top recommended resources – a selection of materials to watch, read, and listen to, ensuring your EDI journey doesn't end when the session does. Check out the list! 
"Such a great session. Definitely taking these learning points back to my workplace." 
– A super supportive Communication and Employee Engagement Specialist

Ready to make your team more thoughtful and your comms more inclusive? Let's have a chat about our workshops: hello@alivewithideas.com. 
By Lauren Castle