It's an idea of such beautiful simplicity, it's hard to believe it hadn't been done before.
Conferences given the festival feeling. Valuable learning, done outdoors. Connections made under the stars, not in bars (though the odd beer may get passed around…)
It wasn't the first Comms Unplugged (CU) this year, of course (the fifth, if you're counting). But it was my first – and the only question I came away asking was: "Why aren't all work events like this?"
I've been reminded this year, as face-to-face events have slowly thawed out post-Covid and re-entered calendars, how much I've missed them.
And equally the need to take a break from the laptop feels more pressing than ever in the Zoom/Teams-saturated world we now inhabit.
CU not only helps scratch these particular itches but provides other key components in short supply in modern life – time and headspace.
As CU reminds us – you can't work if you're not well. So the opportunity to learn while clearing some welcome skull space is one that is unmissable.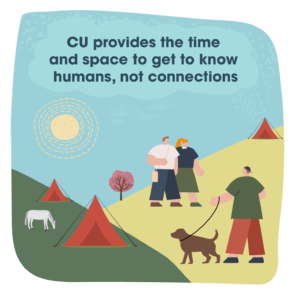 Buddy-making, not networking
By being about far more than just comms, CU provides the time and space to get to know humans, not just make contacts.
A mindful walk in the woods provided a chance to chat with someone new (hi Hannah!) about life and home, not inboxes and budgets.
With the surroundings and activities providing so much more to chat about than work life, I found the traditional opener of "So where do you work" had soon evaporated. It easy to see why CU has such a loyal and devoted following and family.

Doing it outdoors it better
Fresh air and sunshine is really good for stimulating conversations and ideas. Who'd have thought?
An unexpected but extremely useful chat (thanks Abha!) under the branches of a sprawling tree was one of my highlights of the event.
And everyone smiles. All the time.
And relax
OK, there are activities aimed at actual relaxation. But it's more than that. Everyone is more relaxed by the atmosphere and surroundings.
The schedule allows time to make the most of environment and the people.
You can actually feel your mind stilling and shushing as the event unfolds. And that is a priceless feeling these days.
Founders Sally, Georgia and Darren – and all those who have Unplugged along the way – have created a magical little community that feels more vital than ever. CU in the field in 2023.
By James Morton