Engaging people, creating a great place to work, having a happy workforce, are they all the same thing?
It seems obvious – if you have a happy workforce you have an engaged workforce, but what does engagement or even happiness actually mean? And how can we make it happen?
Engaging people is a constant and needs to be a consideration of everyday management, interaction and decision making. We came across this sparkling article by Stephanie Davies – Director and founder of Laughology. In it, she describes ten ways you can help to create engaged, happy teams.
Here we've taken those top tips along with Stephanie's 'Quick Happiness Wins' and created a fun infographic to bring those points to life.
So soak them up and spread a little happiness. What are you waiting for…?

Stephanie Davies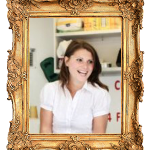 With over 15 years' experience, Stephanie has an unsurpassed reputation. She is one of the UK's leading experts on happiness and humour. Her work ranges from creating happy work environments to motivating and inspiring individuals and teams in large blue chip organisations. Stephanie founded Laughology; a company which helps individuals and organisations develop resilience and flourish.
Stephanie's combination as an award winning comedian and expertise in psychology and business makes her one of the most sought after speakers.
Qualifications: M.A in The psychology of happiness and humour for personal development; Dip1 CBT, Health psychology and Analytical psychotherapy.