When Creative Lives in Progress came knocking, asking if we'd like to be one of their Company Partners, there was no tumbleweed moment – we jumped straight in!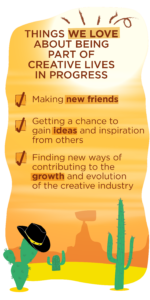 Those of you who have been friends with us for a while will know that at Alive, there's nothing we love more than creating, learning and sharing. 
Creative Lives in Progress is an inclusive creative careers resource, on a mission to transform the way emerging and underrepresented talent access, understand and connect with the industry. Like us, they love to gain and share advice and insights, build meaningful relationships and bring people together through open and honest storytelling. 
Creative Lives in Progress champion greater transparency and representation within the creative working world and regularly host events that bring new talent and industry professionals together. 
Not only are these rodeos wonderful opportunities to make new friends (we love that), they're also a chance to gain ideas and inspiration from others and find new ways of contributing to the growth and evolution of the creative industry (we love that too). 
As their latest partners, we're fortunate enough to be pulling up a chair next to very good company including Google, BBC Creative, It's Nice That and Animade. 
Project and Account Manager, James Smyllie says:
"We are thrilled that Alive With Ideas is coming on board! We're always incredibly grateful for the generous support of our Company Partners who share our mission of creating a more inclusive industry. Spanning a vast variety of creative disciplines, they help us make everything we do possible. Alive With Ideas is the perfect addition and I look forward to working with the team."
Doing great work with great people is what fuels us – thank you to James and the rest of the Creative Lives in Progress band for inviting us along for the ride. 
Check out our partner profile.
Stay in the know by signing up to the Creative Lives in Progress newsletter.