As more and more business leaders are sitting up and taking notice of internal comms, is it time we brushed up on our business know-how before we take our seat at the top table?
As underdogs of the communications world, IC pros are dab hands at referencing theory such as the Kubler Ross Change Curve or more recently the IoIC Professional Skills Framework. And we do that because credibility matters especially in an industry that is so often misunderstood.
But to truly gain credibility with our senior stakeholders, do we need to have more than a comprehensive understanding of our own industry and be as equally proficient in the world of business?
There will be many IC pros unfazed by their CEOs throwing around terms such as EBITDA, angel investors and IPOs. But chances are there'll be just as many in a cold sweat trying to discreetly Google under the table.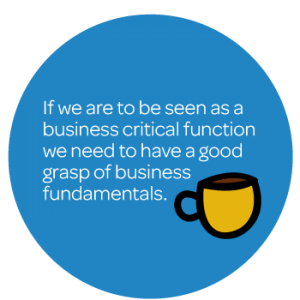 If we are to be seen as a business critical function able to hold our own against heavyweights such as finance, operations, HR, and marketing, we need to have a good grasp of business fundamentals. Not only so we can translate it for employees or even join in important conversations, but because it allows us to make strategic communication decisions that have fully factored in the wider business context.
So how can we get to grips with the world of business?
Many people research the organisations they work for and the industries they're in right before their interview for the job. But organisations are constantly evolving and with that new challenges and opportunities will emerge, so research should just be part of what you do.
If you hear murmurings of a possible merger or acquisition, don't wait for it to be confirmed before finding out what's involved. Let Google be your friend – although ideally in advance of a meeting rather than under a table! Be ready for when that conversation occurs.
And be aware of current events. What might Brexit mean for your organisation? And what might you need to communicate as a result? Thinking ahead and being prepared for various outcomes is just the type of strategic business thinking a CEO is going to want in their top team.
Curiosity may have killed the cat…
But it's the making of the internal communicator.
While it's important we can demonstrate business know how, realistically you're not going to know everything, especially as much of what we learn is from on the job experience. Your colleagues will have more respect for you if you admit you're going to need to ask a few questions, rather than muddle through and get something that could be business critical wrong.
Build strong relationships with key stakeholders, ask to shadow them so you can get a better understanding of what they do and the types of decisions they have to make.
And in many ways, you don't want to become too much of an expert as you don't ever want to move too far away from the average employee. You still need to be able to gauge whether they will understand something and if you become too entrenched, that will get harder and harder to judge.
It's never too late to learn
When we think of professional development, it's tempting to think of things that will enhance our communications skills rather than also considering areas outside of that remit. Taking a course in business or financial management is a great way to get to grips with the basics. It will also give you confidence that your knowledge is accurate and based on recognised teaching and theory.
And confidence is key to gaining credibility. It's one thing knowing the fundamentals of how a business lists on AIM but if you're not confident enough to demonstrate that knowledge to stakeholders, you may find yourself left out of the loop.
The truth of the matter
It could also help you look a situation from other angles, and consider it in ways you hadn't before. For example, if you're telling employees about potential redundancies, you will need to anticipate questions you might receive – often related to the health of the business finances.
And let's face it, senior stakeholders can sometimes give woolly answers to those types of questions. It's your job to know what questions you need to be asking them, and know enough to recognise when they're not being completely truthful.
Employees will ask the questions anyway, and you owe it to them to have done your homework especially when it's a highly emotive and potentially distressing topic.
The human element
Understanding business can also help you view the senior stakeholders in a different light. It's very easy to look at them and the decisions they make and forget they're human beings, especially if decisions appear cold or callous. But with your business head on you might have a new appreciation for the stress they're under and that some decisions are necessary if the company is to survive.
And on the flip side of that, the more you understand about the decisions that being made at the top, the more you can remind them that decisions made based on figures in spreadsheets have a real effect on real people.
The internal comms industry is full of extremely talented and passionate people who all deserve respect and recognition for the value they add to a business. That's why it's so important that we don't trip up on a fairly basic business topic and undermine all our other attributes. Spending a bit of time swatting up on business basics could finally earn you that seat at the top table, and more importantly, give you the confidence that you earnt it.
By Helen Deverell for Alive!