It takes one person to have an idea, a second person to validate it and a third, fourth and fifth to create a movement. We take a closer look at the power and influence of first followers.
We've all been in a meeting when someone suggests an idea that's a little off the wall. The room goes quiet for a while as everyone mulls it over. What happens next is crucial.
If someone in the room validates the first person's idea as being worthy of consideration it normalises it and makes it okay for others to get on board. The first person is no longer a lone voice with a whacky idea.
The validator is known as the first follower.
A few years ago, Derek Sivers did a Ted Talk where he talked about the first follower effect. He uses a video of a man in a field at a festival, on his own, engaging in interpretative dance, completely free of any inhibitions. For a while he looks like an eccentric, but when someone else joins him it becomes more acceptable. When that second person invites his friends along it becomes a movement.
"It takes guts to be a First Follower! You stand out and brave ridicule, yourself. Being a First Follower is an under-appreciated form of leadership. The First Follower transforms a lone nut into a leader. If the leader is the flint, the First Follower is the spark that makes the fire."
And that's the same for our internal campaigns. It's one thing having one person lead a campaign, but it's the second person that makes it ok for everyone else. It's the third, fourth and fifth followers that then turn an idea into a movement.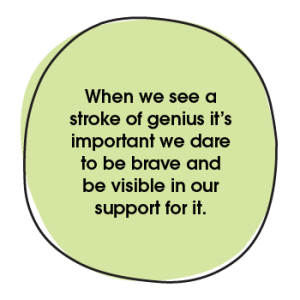 We often talk about early adopters and influencers (ie. first followers) inside our organisations – the people that can see the vision before its fully formed and jump on board. These people are incredibly important and have the power to elicit real change.
Nudge theory tells us that we're extremely influenced by the behaviours of others. If we have a piece of rubbish in our hands, and a bin a few steps away, we'll still drop it on the floor if we look around and see that others have also discarded theirs.
So how do we find our first followers and movement makers when we're rolling out campaigns and get them to bring their peers along with them?
Start with why
Simon Sinek talks about why we should all 'start with why'. So often organisations focus on what they do rather than why they do it, and it's that sense of purpose that builds a loyal following.
Simon talks about the cult-like following of Apple and how those customers aren't buying the products because they're the best ones available, but because they believed in its vision. Steve Jobs and Steve Wozniak started Apple because they believed that everyone should have access to a computer, not just corporates and governments.
Your first followers need to understand your why, because even if the idea isn't perfect, they'll be able to see its potential and want to support it.
Share early
Sharing a new idea with peers can be daunting and bring with it feelings of vulnerability, so it can be tempting to perfect it and offer it up completely finished and fully formed. But part of what early adopters and influencers love is coming along for the journey. They want to be able to say they were there at the beginning and witnessed an idea develop over time thanks to their input.
You're more likely to bring people along with you if they have an opportunity to shape it and feel a sense of ownership for it. So, get that idea out there early on and start drumming up interest – you only have to look at disruptive organisations to see that innovation is constant and failure is celebrated – no one gets it right first time, and rarely by themselves.
Embrace the first follower
It's natural to feel proud of an idea and even a little protective of it. But for that idea to become a reality a leader needs to be willing to see it as an idea that everyone can share. It's much harder to bring people along if they can't get involved or if their enthusiasm is met with hostility.
If you're the originator of an idea, embrace your first followers and recognise the powerful influence they could have, rather than be wary of them or envious of any attention they receive.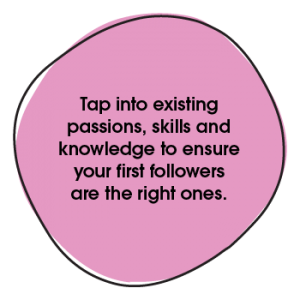 Look beyond the familiar
Certain colleagues may jump to mind when thinking about first followers but falling back on your go-to guys isn't always the best move – just because they helped make a project or a campaign a success once, doesn't mean they're the right person every time.
Each idea, project, campaign etc will be different so you want to look beyond the usual suspects. As internal communicators, we're out and about in the business so always be on the lookout for potential first followers.
Do you know what your colleagues passions are? Have you considered that not all influencers are extroverts? Have you spent time with notoriously hard to engage groups to gain their trust?
For example, if you're launching a new collaboration tool, discovering a colleague who loves tech, blogs about it in their spare time and is always in the queue on release day for a new iPhone, could make them the ideal person to involve. Or a woman who's recently returned to work and spent her maternity leave managing a Facebook community for new mums.
Tap into existing passions, skills and knowledge to ensure your first followers are the right ones, and most importantly have credibility to bring along the masses.
Have a plan
It's worked. You gained your first follower and the masses followed. Now what? It's easy to get fixated on the initial stages but you also need a plan for how you'll keep your influencers interested.
Once they've declared themselves, communicate with your first followers and movement makers regularly – you could even consider creating a group to share updates, ideas and feedback.
Also, it's important to remember that just because someone is influential within their team, it doesn't mean they're a skilled communicator. Provide them with support on how they can help you – suggest ways they can create and share content as part of your campaign, provide how to guides on social media and writing skills, and give them training on tools if required. And above all, give them a voice – influencers will have their ears to the ground and can provide invaluable feedback from the wider organisation.
Create the right culture
Being that first follower takes real courage.
Stepping away from a crowd to declare yourself a supporter of something isn't for everyone. But as Derek Sivers said, it's an underappreciated form of leadership, so if we see a stroke of genius it's important we dare to be brave and be visible in our support for it.
It's also a great development opportunity as you'll be involved in a new idea, project or way of working and will experience first hand the process to develop it into something meaningful.
If we want to see our organisations grow and realise their visions, we need to create the right culture that encourages innovation and failure – and that example needs to be set from the top. Build trusted relationships with senior stakeholders and work with them to recognise the value of creative thinking and first followers.
As a society, it's been drilled into us that being first is what counts. But when it comes to getting projects and campaigns off the ground, it's the second person has the power to create change. Champion your first followers and movement makers and make them an integral part of any project or campaign plan.
By Helen Deverell for Alive!