Clarity, construction and correctness are the three kings of great copy.
Writing content is a key skill required by most communicators and it's not always easy to confidently cross off those three regal requirements when you're short on time.
When you're working in comms, time efficiency and optimal productivity are crucial. That's why it doesn't hurt to call in a little support every now and then to keep a check on things, help you find that elusive word you've been hunting or save you from a potentially embarrassing yet easily avoidable error.
These terrific tools are all free (or come at a very minimal cost), they're easy to use across different devices and best of all; they're great for on-demand writing that calls for speed and accuracy:
Grammarly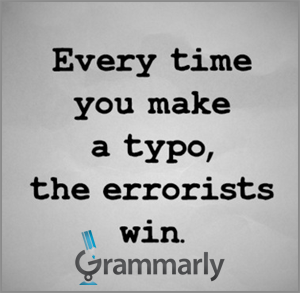 Just when you thought you'd written that article completely error-free, Grammarly manages to prove you wrong. Grammarly is one smart cookie, flagging errors like passive voice, split infinitives, and your dangling modifiers as you write. It helps you write mistake-free in Gmail, Twitter, LinkedIn, and nearly anywhere else you write on the Web. It corrects grammatical mistakes (adhering to more than 250 grammar rules), spots spelling errors and smashes poor vocabulary usage. It will pick out words that have been correctly spelled but used in the wrong context and improve readability by intuitively suggesting alternatives. It's genius!
Ginger
Ginger Software is fun with a capital F! There's a whole suite of powerful writing tools including proofreading, rephrasing, translation and a dictionary. It even includes a personal trainer tool that analyses the areas of English where your writing needs improvement and offers recommendations for practicing those skills. Now that's smart.
Thesaurus
The Thesaurus, a synonym solution for more than 100,000 words is a major part of my trusted toolkit. I don't go a day without using it. Fire up your thesaurus to jump-start your vocabulary engine, reducing repetition whilst adding variety and interest. A thesaurus will also provide you with the definition or the history of any particular word.
TOP TIP: Occasionally I can't put my finger on that one particular word I need. Strangely, I can think of its exact opposite! Use a Thesaurus to get out of this fix by typing in your opposite word to find the one you're looking for.
Writefull
This creative app is brilliant for giving you reassurance and confidence with your writing. If you're in any doubt about a particular part of your text, run it through Writefull for instant feedback. It will check your copy against a massive universal database of text, and will then give you examples of how that text has been correctly used elsewhere. If you're unsure about whether you're using the right word in a sentence, highlight the sentence and Writefull will check against the database, showing you how that exact sentence has been used elsewhere with alternative, more appropriate words.
TOP TIP: Watch this short video for a full rundown – 
Gunning Fog
Make your writing easier to read. If I'm in doubt about whether my copy is overly complex, I run it through The Gunning Fog Index. It measures the readability of your writing by assessing the number of long words per sentence and estimates the years of formal education needed to grasp the text upon a first read. Text for a wide audience (your average, non-specialist reader) generally needs an index of less than 12. Text requiring near-universal understanding should have an index of less than 8. Unless your content is for a specific audience who'll understand the heavy ins and outs, it'll help you cut back on long sentences and 'complex' words.
TOP TIP: Your average sentence length should be 15 to 20 words, with shorter sentences generally being more effective. However, variety certainly is the spice of life and a mix of sentence length is a crucial part of good writing.
Hemingway App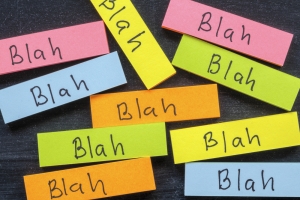 The Hemingway App is for those who want to make their writing 'bold and clear'. It highlights common problems that can get in the way of clear writing, colour coding each potential error type, including:
Complex words or phrases
Extra-long sentences
Long sentences
Too many adverbs
Too many instances of passive voice
Really simple and easy to use. Give it a go!
Drivel Defence
Drivel Defence is a software package that helps you to check the use of plain English. It was introduced by The Plain English Campaign, which has been 'fighting for crystal clear communication since 1979'. This tool keeps gobbledegook at bay by checking sentence length as well as sniffing out wooly words and offering suitable alternatives. Down with drivel!
There are loads more tools out there that help you check and improve your writing. Some also help you to create templates for emails and articles to save time and power productivity. It's well worth choosing your favourite few and making use of them whenever you're creating content. You can vastly improve the quality of your writing and impress your readers with a cheeky bit of smart technology