So you've got an idea for an animation you just know will work brilliantly. You've got the storytelling spot on. And the images in your head are fighting to break free. There's no way this won't go down a storm…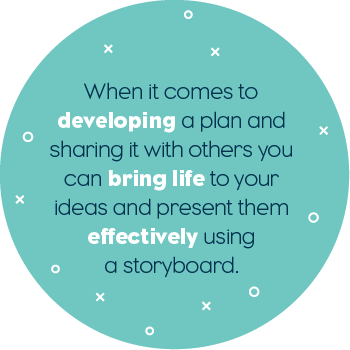 But how do you translate your vision into something you can share with your stakeholders? Something that will describe exactly what you want to say and will get you the buy-in you desperately need.
We know that any form of communication requires careful planning and a defined strategy. As an internal comms pro, it's down to you to take control with a considered, capable and methodical approach.
When it comes to developing a plan, and sharing it with others – whether that's for a video or for an animation, you can bring life to those ideas and present them effectively using a storyboard.
What is a storyboard?
A storyboard is a series of images, often with some dialogue, representing the shots planned for a video or animation. The process was developed at Walt Disney Productions during the early 1930s. According to Christopher Finch in The Art of Walt Disney, animator Webb Smith was credited with creating the idea of drawing scenes on separate sheets of paper and pinning them up on a bulletin board, visualising the likes of  Snow White, Mickey Mouse and The Three Little Pigs.

Why do you need a storyboard?
Storyboarding is now an essential part of the creative process and is used to plan and visualise the structure and flow of a story. At Alive, we use storyboards to help clients map out their vision, presenting a layout of the scenes and bringing characters, facts and figures to life. It's the perfect way to take thoughts and ideas from inside minds and put them into motion, helping others understand and contribute to the elements of the story.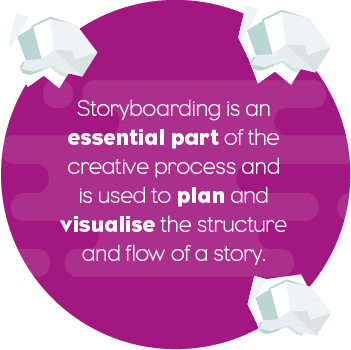 Mapping out the scenes in this way also helps to work out how the visuals will flow alongside your script and how they will complement each other.
You'll no doubt have some key messages you'll want to weave through your animation to generate your desired outcome. A storyboard provides a structure that allows you to see where those messages will work best and where they will have the most impact.
Storyboarding can also help to save on resources like money and time, making sure you don't come across unexpected issues later down the line.
How do you create a storyboard?
There are different ways to create your storyboard but here are five suggested steps that will help the process unfold:
Write your script. A rough outline will be enough to get things started.
Build a moodboard – a collection of images, styles, fonts – anything that has inspired your story or the characters within it. This will provide a good base for your storyboard and will be something you can return to throughout the process to bring some clarity and consistency when you need it.
Create simple thumbnail sketches of a basic concept and structure that answers the brief and works with your script. You don't need to be an artist – stick figures will do fine! There are plenty of templates online that are free to download. Alternatively, you can use an app like this one from Canva and their professionally created templates. You can use their stock image library or upload your own.
Note down a few words or lines from your script below each slide, describe any sound effects you need or transitions you'd like and jot down some detail about what's happening alongside each picture.
Include all relevant details – have a notes section at the end of your storyboard that pulls out key information and important points that need to be considered.
If you'd like to talk through your story plans we'd love to get involved. Turning raw ideas and information into something visually bold and brilliant is what we do best. Drop us a line, we'll take a look at things, help you work through your storyboard, show you some examples or take it off your hands altogether!