After a taxing 2020, most of us will be keen to start the new year on a brighter note. Maybe you're diving into a new exercise regime, learning a new skill or improving a relationship.
But how many of us will take a critical look at the way we think?
Our thought patterns power the achievement of so many of our goals, but it's easy to become stuck in negative patterns that hinder us.
Way back in Victorian times, the pioneering American psychologist William James wrote that the greatest discovery of his generation was our ability to change our lives by 'choosing one thought over another'.
So here are five ideas for adopting a more positive outlook for 2021.
Draw your Zorro circle
Feeling a sense of control in our lives is a major driver of happiness. But in our pandemic-ravaged world control can feel more distant than ever, with many of us worrying over things we cannot directly influence.
In the film The Mask of Zorro, the ageing sword master Don Diego trains his impetuous protegee Alejandro by drawing a circle around him in the dirt. "This circle will be your world," Diego tells him. "Until I tell you otherwise, there is nothing outside of it."
Shawn Achor, author of The Happiness Advantage, suggests we draw our own metaphorical Zorro circle to help focus our attention.
We can use this idea in two ways. If you're worried about something, decide whether it belongs inside the circle – meaning you can do something about it – or outside, meaning you can't. Focus on what's inside your circle.
We can also use it to focus our attention on achieving small, easily obtainable goals which give us a sense of control and progress. Once we've achieved these, we can draw a wider circle to include more stretching goals.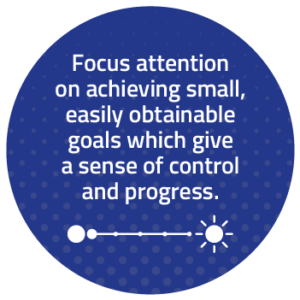 Choose a positive interpretation of events
When things go wrong our brains create our own interpretation of the situation, viewing the event as either fortunate or unfortunate.
Achor explains how, in these situations, we're more likely to see the negative. In a national lockdown, for example, we may focus on the lack of social contact, the cancelled plans, economic distress. But we could also choose to look for the benefits: a slower pace of life perhaps, more free time, wildlife returning to towns and cities.
The same principle can be used in our relationships. We have a tendency to attribute other people's negative behaviour to their character rather than the situation they find themselves in – a cognitive bias known as fundamental attribution error.
Indra Nooyi, the former Chairman and CEO of Pepsico, had a simple approach to combat this tendency. Asked for the most important advice she had ever been given, she responded:
Whatever anybody says or does, assume positive intent.
By choosing a positive interpretation of events, we're better able to deal with them.
Craft your own narrative
From Moneyball to The Big Short, the author Michael Lewis has told some compelling stories about real-life events. But when researching these stories, Lewis found that people tend to craft narratives about themselves. As he told The Tim Ferris Show, these stories can soon become self-fulfilling prophecies – for better or for worse.
Lewis decided to create his own narrative: that he was the happiest person anybody knows. "And it's amazing how happy-inducing it is," he says.
If you think this is harder than it sounds, our Victorian psychologist William James can offer further insight. As Richard Wiseman explains in Rip It Up, James proposed the extraordinary 'As If' principle: that people may be able to change their mood simply by changing their actions. Over a hundred years later, dozens of experiments have shown its validity.
So if you want to feel happy, simply behave as if you are. To feel younger, act younger. To be more energetic, act more energetic. Why not give it a try?
Visualise the positive
Whatever your goals for this year, you're likely to want to perform better at something. Perhaps it's running a difficult meeting, delivering better presentations or perfecting your tennis forehand. The way we think about these challenges can have a big impact on our success.
In The Pressure Principle, performance coach Dave Alred describes how moving towards something – wanting to achieve it – is far better than moving away from something, by not wanting to fail. If we try to avoid failing, we're putting the fear of failure in our head. Visualising a positive outcome, on the other hand, can significantly increase our chance of success.
So instead of trying not to get nervous, visualise yourself delivering a smooth and professional presentation. Picture hitting a smooth, powerful forehand, rather than trying not to hit the ball long.
Infuse your work with new purpose
If you've been in your role for a while – or are still reeling from the onslaught of 2020 – you may feel your spark for work burning a little less brightly. If that's the case, there are ways to infuse your role with a new sense of purpose – simply by viewing it in a different way.
Achor recommends summarising your job description to highlight the impact it has on others – whether that's colleagues, customers or the public. Simply reminding ourselves of the impact of our roles can help refresh the way we look at them.
Or try a tip from Dan Pink in To Sell is Human. Authors, Pink points out, frequently dedicate their books to other people. So why not dedicate your own work – a campaign, a new website, a difficult project – to an important person in your life? This extra dimension can help infuse your day-to-day work with new meaning and satisfaction.
Whatever our goals for 2021 and beyond, the way we think will play a key role in our success. We really can, as William James discovered, improve our lives by choosing one thought over another.
Here's to a brighter 2021.
By Dave Wraith for Alive!