Would you like to learn about building a culture of engagement, aligning employee purpose with organisational goals and creating a motivated, high-performing workplace using new social tools and technologies, all in one place?
If the answer's yes, then we've a smashing offer for readers of the Alive blog, saving you $600 on a corker of an event in Boston this summer.
The 5th annual conference from The Advanced Learning Institute promises to provide you with proven communication strategies that work, actionable tools and practical tips that you will be able to apply immediately.
You'll arm yourself with a toolkit of cost-effective solutions that will solve your biggest internal communication challenges.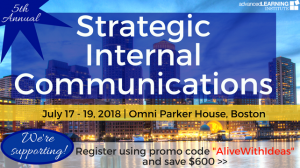 The event commences with a pre-conference workshop day on Tuesday, July 17 which is followed by the main two-day conference on Wednesday, July 18 and Thursday, July 19.
You can find full details of the event, explore the agenda and book your place on the ALI Conferences website.
It's a perfect opportunity to interact with an entirely unique group of communicators from a variety of industries and hear from speakers that'll spark new and inspiring discussions for you to bring back to your organisations.
5 Reasons Why ALI's Strategic Internal Communications Conference is a Must-Attend
You'll hear practical, valuable, pitch-free presentations from over 20 leading organisations from a variety of industries including Retail, Higher Education, Health Care, Computer Software, Entertainment, Food Production, Internet, and Government;
You'll connect face-to-face in a comfortable environment with 80 leading internal communication professionals while benchmarking best practices with like-minded peers;
A marvellous mix of sessions from extensive networking opportunities for you to make lasting connections and discuss your biggest internal communication challenges with interactive exercises, to a rapid fire idea session and a thought-leader panel included in the schedule;
Full-access to presentations post-conference and a detailed contact list making it easy to stay in touch;
Certificate of Completion – Advanced Learning Institute provides a Certificate of Completion for attendees to show proof of attendance when submitting CPD or CEUs.
The $600 discount will be available until 1st June. All you need to do is register with the promo code AliveWithIdeas.
With more speakers than ever before – in ALI history, the event is set to be the best yet. Expand your horizon and learn what others are doing globally to address their internal comms challenges by attending this industry-leading conference.