Since covid struck and remote working patterns evolved there has been a positive shift towards flexibility, but these new ways of working may have come at a price…
Hybrid and home working have been welcomed by many, but they've also created a rise in the invisible employee.
You know the one; the quiet, unassuming colleague that isn't always online during 'normal' hours or can't make it into the office due to other demands. The one that doesn't always feel confident enough to contribute, or fit in, and as time goes on seems less inclined to argue their point in group debates. The one that misses out on those 'high five' moments as a valued and recognised member of the team.
Creating and adopting a team visibility strategy that helps employees to feel noticed and valued can change their outlook for the better. Consider the following elements…
Give them your time
In busy workplaces it's not always easy to spot that person who needs some extra love. They may be right under your nose or working remotely miles away. They may be a contractor or have other demands being placed on them. They may even be actively choosing to stay hidden.
TIP: Create moments to check-in with people as often as you can. Especially the quieter ones. Grab a coffee or pop a reminder in your calendar to arrange a call.
Discover their uniqueness
Most of us have a longing to be recognised, accepted and most importantly seen. But each person within a team will have a different idea of what being seen really means.
TIP: Finding the time to get to know people on an individual level is a great place to start. Understand what communication style works for them to boost their sense of belonging.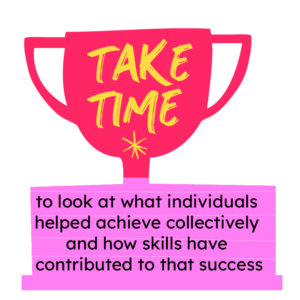 Acknowledge their contributions
It may not always be obvious, but there's likely to be one team member that excels at polishing and tidying up all the loose ends. Or someone who supports rather than leads. Maybe there's that one individual who does all the legwork right at the start and never gets to see the end result. Each team member will have their own strengths and qualities. Valuing them for what they bring is vital.
TIP: Take time to look at what individuals have helped to achieve collectively and how their skills have helped achieve success. Make contribution more important than expectation to help team members become more willing to show up and play their part.
Let them or others shout about their wins
As humans, we all crave a pat on the back from time to time. Personal commendation or acknowledgement of a job well done to all creates an environment of pride, trust and mutual appreciation.
TIP: Gratitude channels that enable people to praise colleagues' contributions – or shout about their own – can be highly effective. Seeking out regular ways to identify and acknowledge people personally is also super impactful.
Respect work life boundaries
With remote working life changing beyond recognition, it's more important than ever that we take holistic view of people's lives through a human-centric approach.
TIP: Be aware that some invisible employees may be switching from remote worker to frantic parent just when you need their input. They're unlikely to be in 100% work mode when your request lands. Set core hours or contact times for transparency and harmony.
Get them involved
Getting the team together, even remotely, can help to unite and involve everyone. Having a proper chat about a project rather than sending an email can help to build bonds with fellow workers and include your invisible employees.
TIP: When arranging virtual calls, make a conscious point to personally invite your invisible employees and encourage cameras to be ON so people can't hide so easily.
A note to those who feel like the invisible employee…
When researching this article we found that many of those who felt overlooked didn't actually want to be the backstage crew member. It wasn't their chosen path to be unseen, they've simply lost their way. They wanted to be front of house – not necessarily centre stage – but to play a more recognised and considered role. Especially those who work remotely or as an extension of a team.
Travel the two-way street
You don't need to stay concealed, help your own uniqueness to be revealed.
If you're feeling a little lost and unloved it's important to show up. As others bring you into the conversation, find your own unique ways to be included too. And never underestimate your unique and valuable contribution.
By Ally Taylor