If you had to describe your career aspiration for 2021 in a word, what would it be?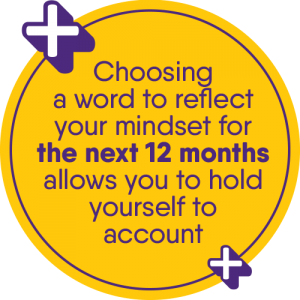 For over a decade, I've been setting my intentions and aspirations at this time of year. Why? Outlining my goals, ideas and dreams helps me shape them into reality.
I find the only way to have any chance of goals or aspirations lasting to Easter and beyond is to make them visible, tangible and realistic.
One of the key parts of that planning is choosing a word. The criteria I apply reflects the mindset for the upcoming 12 months. I use it to hold myself to account.
It's a largely positive exercise and helps drive my business, All Things IC forward.
Sometimes it's more realistic than aspirational – like 2014/15 when I had three children under the age of two-and-a-half, following the birth of my twin sons. Survival was the name of the game!
If you look at my words, you'll see key milestones are mapped against them:
2009:  Visioning
2010:  Visioning
2011:  Experimentation
2012:  Exploration (Daughter born)
2013:  Exploration
2014:  Survival (Twin sons born)
2015:  Experimentation
2016:  Learning
2017:  Learning
2018:  Refining/Deepening
2019:  Courage (Twins started school September. Started venue hunt.)
2020:  Growth (All Things IC Hub opened January. Paused March.)
2021:  Refining/Deepening
I launched All Things IC in 2013 while on maternity leave with my daughter. But I had been preparing and planning since 2009, when I was working in-house in corporate communication and internal communication (IC) roles.
You can choose a word if you're planning to stay in the same role, if you're searching for a new job or if you're looking for your next contract. You can also choose one for your personal life.
What's on the list?

I shared my list with Comms professionals in my network via LinkedIn a few days ago and I'm curious to know what yours is for the year ahead.
Some of the words that Comms pros told me they've chosen for 2021 include:
Establish
Patience
Kindness
Flow
Growth
Learning
Energy
Balance
I love how positive these are!
Do any of those resonate with you? What's yours?
Once you've chosen your word, keep it visible. Add it to a post-it note near your screen or write it in the front of your notebooks.
What does the year ahead hold for you?
Perhaps you're planning to find a new role, change jobs, start your own consultancy business, deepen your experience in your current role or aim for a promotion?
Think about choosing a word to reflect the mindset you want for the year ahead.
The words I've chosen are refining and deepening. I'm aware that's two, but they go together, just as they did when I chose them for 2018.
It's all about refining and deepening my career and experiences for All Things IC's clients.
But I'm doing so fresh after a period of growth. Not the growth I intended when I chose 2020's word a year ago. But the ups and downs of this year have resulted in a lot of lessons and challenges, which have fuelled growth.
Grab a cuppa and allow yourself time to focus on you. What's your word?
By Rachel Miller, All Things IC