'Learning at Work Week runs from 18th-24th May..'
It's a brilliant annual awareness event organised by the Campaign for Learning and has been running since 1999.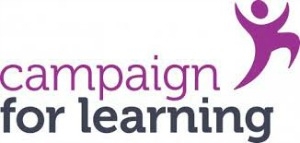 The week offers an opportunity to promote and deliver learning activities in a way that is fresh, exciting and engaging. It's all about giving learning the profile it deserves.
The idea is to enable organisations to run a branded learning campaign in the workplace that's linked to a national event. Each year, thousands of organisations from SMEs to large corporations and public sector organisations take part, running vibrant campaigns and activities which engage employees and promote positive messages about learning.
Shaping Our Future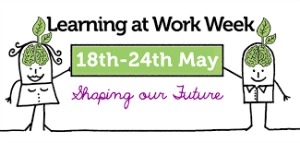 The theme for Learning at Work Week 2015 is 'Shaping our Future'. It focuses on the vital role of learning and development in building resilient, forward-thinking and creative workplaces. The theme highlights:
Dealing with change and building resilience
Developing the future workforce
Building creative environments
The Campaign for Learning provides a ton of ideas for planning events and activities that fit your organisation's goals and objectives and are linked to the needs of your employees. You can find top thoughts and ideas about the theme for this year and how to support employees on the organiser's website. It's also worth registering online to take advantage of the other resources available.
Learning and creativity
Emphasis is put on creativity in the workplace and employees are encouraged to focus on self-motivation and learning – coming up with original ideas is something most of us can do when we put our minds to it! We recently ran a survey at Alive, delving into the levels of creativity in the world of internal communications. A skills shortage was cited as one of the biggest hurdles to comms pros taking a more creative approach in the workplace. Embracing Learning at Work Week and an ongoing commitment to personal and professional development could be just the ticket!
Many companies use the week as a catalyst for change, providing an opportunity to 'rebrand' or refresh learning and development, celebrating the learning that takes place all year round.
The benefits of joining in with the campaign are bountiful! Along with enhancing employee engagement, increasing knowledge, recognising internal talent, supporting wellbeing and promoting L&D opportunities it's also a great way to encourage creativity.
Visual Inspiration
These Pinterest boards offer more useful resources, activity ideas and tools to help you deliver a successful Learning at Work Week.
Activity ideas www.pinterest.com/lawdaywire/learning-at-work-week-activity-ideas
Organisers' tools www.pinterest.com/lawdaywire/law-week-organisers-toolbox 
If you're short on time, here are some quick wins and activity ideas suggested by the Campaign for Learning:
Shout about it!
Send a 'save the date' message to get your promotion rolling. Use the graphics on the Learning at Work Week website for your intranet, emails and other communications. Ask champions to spread the message and invite the CEO and senior managers to make a public announcement. Download the posters from the Learning at Work Week website to promote your activities, focusing on the benefits of taking part.
Promote your internal talent
Invite colleagues from different levels of the business to run a short taster session (30 – 40 minutes) on something they can teach – both work and just-for-interest topics. It's a great way to get a mix of activities for the week and present a different side to colleagues. Languages, photography, hand massage and Excel formulas may be just some of the topics on offer in your organisation.
Show a TED Talk and have a discussion
Tap into the vast range of online lectures, talks and panels sessions and screen a film followed by a debate. Ted Talks are well known and popular, but there are lots of other organisations which film their event – try Intelligence Squared, the RSA and the Royal Society. It's a stimulating and social way to introduce colleagues to new thinking on all sorts of topics, from brain science to becoming more creative.
Get the view from the top
Ask senior managers and leaders to give a talk about their own experiences, including how learning helped them get to where they are, their attitudes towards learning and how they learn. This is a powerful and often popular way to draw attention to the power of continual learning.
Run an innovation workshop
Get people from across your organisation together to talk about common workplace challenges and issues. Agree on one and focus on how it might benefit from a new approach. Try NESTA's DIY Toolkit for practical tools you can use to generate new ideas.
Make learning visible
Create wall art or a graffiti board by inviting colleagues to draw or write their response to activities they've done, or things that would make them happy to learn.
Get the inside story
Capture learning in action with cameras and videos, so you can celebrate and share after the event. Gather feedback from participants to measure success, and find out what they would like to do more of. Build this into your learning offer all year round.
Measuring up
On the subject of measurement, if you're looking to show changes in behaviour or attitudes as a result of your Learning at Work Week activities, record a 'baseline' so you can compare it to what happens after.
Take activity measurements beforehand – use of your intranet, changes in productivity, requests for learning support, downloads of resources, sign-ups for courses, enquiries about new roles and opportunities and customer satisfaction ratings.
Join the conversation
Spread the word about Learning at Work Week, share the brilliant resources provided by the Campaign for Learning, enjoy the activities you host and get planning for 2016!
You can follow the build up and activities throughout the week by joining the conversation on Twitter @LAWWeekWire and following the hashtag #NLAWWeek.