Newsflash: You may not have realised it, but you've been part of a series of rituals since you were knee-high to a grasshopper.
All of those slightly threatening 'Santa won't come if you're awake' Christmas Eve bedtimes and carefully negotiated home times from 'playing out' were an early introduction to the grown up worlds of continuity and consistency. Not that your much younger self would have recognised or appreciated that of course. But, here you are; older, wiser and still with that ingrained structure, courtesy of Ma and Pa.
Now that you're part of the working world, your own rituals are more self-managed. Whether that's your start-the-day brew or a detailed 'to-do' list for the day ahead, you're creating something that you can rely on and, believe it or not, is incredibly rewarding too.
A 'to-do' list is just an example, and you might be thinking 'What's rewarding about a to-do list? It's just a reminder of spending the working day trying to shoe-horn 10 hours worth of work into 8, right?' Well, in black and white terms, yes. But creating a helpful list does much more than just this. It creates some structure for your day, keeps you focused on the tasks that need completing and, importantly, is a bit of welcome reassurance that you'll eventually have everything marked off with a nice, big tick. We recognise that making a list of tasks is a time-thief in itself. But, if you make it a positive part of your day, it will soon become something you look forward to, as strange as that may sound.
Rituals, in whatever guise they come, have the ability to ground us.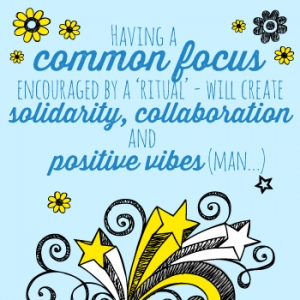 That doesn't mean that you're stuck or staid in how you deal with you and your workload; it's just that a regular, uniformed format that's organised and consistent is not only good for individual focus, but for that of a whole team.
According to Wikipedia, rituals are 'traditions of the community'. And what's more community-like than the colleagues you work alongside? For anyone in IC, you work day in, day out on assisting your organisation in building up a community of goal-orientated togetherness. This might sound like some sort of hippy commune, but traditionally, people stick together, and having a common focus – encouraged by a 'ritual' – will create solidarity, collaboration and positive vibes (man…).
It all sounds so simple, doesn't it? Keeping consistency and continuity going is achievable; the real challenges come when the pressure cooker of deadlines and tasks that drop in unannounced is reaching critical mass. And you know what that can be like. Your carefully planned schedule for the day/week is suddenly superseded by that top-of-the-pile stakeholder and their all-important project. So, it's hammer-time. Drop everything, swap Comms Head No.1 for Comms Head No.2 and get on with the (new) job in hand. While that's great in showing off your finely tuned agility skills, what does it do for your rituals?
To-do lists can fall by the wayside, team huddles get shunted down the running order and focus in its entirety is switched to something new and shiny.
There's nothing wrong with getting excited about a different piece of work; it's sometimes a welcome distraction from the day-to-day and a chance to dust off and flex your perhaps under-utilised creative muscles. But it's vitally important to hang on to your rituals, even in the face of a swift change of direction. This is also true in times of organisational change and the uncertainty this can bring.
Change is constant and organisational upheaval – whether it's a mass restructure or redundancies – affect people in numerous ways.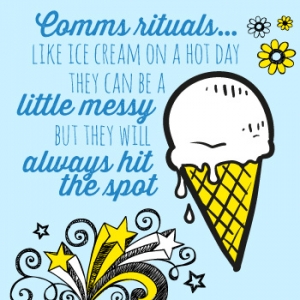 The one thing that can bring a little reassurance to an otherwise upset routine is the comforting presence of something consistent, and a comms ritual is certainly one constant that will help everyone. Think of it like an ice cream on a hot day; it can be a little messy, but it will always hit the spot.
So, keep the regular team huddles, adjust that to-do list, and never lose sight of the Business As Usual.
We understand that creating, acting on and maintaining rituals – all while managing the IC side of the organisation – can be a tricky mission. But you're not alone. We've worked with several clients in their ritual building process, assisting with their planning for regular days and days which are anything but normal.
If you think you could use a guiding hand in your ritual processing, get in touch with us today and we'll stick the virtual kettle on for a chat about how we can help. After all, that brew is a ritual for everyone, right?