'What do The View-Master, the fax machine and The Flintstones peek-a-boo camera have in common?'
They're all rather defunct (or not far off).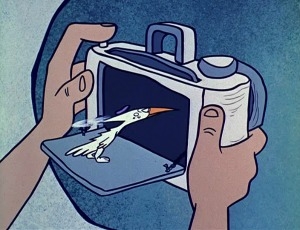 Don't get me wrong. They served a very useful purpose at the time – hours of fun for the kids, office execs transmitting important documents worldwide and caveman Fred capturing precious 'photos' of Pebbles and Dino.
The Flintstones certainly embraced their 'modern conveniences'. If Fred was around now, I wonder what he'd make of the latest iPhone, the Go-Pro Hero or the Internet.
And how would he get on with pinching, zooming, scrolling and navigating his way through The Lodge's website…?
I'm pretty sure he'd be bowled over! Particularly by the wonders of responsive design.
Perhaps we'd need to fill him in first…
What is responsive web design?
In short, a website's pages reformat themselves depending on which device they are being displayed.
Responsive web design (RWD) provides an optimal experience across all devices – making pages look great and work well at any size, from desktop computers to tablets and mobiles. As a user switches devices the website automatically switches to allow for resolution, image size and scripting abilities. No longer should you need to create different sites each time new gadgets, platforms and browsers emerge. A hassle-free user experience!
Put simply, a website with the technology to automatically respond to user's hardware preferences.
However, despite the universal explosion of tablets and smartphones, it's surprising how much of the web is still not optimised for mobile devices (only 9 percent of the top 100 e-retail sites are using responsive design).
Can we just continue to accept the consequences of losing website visitors from time to time? Or is there a strong enough case to make the switch for your not-so-Stone Age audience?
Why should you consider shifting to responsive web design?
There are some pretty compelling reasons why it's worth taking the responsive plunge:
Mobile usage is increasing – As previously mentioned, more people are using mobile devices and tablet growth is surging. This article on mobile marketing statistics by Smart Insights points out that 80% of people reach for their smartphone to surf the Internet, a close second to PCs and laptops. In fact, according to this fab infographic from Verve, 25% of Internet users only access the Internet via a mobile device. It follows therefore that we ought to be designing websites to satisfy this vast mobile audience – giving the people what they want.
A streamlined user experience – RWD leads to a smoother, slicker experience. Users don't have to mess about with frustrating zooming and shrinking of content which makes for a much happier, more receptive customer, who's likely to hang around.
Saves time – Internet users aren't generally known for their patience and won't stick around if they're being hindered by clumsy delays – around 40% of users will opt for a different website if it's not mobile friendly. Booming bounce rates are never a good sign. RWD enhancements reduce load time; they make your site easier and faster to navigate and cleaner to read with minimal resizing or panning and scrolling by those viewing it.
Increases conversion rates – Since a responsive website design can adjust to any screen, developers have control over how typical conversion elements will display on mobile and tablet.
According to this recent study by the Aberdeen Group, websites are achieving around 11% higher visitor-to-buyer conversion rate increases compared to non-responsive sites.
If you need a little more convincing, here are 14 brands that significantly increased conversion rates via responsive design.
Improves SEO – Separate mobile websites have their own URL and different HTML to their desktop counterparts. Because responsive sites use one URL and one set of pages and files, it's easier for search engines to crawl and index content.
In fact, responsive design is Google's recommended design pattern:
'Google recommends webmasters follow the industry best practice of using responsive web design, namely serving the same HTML for all devices and using only CSS media queries to decide the rendering on each device.'
In conclusion
According to Google Think Insights, 'It's a real challenge for businesses to deliver a great experience for all these screens and contexts. And in truth, this is where today's marketers are the farthest behind their users. But a good multi-screen site is worth the effort, because it's a vital way to strengthen your brand, nurture lasting customer relationships and grow your business.
There is one true constant:

All of today's mobile users expect a great, trouble-free experience. Now is the time to gather your team, plan your strategy, and build the sites that will engage and delight them.'
Consider that if your competitors are providing a better, easier and faster experience, can you afford to fall behind?
Want to talk to us about how we can help with your responsive web design? Email hello@alivewithideas.com if you yabba dabba do! (sorry)