Soggy bottoms, erect biscuit structures and a rather inappropriately shaped snail. It can only mean one thing. The Great British Bake Off is back on our screens but with some noticeable changes. So how have the Great British public adapted to the new channel, judge and presenters and what can IC pros learn about dealing with change?
The Great British Bake Off (GBBO) is a rare phenomenon. A fringe show that started out on BBC2 and should have only appealed to serious bakers, grandmas and students avoiding studying. But it fast became a staple of cosy, autumn weekday evenings and even got promoted to BBC1. And for many years the Great British public watched in a sugary haze, blissfully unaware of the dangers that lay ahead.
And then everything changed.
Channel 4 bought the show and took Paul Hollywood with it. Mary, Mel and Sue were out and adverts were in. Chaos ensued. Many people took to social media to share their disappointment although many managed to keep their tongue firmly in cheek.
"I don't understand the decision to take Great British Bake Off off the BBC. How can it do better than being THE BIGGEST SHOW ON TV? Insanity" @caitlinmoran
"Please – no ad breaks for BakeOff! That's a mixture that will curdle, or at the very least lose aeration #bakeoff" @SallyBartonArt
"So the BBC loses #BakeOff to Channel 4. Stand by for naked bake offs, zombie bake offs, bake off fistfights, and bake offs to the death." @JamesHAMaclean
"A #GBBO with adverts is not a world I want to raise children in @BritishBakeOff" @rubydell88
So, how could a little baking show cause such furore and what on earth has it got to do with internal comms?
Well, it's a great example of how people deal with change and how change is handled by those at the top. And considering it came hot off the heels of the Top Gear controversy (a change that was not well received), there are definitely a few crumbs of wisdom internal comms pros can nibble on…
Rationalise change
Many took the decision of Channel 4 to outbid the BBC as callous, yet Channel 4 was able to clearly articulate why it had bid and how it felt GBBO fitted into its strategy.
"Bake Off wasn't created by 4 but it epitomises many of the values we were set up to promote. It's high quality. Diverse. Inspiring. All attributes Channel 4 is tasked with delivering," said Chief Creative Officer, Jay Hunt.
Rationale for change is so important and can so easily be forgotten or not done particularly well. The longer you've spent planning something, the easier it is to forget that everyone else hasn't. To them it's new, confusing, exciting, worrying etc. And they'll need you to provide the context and join the dots for them.
Anticipate the reaction
Gone are the days where an announcement would be made and you'd have to wait until the following morning to read the coverage in the newspapers. You'll get an immediate temperature check through social media, and people won't hold back.
As mentioned earlier, Twitter especially went into a frenzy but although it was more negative than positive, it created a huge amount of publicity for Channel 4. It set a very low bar, so people were unwittingly making it far easier for them to succeed.
Remembering to incorporate social media into your change plan is essential even if you don't intend for the news to go external, as chances are it will. And a negative reaction can still be turned into a positive – sometimes you need to own it and then make sure you exceed all expectation.
If it ain't broke, don't fix it
The team at Channel 4 didn't try to improve on an already winning formula, they understood what made GBBO special and resisted trying to put their own mark on it. A rare decision in a world where advancement is often closely associated with change.
We see this in business all the time. A new CEO comes in and immediately starts changing things. Sometimes it's necessary and that's why they've been brought in, but if employees feel it's purely an exercise in ego stroking and box ticking they will be quickly turned off.
While change is inevitable and often positive, it's worth remembering that change for change's sake is not. Sometimes the boldest decision can be acknowledging the old adage – if it ain't broke, don't fix it.
Don't hate the player…
Ol' Blue Eyes, Paul Hollywood received a lot of criticism for his decision to follow GBBO to Channel 4. He was accused of disloyalty and greed. However, an alternative way of viewing his decision could be that change was going to happen whatever, so he could either embrace it and continue doing a job he loved or walk away and become unemployed.
Clearly not knowing Mr Hollywood personally, we can't ever know what his true reasons were, but it was interesting to see how someone who was open to change was viewed by the masses. Inside organisations, we often look for change champions/early adopters to help ease transitions, so it's useful to consider how they might be perceived by colleagues for daring to embrace change and that their loyalty could be called into question – especially if that change isn't a positive one for everyone involved.
So, ensure your change champions are positioned as the voice of the people, not the voice of the top. And put support in place for them in case they are met with resistance.
Curiosity often wins out
We're all familiar with the change curve but it's little comfort when something you've agonised over to make it the best it can be, is immediately met with derision and cynicism.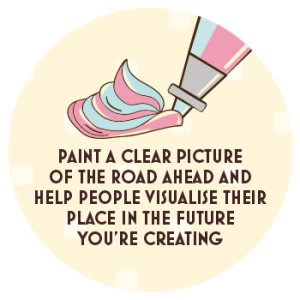 This is the position Channel 4 found itself in, in fact you'd be hard pressed to find anything online that was in favour of the change. People swore they'd never watch, and cheered Mary, Sue and Mel's loyalty to the Beeb.
Yet, when it came to it, people's curiosity got the better of them. And despite many being determined not to like it, they had to admit they did. If change is rolled out well, with a clear strategy and plan, it can overcome initial reservations.
Address people's concerns and reassure them, paint a clear picture of the road ahead and help them visualise their place in the future you're creating. Involve them in the change early on and help them to feel that it's something they're a part of rather than something that's being done to them.
As for GBBO, there will be some viewers that have been lost forever, but realistically you can't win over everyone in any change programme. Acknowledging and accepting that upfront will avoid disappointment later.
So, it seems that what started out as an innocuous little baking show, actually has as many layers as Schichttorte, and as much drama as caramel week. Whether you're watching the new series, have abandoned it, or are utterly bewildered that it could cause a Twitter meltdown, it has provided some useful insight into dealing with change.
Now it's time to reward yourself for reading to the end by grabbing a slice of cake, putting your feet up and enjoying the next episode!
By Helen Deverell for Alive with ideas