Thank you to everyone who has downloaded the Periodic Table of Internal Communication.
There's plenty more to come from The Elements of IC – a practical resource for internal communicators everywhere. 
The Periodic Table of IC is proving to be very popular and we've had some fantastic feedback:
"I love this. Cracking work. This is just the start of an exciting conversation." 
"I can already see some changes we can make to our IC strategy." 
"Fabulous! This is already a great way to paint the full picture of IC … can't wait for the full interactive resource!" 
"What a great idea to gather professionals' views on essentials for Internal Communications."  
"I can hardly wait to see the next version. What a wonderful resource, even at this stage." 
"A helpful guide that now has a permanent home on the wall of my office." 
Just the beginning…
The original periodic table was created as an unfinished resource, with space left for new elements to be added over time. In that respect, The Elements of IC is no different. We're gathering feedback from comms pros everywhere and people from across the world are getting involved – thank you!
If you haven't already done so, or you're bursting with more ideas, you can submit new elements here. What would you add? What's missing?
Here are just some of the suggestions we've had so far: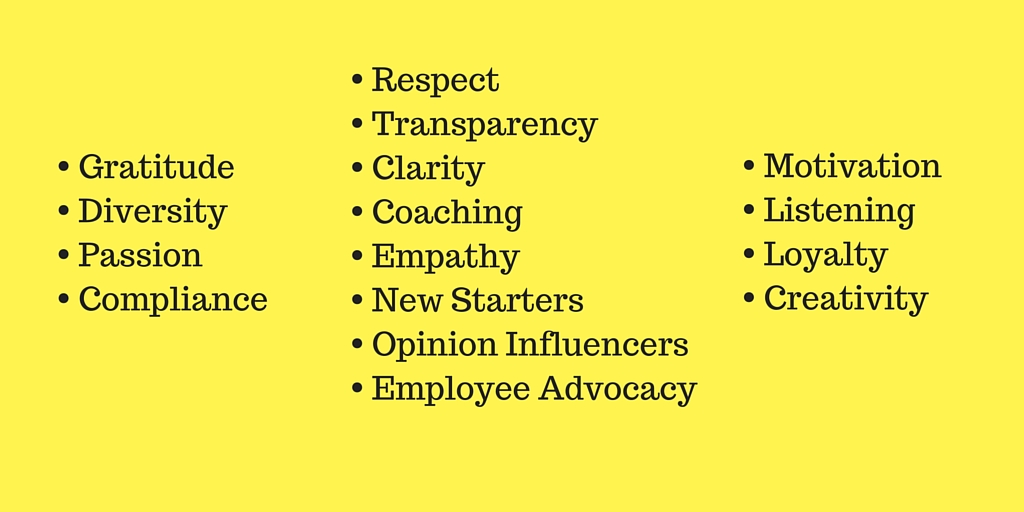 Once we've gathered together your additional elements, we'll publish a fully updated, interactive version that will include descriptions of each term along with some additional thoughts, pointers and links to useful resources. This will become a tool for the comms community to refer to, share and enjoy. And it will be an ever-evolving source of ideas and information.
We'll keep you updated on how the Elements of IC progresses.
Thank you for all being good sports and helping to make this an exciting and helpful resource.
Want to download the Periodic Table again? Click right here.