National Doodle Day is a doodle-tastic annual fundraising event organised by Epilepsy Action.
You can get colleagues involved by organising your own Doodle Day fun.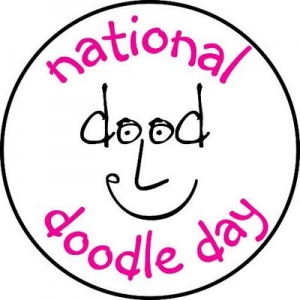 Schools, groups and workplaces across the country join in every year by doodling and donating, bidding on celebrity doodles or organising doodle events. So far, Doodle Day has raised over £15,300 for Epilepsy Action, supporting the 600,000 people in the UK living with epilepsy, providing specialist advice and enabling people to live free of stigma, prejudice and discrimination.
This year the official event takes place on Friday 5th February and there's plenty of fun to be had.
The idea is simple: Do a doodle – donate a pound (or more if you're able)! Ask everyone within your team/organisation to do a doodle and each make a donation to support people living with epilepsy. You can make your event as simple or creative as you like. Doodle masterpieces can be displayed around the office or shared on the intranet. Select a doodle deadline and then have fun 'guessing the doodler', voting on the 'top doodle' or holding an office 'doodle-off'.
Share the doodle love
Get social by tweeting @doodleday #doodleday, tagging @nationaldoodleday on Instagram or posting to National Doodle Day on Facebook. Media coverage is a great way to promote your event and celebrate your fundraising efforts too. You can download template press releases or contact the Epilepsy Action press office on press@epilepsy.org.uk or 0113 210 8870.
More downloads and resources
National Doodle Day will provide you with everything you need to run a fun and engaging event. Resources that'll help get your event off to a flying start include a step-by-step event guide, doodle cards, promotional posters, donation box templates, thank you posters, balloons, stickers and bunting.
Doodle Meanings
What are doodles?
What can they tell us?
How can they be interpreted?
You can take things a step further by exploring each other's doodles to find hidden meanings. Examine shapes, sizes and spacings, colours, strokes and shading to find out more about your colleagues. What are they like and where do their special talents lie? Visit the Doodle Day site for everything you need to know about doodle meanings.
Benefits of Doodling
We love a good doodle and there are tons of great reasons to get your pencil out and have a go. As well as supporting a fantastic charity, doodlers will be helping themselves to hone a whole range of valuable skills.
Doodling has also been known to help with:
Improving focus and concentration
Enhancing creativity
Supporting memory function
Building confidence
Improving the quality of listening skills
Tackling problem solving more effectively
Follow the lead up on social media for stacks more inspiration, doodle examples and general doodle fun.
Happy doodling!