Meet Andy, our ambitious designer with a love of print media and animation, who says he gets his creativity from his mum. And if you want to know what the best shows to catch on Netflix are right now, Andy's your man! Find out more about him here.
How did you first get into design?

I've always been creative. I think I get it from my Mum, she's very crafty and makes loads of amazing cakes. When I was at sixth form college, I knew I wanted to have a career doing something in design – but didn't know what! I enjoyed interior design and was also interested in architecture, but finally decided to go down the graphic design route.
How did you end up at Alive?

Rather than go to university, which didn't appeal to me, I looked at the apprenticeship.gov.uk website and Alive with Ideas popped up. A couple of my friends had successfully done apprenticeships, so I knew it could be a good way in.
When I first saw the Alive website, I thought it was very interesting and pretty wild and I genuinely didn't know what to expect. After meeting Alive's founders, Alan and Alex, I had a really good feeling and went on to do a 2-year apprenticeship. That was 3 years ago now and I have no plans to leave any time soon!
What's it like working at Alive?
I'm sure there aren't many people who can say they genuinely love the place they work, but I can! I want to stay here as long as possible and to keep climbing the ladder. I'm a designer at the moment, but plan to keep progressing and adding to my skills.
It's a great place to work, with a good atmosphere that's pretty chilled.
There are around 14 people working here and it feels like a little family. There is always a deadline that needs meeting and that can be stressful, but it's still fun. We work together and collaboration is a big thing.
What do you most enjoy about your job?

At Alive it's brilliant, as we're encouraged to be super creative. In a pitch situation, we'll have a safe option, a middle ground idea that pushes the boundaries and one that's completely different and opens things up in new directions. You can really go for it.
But what I most enjoy is the variety of stuff I get to work on. I've got into animation quite a lot during the last year, which I'd like to do more of and have also been working on gifs and other bits and pieces for Alive's new website.
Favourite projects you've worked on?
We've created an internal magazine for one of our clients and I really enjoy pulling together the spreads and layouts. It's great being given the content and then bringing it to life. We're on the 9thedition now and the feedback is always really good.
Another project that stands out for me is a brochure we did around recruitment for an NHS trust. There's something special about print media and seeing the full design process through to then holding the finished product in your hand.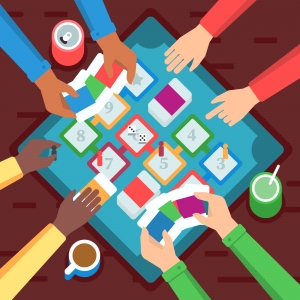 Where are we most likely to find you outside of work?

I'm very close to my family, so usually I'll be with them or hanging out with friends. I'm a big fan of the Xbox and also love Netflix. I've just finished American Horror Story and of course Stranger Things is a classic, then for something a bit lighter I'll go for some Brooklyn 99.
Finally, something we'd never guess about you?

I recently got into board games! Cam, here at Alive, was first to get me into them and we've had a few work games nights, which were brilliant! Now I've started my own collection, and it's something I do with friends once a week.
(It's amazing, you don't realise how much of a nerd you are until you start telling people about yourself, ha!)