Are you introducing a new product or service? Running a new campaign? Sharing a bright idea? Promoting success stories? Or reinforcing your brand values internally? Need to tell a story?
There are a number of effective approaches you can take when it comes to expressing messages and communicating concepts visually – we've included a few examples at the end of this post including:
Purely video
Purely animation
Combination of animation and video footage
Whiteboard style
Animation / motion graphics
Animated infographic
If you've had success with animation and video before you've already experienced the powerful impact it can have when it comes to sharing your comms messages, engaging employees and shaping behaviours. If not, we would urge you to consider it as a secret weapon in your comms mix…
Animated video in internal communication
Messages are spread throughout an organisation in seconds to any number of devices and can integrate perfectly with employees' online experiences. Video is a fundamental part of this. It has a lasting impact in employee's minds because it can cut through the noise, offering something a little different, unexpected and on a par with the types of quality content they're viewing as consumers every single day.
Internal communication is all about better informed, more motivated and engaged employees. And there's no doubt that a punchy animated video can form a central part of this challenge.
According to a study by Melcrum, 93 per cent of Internal Communication professionals believe video has become essential and Cisco tells us that 54 per cent of employees actually expect to see video in the workplace. When you have important messages to share, such compelling stats, the use of video is becoming inevitable.
Before you approach an agency or production company to get your exciting new video created, it's a good idea to get a few steps ahead, going over the elements of a standard brief to get your ducks in line. After all, there's a lot to think about with video animation…
Here are some thoughts to consider when planning your animated video:
Keep it brief – The maximum optimal length for an animated video is around 90 seconds and often 60 seconds is enough. Research shows that 50 per cent of your audience stops watching after 60 seconds, and 60 per cent stops after 120 seconds. (There's no harm in creating a longer version with more in-depth detail for those seeking further information.)
Create a bold intro – You should aim to 'hook' viewers within the first 7 seconds as this is when they decide whether to continue watching or not. So a cracking start is vital.
Tell a story – Focus on a clear narrative by telling an interesting story around a subject or a central character that your audience will empathise and connect with. Be clear about your start, middle and end.
Write a perfect script – Tell your story in around 150 words a minute (the typical rule of thumb). Write it well, in simple words and short sentences, so that it flows and engages. Remember, in many cases, the less you say, the more likely people are to remember. It may help to have an 'outsider' write the script. Choose someone who can take a fresh look and explain things in a way that all employees will understand. The ultimate trick, as with so many forms of content, is to be brutal, cut your script back and be ultra concise.
Use a professional voice – Nothing spoils a video faster than poor audio. There are plenty of options out there so research a decent voiceover company and be sure to request a good selection of samples first.
Build in the brand – Consider your brand guidelines and think about how you can support the brand internally. Remember your employees are your brand ambassadors and you should consider every opportunity to build on this.
Have some fun! People love to be entertained. Adding something a little different to your video, whether it's humour, a nifty surprise, or something a bit 'out there' can go a long way. It gets people smiling and helps them connect and remember.
Keep your visuals clear – When we talk about visuals, it's not always high-level detail and top notch graphics. Basic, clear visuals, can be just as effective. The key is to create something that illustrates the story, reinforcing the voiceover and getting the message across without any room for doubt. Avoid style over substance.
Set the tone with music – Music evokes all types of emotions, and it sets the tone and pace for your video. Have a think about the type of soundtrack that would suit, particularly for impact at the start and finish.
Plan for the launch – Your video may form part of a wider campaign so don't forget to plan ahead with a strategy to bring it all together. Consider your plan – leverage other channels such as your newsletter, social media platforms, e-mail, and events to share your video.
Integrate the video on your intranet – Think about the build up and start sharing messages on the intranet before it ultimately lands. Consider where it will live and how you will signpost people to it once it's live.
Create a transcript – Share the transcript of the video so that it can be read as well as viewed – This may be useful for employees with poor eyesight that use screen reading technology. It also may help people find the video when they're searching the intranet.
We've helped many clients create impactful presentations (videos, animations, and motion graphics) for a wide variety of purposes; from supporting short-term initiatives, change programmes and CSR projects to brand engagement campaigns, team building activities and lead-ups to large-scale events.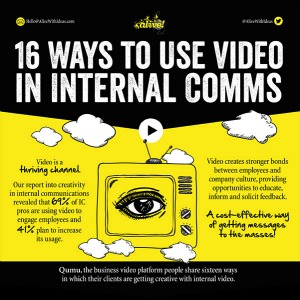 Animated video is highly versatile and can be used to bring so many elements of the business to life. We created this infographic with Qumu, the video production people to share 16 ideas on using video in internal communications. It's well worth a browse to help you think about how some of your comms challenges could be solved through the use of animated video.
If you'd like to discuss a specific comms challenge that could benefit from some animated magic and sparkling ideas, then get in touch. Tweet us at @alivewithideas or email hello@alivewithideas.
We always recommend exploring outside your own industry to discover different approaches and spark new ideas. Here are a few videos we like that incorporate animation and graphics to add a new dimension. Take a look and get inspired!
Purely animation – Chevron – Operational Excellence
Combination of animation and video footage – Adidas – There Will Be Haters
Explainer video about explainer videos
Whiteboard style – Where Good Ideas Come From by Steven Johnson
Animated infographic – Innovating for Success – We particularly like the use of a timeline here…