There is immense power in vulnerability; giving honest accounts and telling real life stories will give your comms greater depth.
All too often though, it's deemed unsafe to be emotional, too exposing to share your truth, too much of an overshare to discuss personal circumstances at work. Vulnerability is still seen by many as a form of weakness, particularly within a business context.
While it might feel uncomfortable or unnecessary for some, vulnerability and truthful storytelling has the power to create deeply binding connections between your people, your organisation and its purpose.
Love for Dove…
Many companies have seen the benefits of adopting a vulnerable, transparent and authentic approach in their storytelling and it has made their campaigns more memorable and impactful.
For example, the Dove project #ShowUs uses empathetic storytelling with real people. The underlying theme of vulnerability comes to life as they describe how they believe they look based on their own perceptions and insecurities. By creating a highly emotional campaign message that talks to self-consciousness and inner vulnerabilities, Dove has developed a connection with their strong and loyal audience.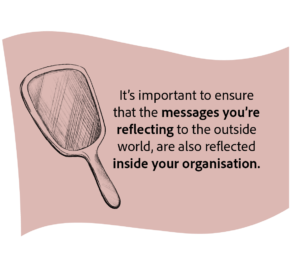 Harnessing the power vulnerability in storytelling with external audiences also furnishes us with the skills to understand our colleagues better.
It's important to ensure that the messages you're reflecting to the outside world, are also reflected inside your organisation. For Dove, this means encouraging self-confidence, empowerment and appreciation for one another.
Sharing personal stories with your team or talking to them about a lesson you've learned by making mistakes will open up new conversations and increase the sense of psychological safety in your organisation.
This makes us stronger leaders, more empathic communicators and more approachable colleagues.
Telling stories with vulnerability has many more brilliant and bountiful benefits. Not sure where to begin?
Here are our three top tips…

1. Building trust
Knowing the real life challenges your employees or audiences may be facing is a great place to start. Like Dove, true stories drive stronger connections.
Consider: Running a workshop or focus group to gain better insights?
2. Improving engagement
Every business has targets to meet, including Dove. Whether you're striving for more traffic, more sales or greater exposure, truthful storytelling doesn't have to be an add-on, it can help you achieve success.
Ask yourself: What stories will your audience relate to and how will telling them help you achieve your business objectives?
3. Emotional connection
Creating a genuine sense of belonging in any business is easier said than done, but communicating with openness, honesty and vulnerability is a step in the right direction. Solid connections are built over time, through continuous empathy, support and listening.
Think about: Your strongest personal relationships and connections. What do they offer you and how? What stories do you feel emotionally connected to and why?
Encouraging vulnerability in both your internal comms and external campaigns must be done with grace and humility – if your intentions aren't in the right place, people will know about it.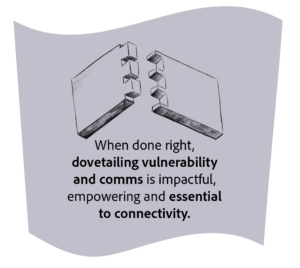 The line between what is personal and what is private is different for everyone. Remember, what you choose to share can stay within your personal boundaries. There's also nothing wrong with ensuring the stories you tell fit into your company values, equity, diversity and inclusion policy or corporate social responsibility strategy.
When done right, dovetailing vulnerability and comms is impactful, empowering and essential to connectivity.
Don't just take it from us…
As Brené Brown says in her famous TedTalk, The power of vulnerability, vulnerability is the key to unlocking user connection, alongside forging resourcefulness and courage.
Raw honesty in comms can be appreciated and can help foster creativity,
"No vulnerability, no creativity. No tolerance for failure, no innovation. It is that simple." Brené Brown
By Ally Taylor