As a Comms Unplugged newbie, I was looking forward to getting stuck in, learning lots and meeting new people. Okay, I guess if we're sharing, I was a little nervous too!
It wasn't until my boots hit the grass and I was welcomed with friendly smiles, waves and introductions that I knew the rumours were true – Comms Unplugged is a really special place and everyone there is lovely.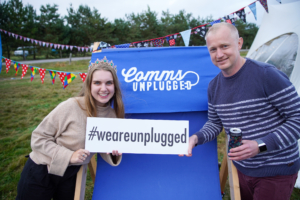 After setting up our tents (which was surprisingly successful might I add), Alan and I busily prepared for our workshop where Alan drew on some of the blogs written by our team and spoke about creating a culture where people, self-expression and creativity thrive. Of course, he was as modest and as humble as always, so I chipped in with some of my thoughts and experiences too.
I spoke about what it was like being the new kid at Alive and how I instantly knew it was the right place for me. I used some examples from our blog about friendship and talked about how the team valued my thoughts, made me laugh and gave me their support right from the get-go.
After plenty of funny anecdotes and off-piste stories, it was time to introduce our activity.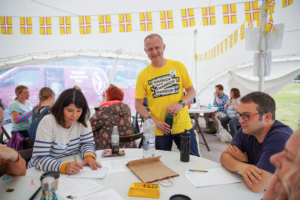 All you need to know is that our bag of props included a puppet, (who was loved by many and later named 'Marv'), a tiara, juggling balls, a gold bar (not the real kind, otherwise I may have done a runner with it) and a lucky horseshoe. Each group was asked to think about what makes them feel valued, involved and included at work and come up with a wellbeing campaign using one of the props as inspiration.
It was amazing to see how quickly ideas began to spark – there's something very special about having lots of comms creatives under one roof, and luckily for me, that's exactly what Comms Unplugged was all about.
Slick sessions and lively lessons
From guest speaker Bruce Daisley talking about psychological safety and our new ways of working, to Kate Mason from The Big Draw showing us how powerful a pencil and a sheet of paper can be, the line-up was nothing short of brilliant. I also joined a fantastic session lead by Diversability about the importance of building trust and finding different ways to communicate. Big thanks to Rory for partnering up with me and being such a great sport – feeding each other raspberry jelly with our eyes shut was certainly an unexpected experience – but that's a story for another time! 
On Friday we soaked up Dorset's beautiful scenery and enjoyed a walk in the woods guided by Saranne. I walked and talked with Ian (such a lovely guy) and we both took the time to connect, chat through some of the challenges we'd been facing and reflect on our time at Comms Unplugged.
Testing, one, two, three
By Friday evening I was full of anticipation and nerves (and pizza), because it was nearly time for my live set. It had been quite a long time since I'd performed live, but I absolutely loved getting back behind the piano and sharing a few songs with my fellow unpluggers (yes, technically my keyboard and mic were plugged in, but that doesn't count!)

It wasn't until Tom graced the stage with his toe-tapping tunes and witty tales, that I really realised how much I'd been missing live music. So much has changed over the last couple of years but the magic of Comms Unplugged really got me thinking about how important it is to carve out time in our weeks for doing the things we love most.
Top three takeaways
Comms Unplugged is a safe space to share ideas and make real connections with people.
Whether it's a walk in the woods, yoga session or a drawing class, we must be kinder to ourselves and break up our working days a bit.
Everyone has their own talents, strengths and ideas – they might just need a few friendly faces to help bring them to life.
I'm so grateful that I got to be a part of this year's Comms Unplugged and thank you to everyone who made it happen.
Lauren
Thank you to our Comms Unplugged friends for the photos.